Events
International Events
1 Events
About
One of New Zealand's best-loved bands
SIX60 got their start in Dunedin, New Zealand in 2008. The quintet – made up of lead singer Matiu Walters, guitarists Ji Fraser and Chris Mac, drummer Eli Paewai and sampler Marlon Gerbes – met as students at the University of Otago and had turned their flat into a rehearsal area with a stage. Their band name came from its address: 660 Castle Street. They would often jam out in a bedroom, while the living room became something of a club for friends and family, who often showed up for their impromptu gigs.
SIX60 released a self-titled album in 2011 on their own label, Massive Entertainment. It debuted at No.1 in the New Zealand charts, with the first two singles – Rise Up 2.0 and Don't Forget Your Roots – certified double and triple platinum, respectively.
In 2015, the five-piece came out with their follow-up album by the same name, SIX60, and all of its songs appeared on the New Zealand singles chart upon the first week of release. By this time, the band had become synonymous for blending a mix of genres from pop, rock and soul to dubstep and drum'n'bass.
SIX60 took home five Vodafone New Zealand Music Awards in 2018, and their sweat-soaked live shows had become celebrated across the country and in Australia.
In 2019, the band released their third album, once again called SIX60, which showcased another evolution of their sound by including taonga pūoro (traditional Māori instruments). Produced by James Ryan Ho (Lorde, Frank Ocean, John Legend), it spawned the dreamy pop single Sundown, blending together taonga pūoro with ukulele strumming.
To support the album, SIX60 embarked on their widest reaching tour across New Zealand and Australia. In April 2021, the band announced a world tour that would include a stop in London on 26 November 2021.
News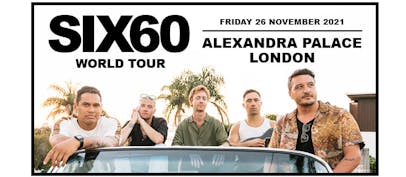 SIX60 announce 2021 London date
The New Zealand quintet are heading out on a world this winter with a stop in the capital at Alexandra Palace on 26 November 2021. Tickets go on sale from 10:00 on Monday 26 April 2021.
FAQS
SIX60 are doing a world tour this year including a special show in the UK on 26 November 2021.

SIX60 will play a one-night-only concert at London's Alexandra Palace in 2021.

Tickets for SIX60's 2021 London tour date go on sale from 10:00 on Monday 26 April 2021.