Disney's The Lion King Musical
Lyceum Theatre, London & UK Tour
Disney's The Lion King Musical
ABOUT THE LION KING MUSICAL
The Lion King is Disney's multi award-winning musical in London, set against the majesty of the Serengeti Plains and to the evocative themes of Africa. The live adaption of the iconic 1994 Disney film has been brilliantly reimagined on stage by acclaimed director Julie Taymor. The musical is a spectacular theatrical experience, exploding with glorious colours, stunning effects and enchanting music, and will redefine your expectations of theatre.
At its heart is the powerful and moving story of Simba and his epic adventure and journey from wide-eyed cub to his destined role as King of the Pridelands. The theatre adaptation depicts the coming of age story of Simba and his destiny to follow in his father Mufasa's footsteps as the heir to Pride Rock. However, trouble ensues when Simba's uncle Scar launches his own bid for the Kingdom, going to unimaginable and shocking lengths to claw his way to the throne. The London stage adaptation of the film celebrated its 20-year anniversary run of shows in October 2019. The musical continues to draw sell-out crowds due to its popularity as one of London's best West End theatre shows. The top London musical is a must-see for Lion King fans and new viewers alike with its breath-taking and emotional story told in a dramatic and dazzling theatre production.
Lose yourself in the story and relive the nostalgia of the classic film come to life in this live action stage adaptation and stunning immersive theatre experience.
The Lion King Theatre Photo Gallery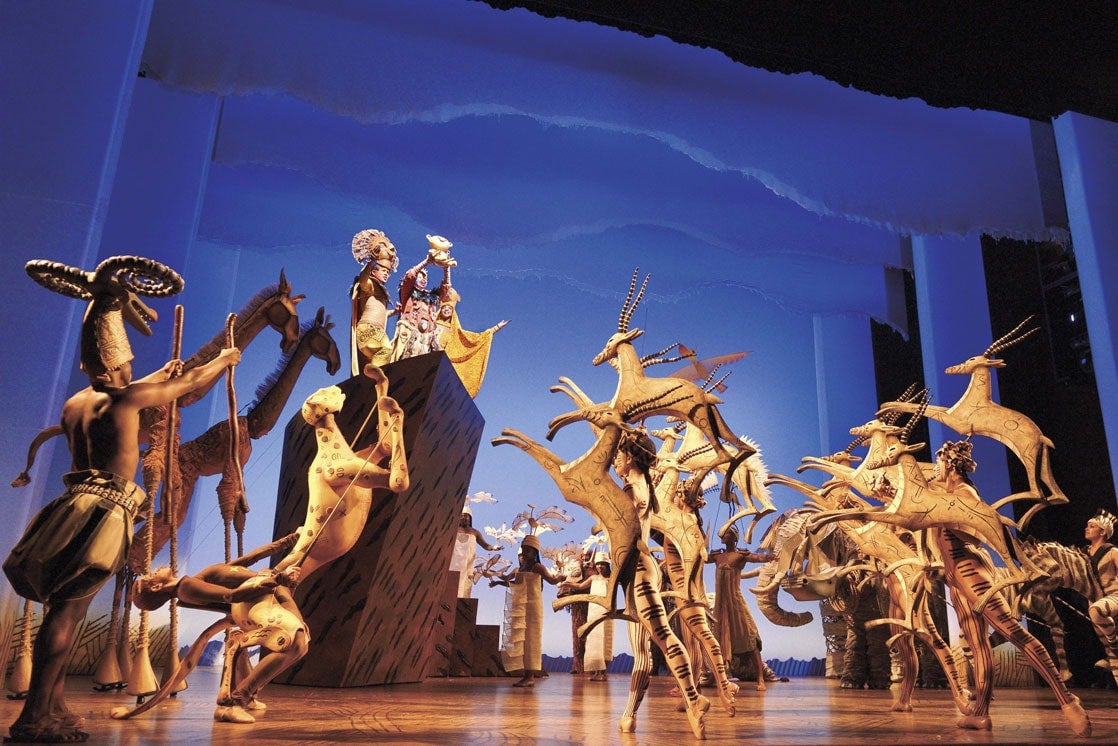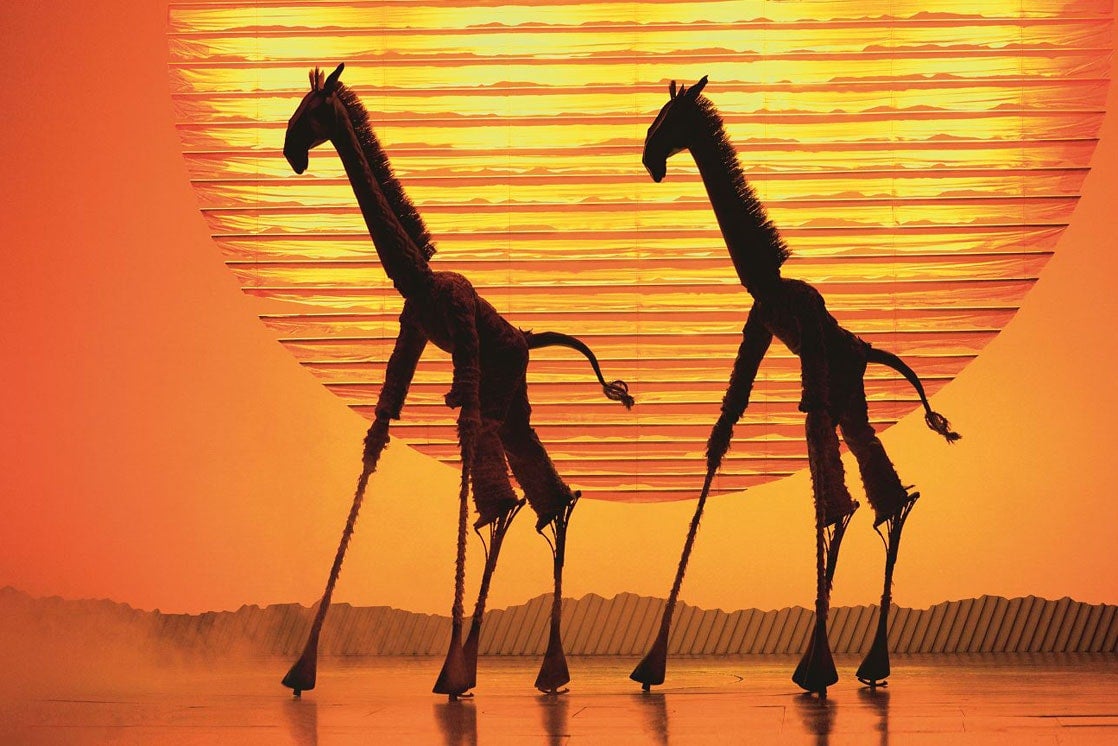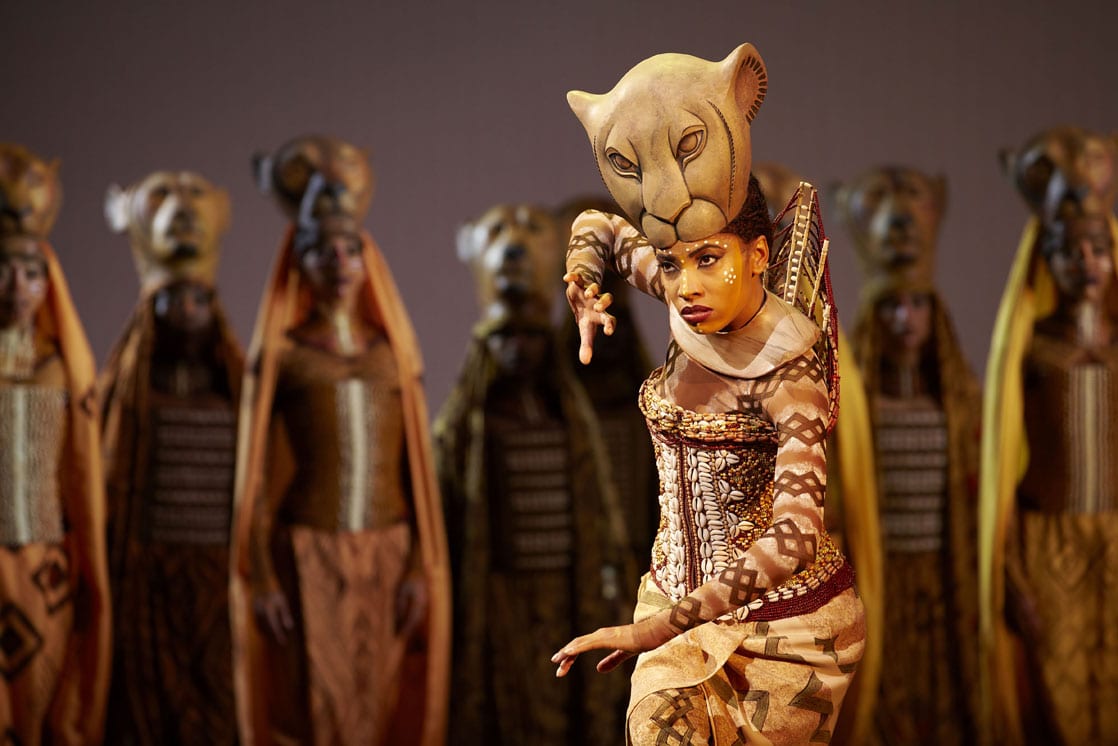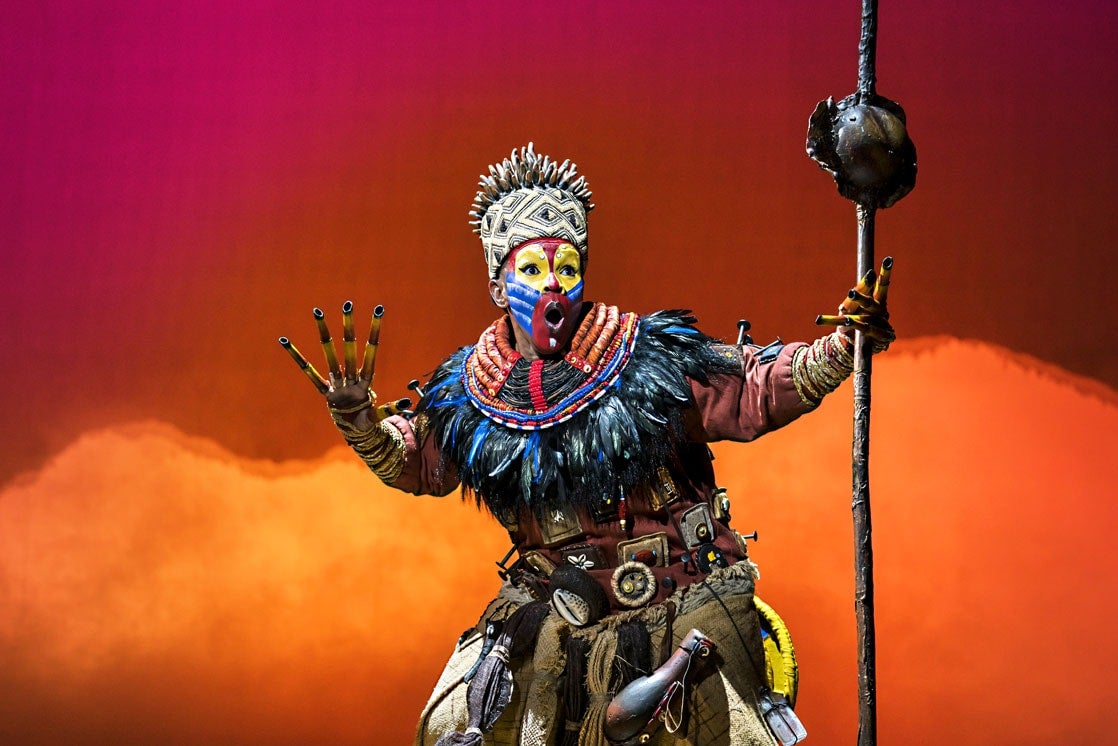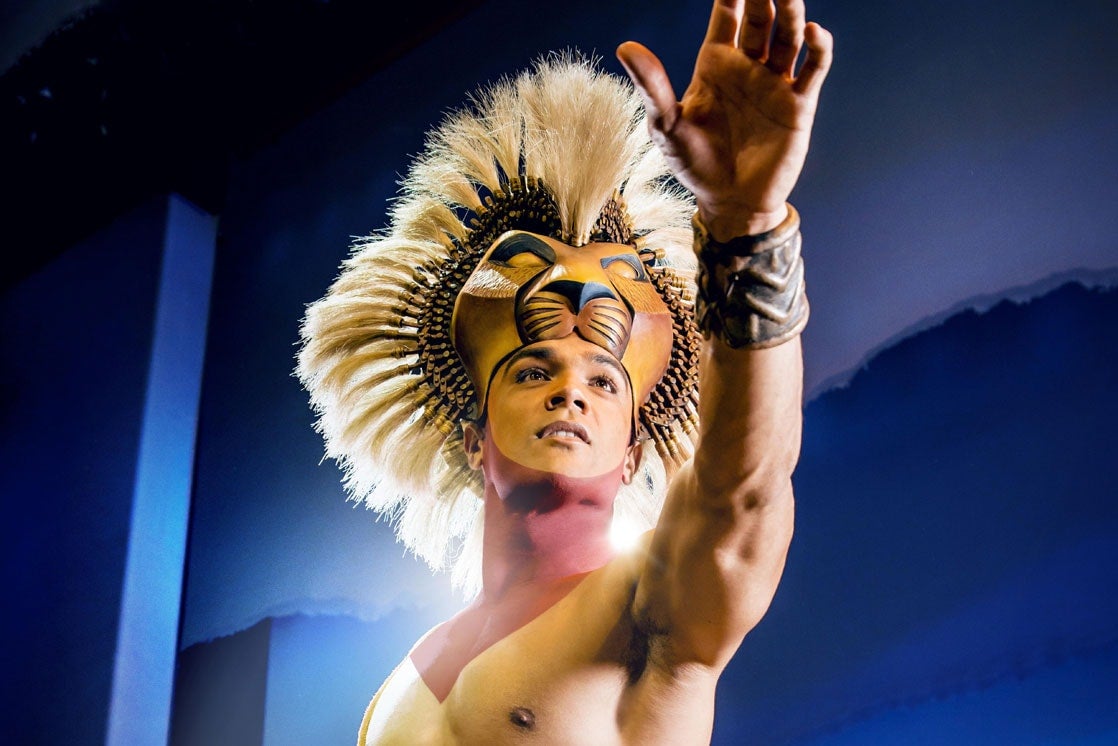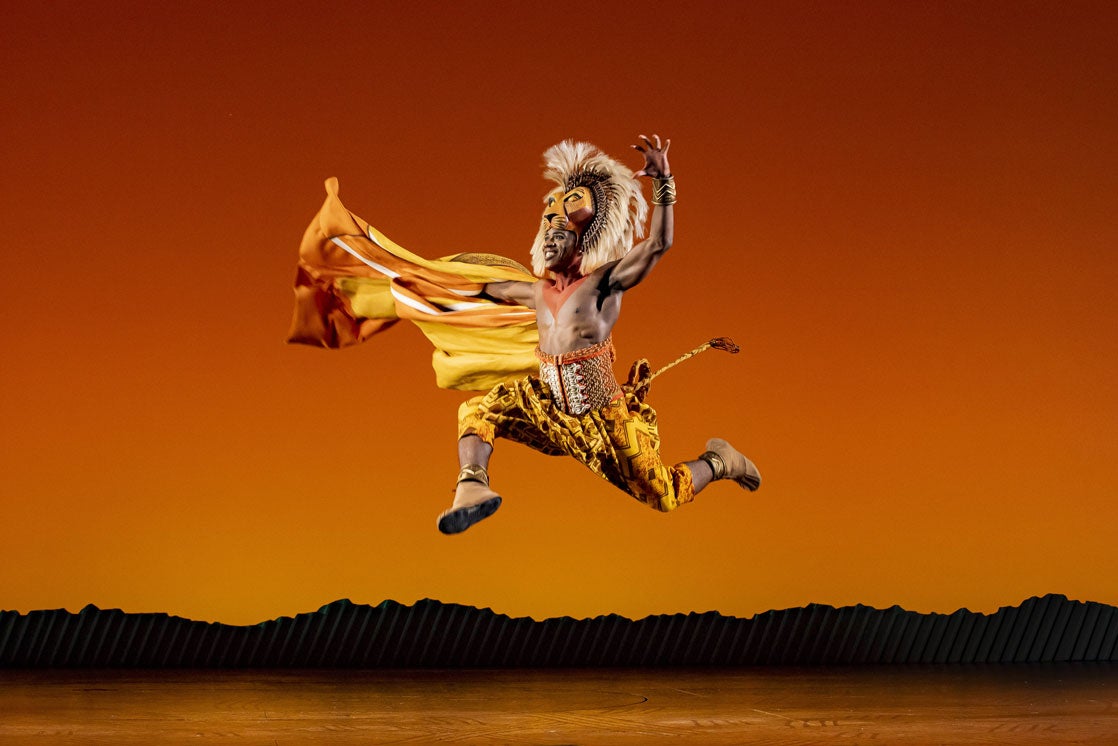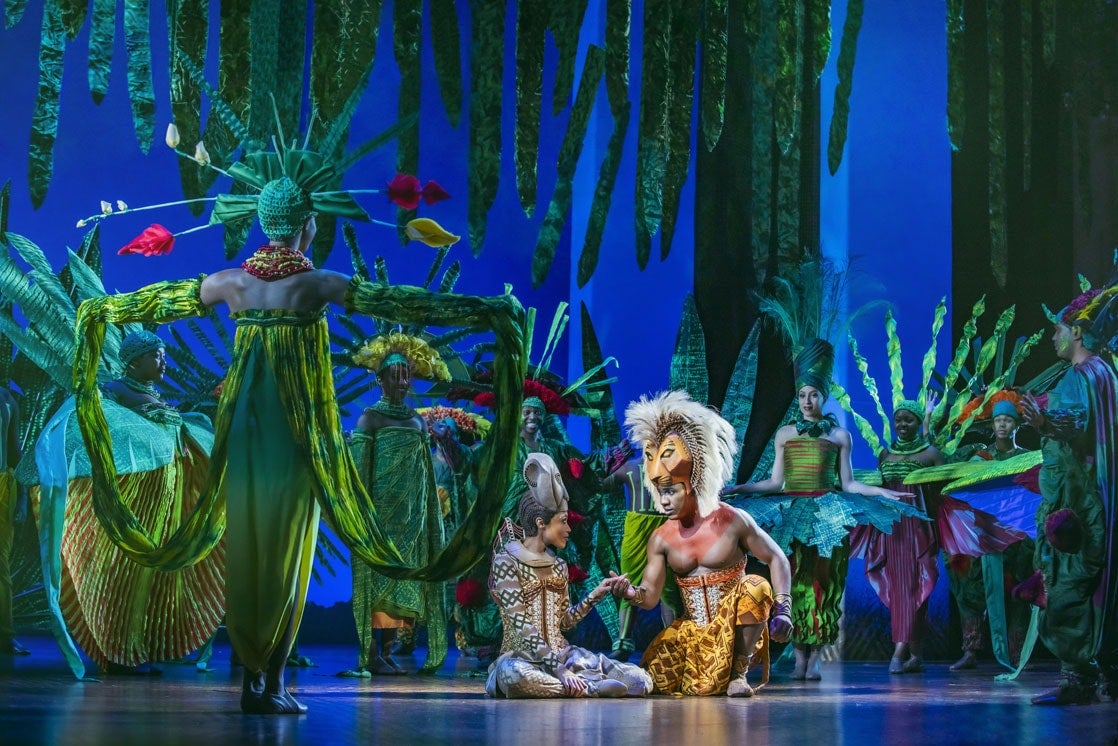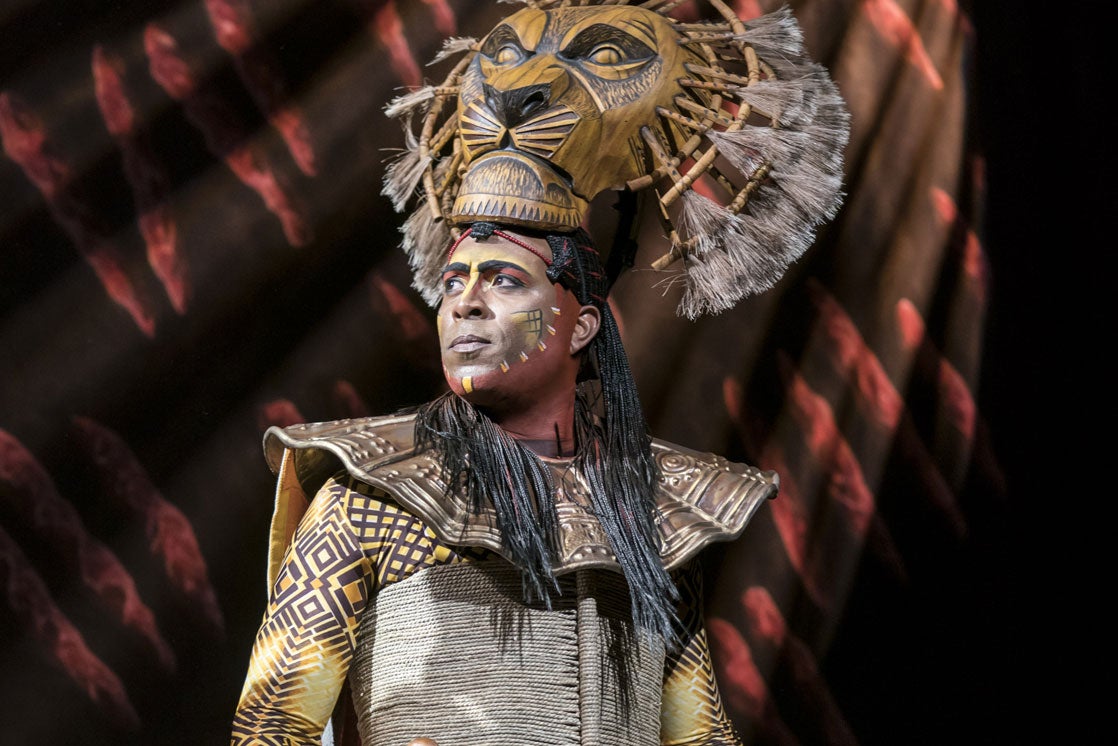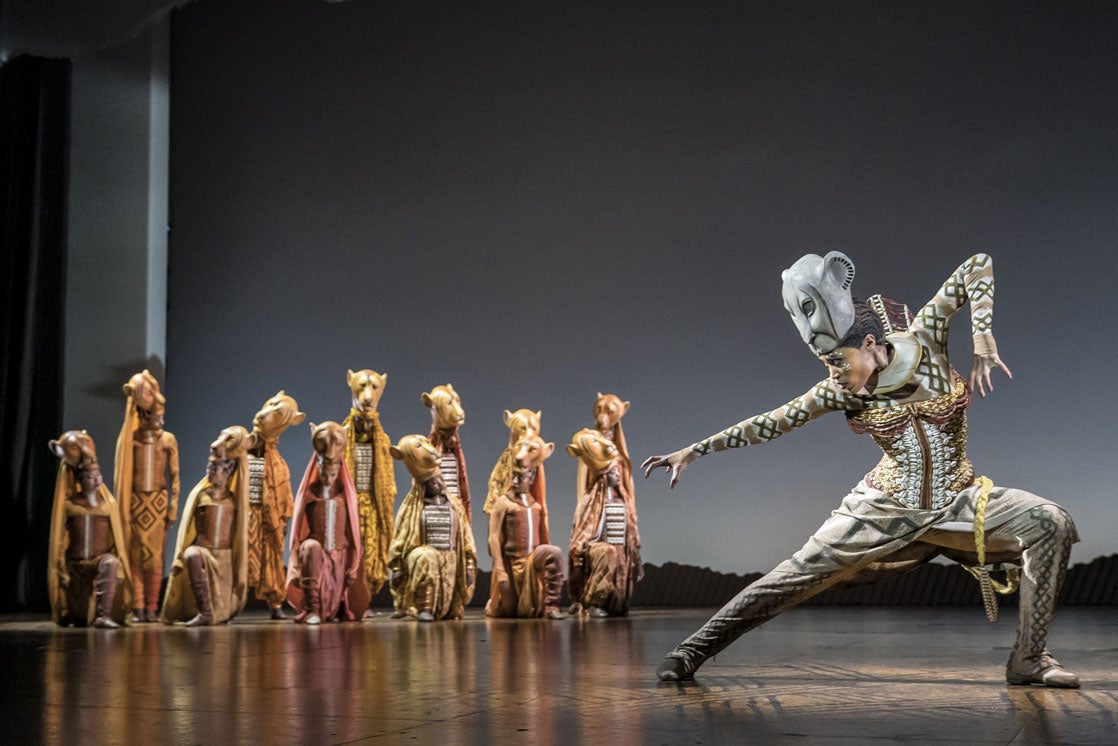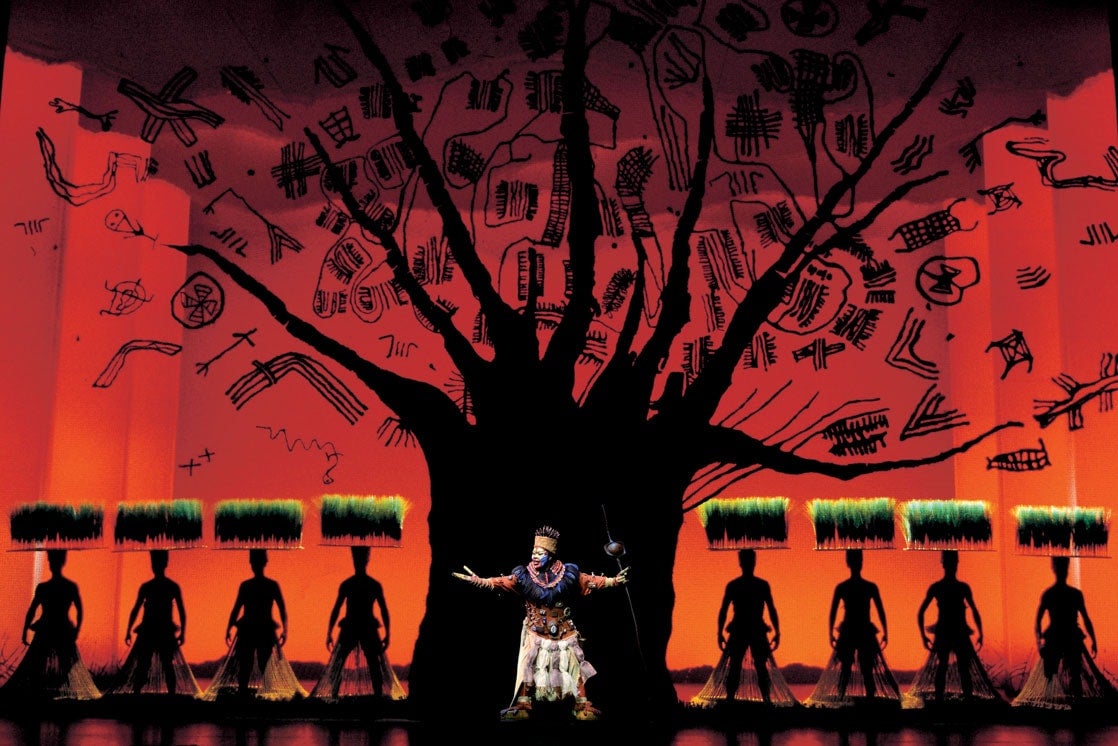 The Lion King Tickets
Theatre tickets for Disney's The Lion King are available for the musical at Lyceum Theatre in London's West End. Book tickets for the The Lion King London show through the link below for all performance times and dates this year.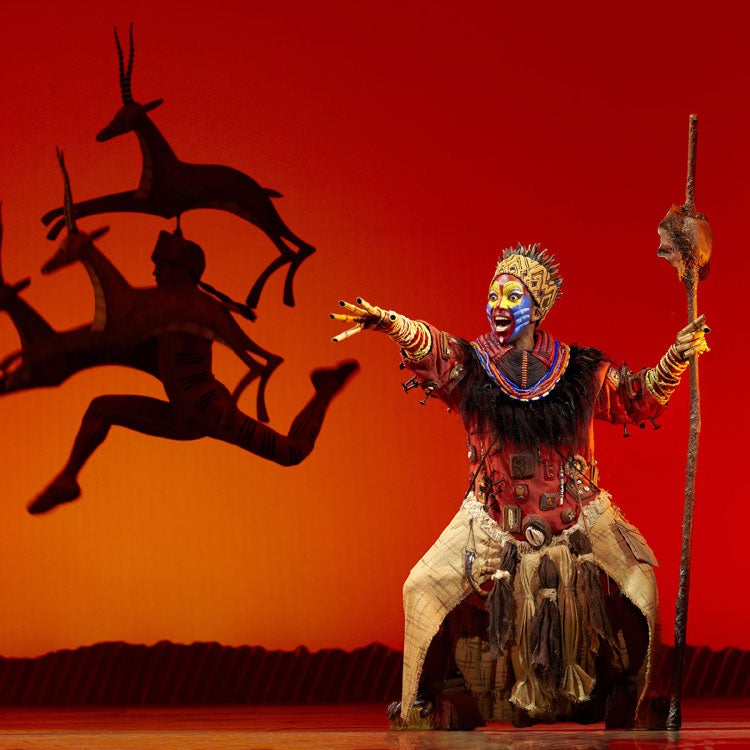 The Lion King Musical Cast and Characters
The cast for Disney's The Lion King musical in London includes the following:
Scar – George Asprey
Mufasa – Shaun Escoffery
Rafiki – Gugwana Dlamini
Zazu – Gary Jordan
Timon – Jamie McGregor
Pumbaa – Mark Roper
Simba – Kayi Ushe
Young Simba – Zion Gardner, John Madondo, Samuel O'Loughlin, Kai Plummer-Walrond
Nala – Janique Charles, Gaia Aikman
Young Nala – Tia Murrell, Avive Savannah Williams, Monae Wilson, Eva Young
Please note cast and line-up are subject to change. The Lion King has music by Elton John, lyrics by Tim Rice and a musical score created by Hans Zimmer.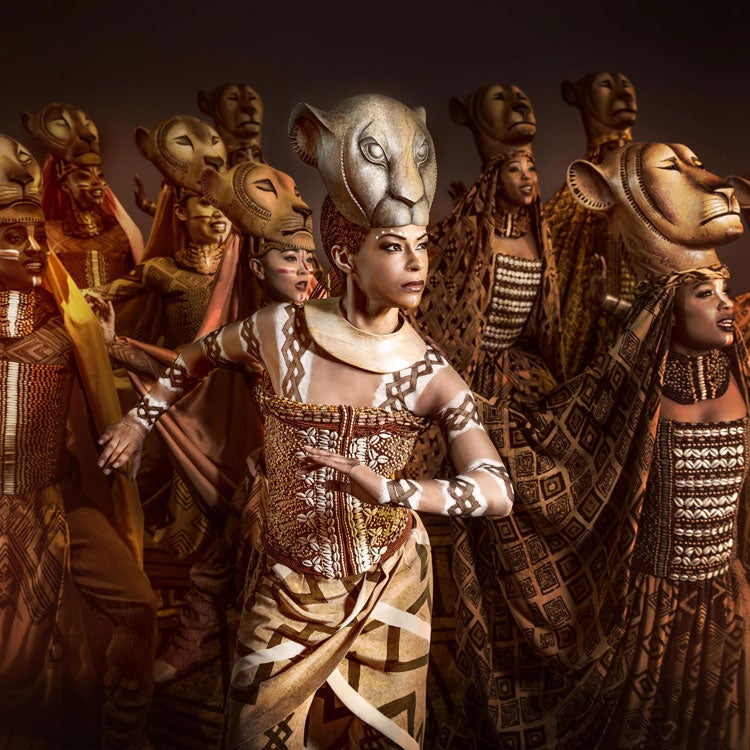 ACCESSIBILITY
The Lyceum Theatre welcomes guests with access requirements and strives to make the show as accessible for everyone.
Lyceum Theatre is accessible for wheelchair users, with ground level access to the Stalls and a lift to row H of the Royal Circle and row A of the Grand Circle. The lift comes out on the low numbers side of each area.
---
Lyceum Theatre Access Information:
---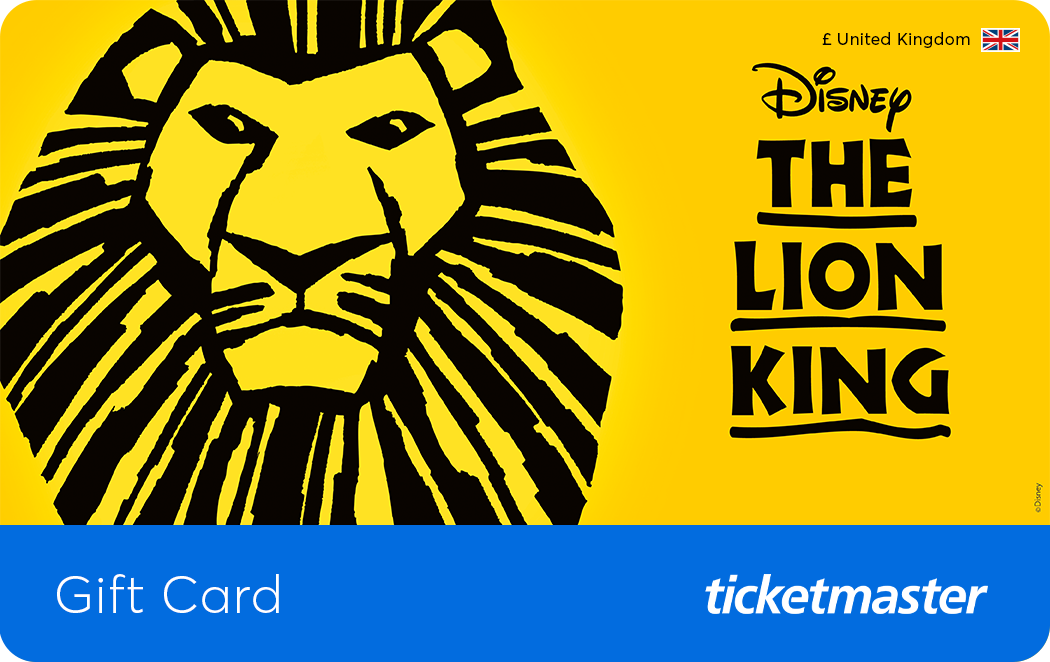 Gift Cards
Give the gift of Disney's The Lion King - e-Gift Card are now available
The perfect gift for any occasion, the recipient of a Disney's The Lion King e-Gift Card will have the chance to experience the unforgettable experience at a date and time of their choosing. e-Gift Cards are sent via email and can be loaded with up to £250. Available in the UK only. *T&Cs apply.
Purchase Today
Discover The Lion King Theatre Features
FAQs
Where is The Lion King musical playing in London?
The Lion King musical takes place at the Lyceum Theatre, with an address at Wellington Street, London, WC2E 7RQ, Great Britain.
How to get to Lyceum Theatre in London:
By Underground - The nearest tube stations are Covent Garden which serves the Piccadilly line, along with Charing Cross which serves the Northern and Bakerloo lines.
By Bus - the following buses run nearby: 6, 9, 11, 13, 15, 23, 77A, 139, 176
By Car - Public transport is strongly recommended. The nearest carparking spot is NCP Parker Street off Drury Lane.
Please note that in the interest of safety, security and bag checks are in place at the theatre.
When is The Lion King? What are the performance times and dates?
The performance dates and times for The Lion King musical are every week from Tuesday to Saturday at 19:30. There is also a matinee show on Wednesdays, Saturdays and Sundays at 14:30.
It is recommended to arrive to the theatre venue at least 30 minutes in advance. The show is booking throughout 2021 & 2022.
How long does The Lion King musical run for?
The Lion King has a runtime of approximately 2 hours 30 minutes with a 15-minute interval.
Are there accessible tickets and are access facilities available?
Yes, accessible facilities and ticket options are available. Call Lyceum Theatre in London on 020 7420 8113. Check out our Accessibility section for access information.
Are there age limits for the show? Is it family-friendly?
The show is family-friendly, however it is recommended for children aged six or over. Please note that children under the age of three are not permitted to the theatre. Parents/guardians may be asked to remove persistently noisy or rowdy children. All persons aged 16 or under must be accompanied by an adult and may not sit on their own within the auditorium. All persons entering the theatre, regardless of age, must have a ticket.
Can I book group tickets for 10+ people?
Our Groups guide has all of our shows which are available for group bookings. Simply contact us and fill out our Group Booking Form if you wish to enquire about group bookings for the show.
How much are tickets for The Lion King musical?
Tickets for The Lion King are available at various price points on our interactive seating map of each theatre. Depending on availability, tickets can be purchased at prices starting from £35.75 upwards. Tickets from Ticketmaster are verified and safe to buy. Please note that all tickets and prices are subject to availability.
Are cheaper tickets available for The Lion King?
Yes, cheaper tickets are available for The Lion King musical depending on which section you are sitting in the theatre. Our ticketing system has colour-coded ticket options at various price points to choose from, ranging from the lowest priced tickets to the highest. View all tickets here.
Keep an eye on our Offers guide for all of our theatre ticket deals, including discounted shows and 2-for-1 ticket options for multiple events. Please note that offers are limited and subject to availability.
Please note that Ticketmaster can only deal with questions and issues regarding tickets. For all other enquiries regarding the show, please visit The Lion King website or contact them directly.