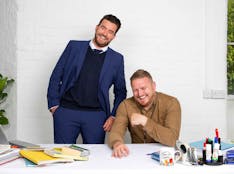 Comedy
Two Mr P's in a Podcast Live
Events
Loaded 20 out of 27 events
About
Two teaching brothers turned smash hit podcasters
Get the book Put A Wet Paper Towel On It – The Weird And Wonderful World Of Primary Schools here
In April 2018, Lee and Adam Parkinson, who both have backgrounds as educators in the Greater Manchester area, decided to launch a podcast called Two Mr Ps In A Podcast.
Lee had been a primary school teacher for more than 12 years and he still works part-time in school while also leading training sessions across the UK. His younger brother Adam is a teaching assistant in Salford.
On their show, the pair decided to share ideas and amusing insights about classroom life from the front line of teaching. Within a year, Two Mr Ps In A Podcast had become the UK's No.1 education podcast, amassing over three million listens.
People have loved their stories about the madness that goes on at school. Plus, both parents and teachers are invited to share their experiences with the duo during segments like Teacher Confessions and The Random Things You Only Find In Primary Schools.
In late 2019, the two Mr Ps hit the road with a live version of their podcast – however the tour was cut short due to the coronavirus pandemic. During lockdowns in 2020 and early 2021, the listenership of Two Mr Ps In A Podcast grew as they offered a light-hearted perspective on getting young children to social distance and provided lots of laughs during a stressful time.
In summer 2021, the two Mr Ps announced their first book, Put A Wet Paper Towel On It – The Weird And Wonderful World Of Primary Schools, would come out on 19 August 2021. They also revealed they'd be taking Two Mr Ps In A Podcast across the UK from February to May 2022 to reminisce about their own school days as well as look at today's hilarious world of education.
FAQS
Two Mr Ps In A Podcast are touring the UK from 22 February – 7 May 2022.

Two Mr Ps In A Podcast will be visiting the following UK cities in 2022:

Glasgow
Essex
Bury
Exeter
Cardiff
Hove
Lyme Regis
Bath
Bristol
Cambridge
Salford Quays
Crawley
Sheffield
Ilkley
County Durham
Darwen
Lancashire
Manchester
London

Tickets for the 2022 tour dates of Two Mr Ps In A Podcast go on sale from 18:00 on Wednesday 14 July 2021.