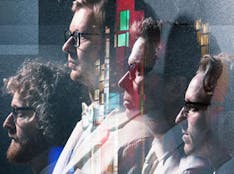 Rock/Pop
Public Service Broadcasting
Events
International Events
1 Events
Loaded 17 out of 17 events
About
Art rock band that weaves history, visuals and spoken word into their music
Get the album Bright Magic here
Based in London, the pseudonymous group Public Service Broadcasting were founded in 2009 with the aim of "teaching the lessons of the past through the music of the future".
The often corduroy-clad four-piece are comprised of J. Willgoose, Esq. on guitar and other string instruments; Wrigglesworth on drums, piano and electronica; and JF Abraham on bass guitar, flugelhorn and vibraslap, with visual artist guru Mr B in charge of set design.
PSB's debut album Inform-Educate-Entertain came out in 2013 and used archive material from the British Film Institute, StudioCanal and American public information. The band created its array of tracks by underpinning video clips with drums, banjo, guitar and electronics, resulting in audio-portals to the Battle of Britain, the conquest of Everest, steam trains and much more.
Two years later, their follow-up The Race For Space employed similar methods to craft new collages from found sounds. This time Public Service Broadcasting examined the story of the American and Soviet competition to explore space, capturing the rivalry and heroism of the world's two great powers as each sought to prove its superiority in orbit and on the moon. To celebrate the No.11-charting album's launch, PSB did two shows at the National Space Centre.
Their third project Every Valley came out in 2017 and peaked at No.4 on the UK albums chart. Featuring voices including Manic Street Preachers' James Dean Bradfield and Camera Obscura's Tracyanne Campbell, the songs chronicled the rise and fall of the coal mining industry in Wales while capturing the dizzying sense of power and crushing loss this had on the community.
Public Service Broadcasting played a huge show at the Titanic Quarter in Belfast as part of BBC Music Presents The Biggest Weekend in 2018. They unveiled a series of tracks inspired by the story of the RMS Titanic that formed their EP White Star Liner.
In June 2021, PSB debuted the lead single People, Let's Dance from their fourth album Bright Magic, set for release on 24 September 2021. In order to explore the history and myths as well as cultural and political metropolis that is Berlin, the Hauptstadt of the Federal Republic of Germany, Willgoose relocated there from 2019 to 2020. A very personal project, he said Bright Magic became "an album about moving to Berlin to write an album about people who move to Berlin to write an album…"
To support it, Public Service Broadcasting confirmed The Bright Magic Tour with dates across the UK in October and November 2021.
News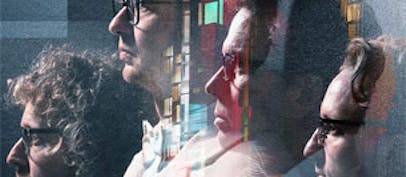 Public Service Broadcasting announce UK tour
In support of their forthcoming album Bright Magic, the band will play shows across the country in October and November 2021.
FAQS
Public Service Broadcasting are touring the UK from 24 October – 11 November 2021 in support of their new album Bright Magic.

Public Service Broadcasting will be visiting the following UK cities in 2021:

Cardiff
Brighton
Bristol
Exeter
Southampton
Aylesbury
Birmingham
Leeds
Llandudno
Manchester
Newcastle
Aberdeen
Glasgow
Nottingham
London
Cambridge

Tickets for Public Service Broadcasting's 2021 tour dates go on sale from 10:00 on Wednesday 9 June 2021.