Alternative and Indie
Suede
About
The band that kick-started Britpop  
Get the album Beautiful Ones: The Best Of Suede 1992 - 2018 here
Formed in London in 1989, Suede was created by singer-songwriter Brett Anderson and bassist Mat Osman, longtime school friends who were joined by Anderson's university girlfriend Justine Frischmann and later Bernard Butler as guitarists.
The band got its start playing small gigs in Camden Town. Even before they released any music, Suede grew popular from word of mouth and good press from magazines about their electrifying live shows.
After a couple of years, Frischmann departed to start the group Elastica and drummer Simon Gilbert came on board. Suede's first single The Drowners arrived in 1992 and was a moderate success, with their second single Metal Mickey following and reaching No.17 in the UK charts. Shortly after, Suede signed to Sony's Nude Records label.
In 1993, as Anderson sparked controversy with comments about his sexual orientation, the androgynous indie rockers broke through with their No.7-charting third single, Animal Nitrate. When Suede released their self-titled debut album later that year it landed them at No.1 on the UK albums charts and at the forefront of the Britpop scene.
Recording their grandiose and experimental follow-up, 1994's Dog Man Star, was fraught with tension that led Butler to quit the band. He was replaced by Richard Oakes when Suede toured the album, which had been well-received by critics and peaked at No.3 on the charts.
Keyboardist Neil Codling joined the group in 1996, and the five-piece went on to release their second No.1 album Coming Up, which spawned five top 10 singles: Beautiful Ones, Trash, Lazy, Filmstar and Saturday Night. Nominated for the 1997 Mercury Prize, it became Suede's biggest-selling album worldwide.
Two more albums ­– 1999's Head Music and 2002's A New Morning –­ were recorded before the band split in 2003 after a marathon two-and-a-half hour last concert at the London Astoria.
They reunited in 2010 for a special gig as part of Teenage Cancer Trust, which was followed by a couple more shows, a summer festival appearance in Norway and the two-disc The Best Of Suede greatest hits compilation. In 2011, Suede continued to perform at festivals and tour the globe, while 2013 saw the arrival of their sixth album Bloodsports featuring the lead single It Starts And Ends With You. The band supported it with an extensive European and UK tour.
In 2015, their No.6-charting album Night Thoughts was unveiled alongside a film directed by photographer Roger Sargent.
The group's eighth album produced by Alan Moulder (Arctic Monkeys, Queens Of The Stone Age) came out in 2018. Written as a continuous piece of work, it contained 14 songs that were thematically linked and featured a choir, spoken word and string arrangements.
Suede unveiled another compilation, Beautiful Ones: The Best Of Suede 1992-2018, in late 2020 and also confirmed details for a UK tour celebrating 25 years of Coming Up that would see them play the album in full. In early 2021, those dates were rescheduled to November 2021, with two new shows added in Nottingham and Bristol.
News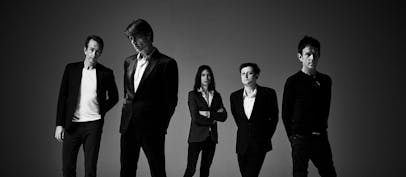 Suede adds two new dates
The band is now playing shows in Nottingham on 5 November and Bristol on 7 November 2021 as part of their autumn tour in celebration of the album Coming Up. Tickets go on sale from 10:00 on Friday 7 May 2021.
FAQS
Suede are touring the UK from 5 – 11 November 2021 in celebration of the 25th anniversary of Coming Up.

Suede's 2021 UK tour will stop at the following venues in 2021:

Rock City, Nottingham (new show)
O2 Academy Birmingham
O2 Academy Bristol (new show)
O2 Academy Leeds
O2 Victoria Warehouse, Manchester
Alexandra Palace, London

Tickets for Suede's two new tour dates go on sale from 10:00 on Friday 7 May 2021.

Tickets for Suede's previously announced tour dates are on sale now. Original tickets remain valid for rescheduled dates.