Events
Loaded 20 out of 44 events
About
Deadpan comedian beloved for his improv abilities
Born and bred in Fulham, Paul James Martin had a father with a lively sense of humour and an Irish mother who was always happy to be his audience.
Having enjoyed watching clowns at the circus as a boy, he wanted some day to be involved in making people laugh. Early on in his career, Martin discovered another performer with his name, so he changed it to "Paul Merton" after the district in London where he was raised.
He made his first stand-up performance at The Comedy Store in Soho in 1982 and went on to join the London improvisation group The Comedy Store Players in 1985. 
Merton became known to a wider audience through television. From 1988 to 1993, he appeared in the original version of the improv series Whose Line Is It Anyway? He also has been a regular on the BBC panel show Have I Got News For You since 1995.
For much of the noughties, Merton hosted the chat show Room 101 and since 2007 has been presenting various travel and history documentaries.
In 2008, he took the show Paul Merton's Impro Chums to the Edinburgh Comedy Festival in Pleasance and has been touring the collective improvisational experience during which he leads a group of comedians as they flex comedy muscles ever since.
Merton married Suki Webster, a fellow improvisational comedian whom he met while performing in India, in 2010 and she also joined the group.
According to the Daily Mirror, they "continue to be the finest exponents of the improv art", while the British Theatre Guide said that they are "the most seasoned performers in this field and know just how to work the games, the suggestions and the audience for maximum effect".
Along with Merton and Webster, the group currently includes Richard Vranch, Mike McShane and accompanist Kirsty Newton. In May 2021, he announced Paul Merton's Impro Chums would head out on a UK tour from March to June 2022.
News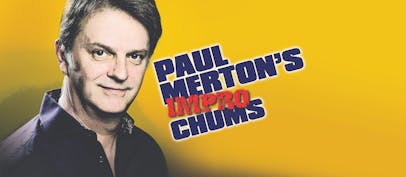 Paul Merton returns with Impro Chums
The comedian and his collective are heading around the UK from March – June 2022 to provide evenings of mind-blowing improvisation. Tickets go on sale from 10:00 Thursday 27 May 2021.
FAQS
Paul Merton's Impro Chums will head across the UK in March through June 2022.

Paul Merton and his improv collective will be visiting the following UK cities in 2022:

Margate
Dunstable
Nottingham
Southend-on-Sea
Portsmouth
Yeovil
Barnstaple
Exeter
Winchester
Swindon
Bromley
Bexhill-on-Sea
Weston-Super-Mare
Dorset
Kings Lynn
Leeds
Burnley
Sheffield
Halifax
Newcastle
Stirling
Glasgow
High Wycombe
Salford Quays
Llandudno
Shrewsbury
Cardiff
Coventry
Peterborough
Bath
Basingstoke
Brighton
Guildford
Poole

The age recommendation for Paul Merton's Impro Chums is 14+ because shows may contain some swearing and adult themes.

Tickets for Paul Merton's tour dates go on sale from 10:00 Thursday 27 May 2021.