Events
International Events
1 Events
Loaded 10 out of 10 events
About
Self-taught Norwegian electro-pop artist known for her melancholic music
Singer-songwriter AURORA, full name Aurora Aksnes, was compelled to craft music from a young age. Shortly after she was born in Stavenger, Norway, her parents moved to a remote woodland area in the Os mountains where her love of nature first flourished. In that house, AURORA discovered a piano in the attic and figured out how to play her favourite classical songs. She spent much of her early teens holed up in her bedroom writing music. After self-releasing a couple of songs – Puppet and Awakening – in the early '10s, she was signed to Decca Records.
Written at the age of 12, AURORA's single Runaway, about wanting to explore the world but finding it too much and then returning home, arrived in 2015, with her debut EP Running With The Wolves coming out later that year. Plus, AURORA's voice became widely recognised thanks to singing a cover of Oasis' Half A World Away for the John Lewis Christmas campaign.
Inspired by the likes of Enya, Leonard Cohen and Bob Dylan, AURORA's 2016 debut studio album All My Demons Greeting Me As A Friend began to establish her signature soft yet soaring vocals and often dark, emotive sound.
A second EP Infections Of A Different Kind (Step 1) was released in 2018, followed by her sophomore studio album A Different Kind Of Human (Step 2) in 2019. That November she also provided vocals for Into The Unknown on the soundtrack for Disney's Frozen II film and performed it with Idina Menzel at the 2020 Oscars ceremony.
AURORA's single Exist For Love also came out in 2020, while early 2021 saw the arrival of a pair of EPs – For The Humans Who Take Long Walks In The Forest and Music For The Fellow Witches Out There – in celebration of the six-year anniversary of her breakthrough single Runaway.
In July 2021, she released the upbeat, empowering track Cure For Me and also announced a seven-date UK tour for March and April 2022.
News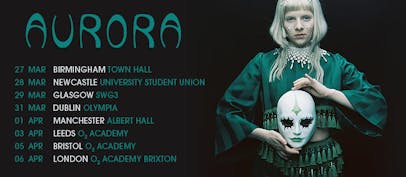 AURORA announces 2022 UK tour
Following the release of her new single Cure For Me, the Norweigan singer-songwriter is heading out across the country in spring 2022. Tickets go on sale from 09:00 on Friday 16 July 2021.
FAQS
AURORA is touring the UK from 27 March – 6 April 2022.

AURORA will be visiting the following UK cities on her 2022 tour:

Birmingham
Newcastle
Glasgow
Manchester
Leeds
Bristol
London

Tickets for AURORA's 2022 tour dates go on sale from 09:00 on Friday 16 July 2021.