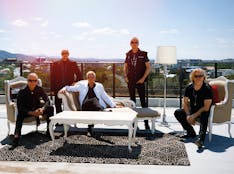 About
The iconic rockers celebrate three decades with a UK tour
Get The Greatest Hits collection here
Formed in 1989 by former Terraplane members, Thunder became one of the UK's most popular rock acts in the early '90s with a sound that merged unforgettable melodies and sheer rock power.
Produced by Duran Duran's Andy Taylor, their debut album Backstreet Symphony arrived in 1990 and reached the No.21 spot on the UK albums chart. Not only did Thunder start selling out gigs across the country, but they landed a slot at Castle Donington's Monsters Of Rock festival that summer playing to more than 80,000 people. 
Their 1992 follow-up Laughing On Judgement Day fared even better, climbing to the No.2 position on the UK albums chart. Ultimately, both albums were certified gold, and a slew of chart-topping singles emerged: Dirty Love, Love Walked In, She's So Fine, Gimme Some Lovin', Backstreet Symphony, Low Life In High Places, Everybody Wants Her, A Better Man and Like A Satellite.
Thunder released three more albums in the late '90s, during a time when stadium rock bands were losing favour to grunge and new wave acts. In 2000, the band split, but the break only lasted a couple of years before they reunited for a series of live shows and soon after began recording music again.
Over their first 30 years, Thunder released 12 studio albums and notched up 20 top 50 singles. Their 2017 record, Rip It Up, hit No.3 on the UK albums chart, giving the band their highest placing chart spot in 22 years.
On the back of its success, the rock icons emerged with a stellar appearance at Download Festival in 2018, while 2019 saw them release two more new albums: the full-length Please Remain Seated, which debuted at No.8 on the UK albums chart, and The Greatest Hits compilation.
On 18 August 2020, Thunder rescheduled their five-date UK arena tour – and first fully electric headline shows since 2017 – to May 2021. 
FAQS
Thunder are touring the UK from 13 – 23 May 2021 in support of their 2019 albums Please Remain Seated and The Greatest Hits. The shows also celebrate their more than 30-year career in the music industry.

Thunder is performing at arenas in the following UK cities:

Cardiff
Birmingham
London
Leeds
Glasgow

Ugly Kid Joe is providing support at all shows, along with a different opening band for each arena chosen by Thunder.

Thunder's current line-up includes:

Danny Bowes
Ben Matthews
Gary "Harry" James
Chris Childs
Luke Morley

Founding member Mark "Snake" Luckhurst left the band in 1992. He was replaced by Mikael Höglund who departed in 1996.

Thunder's most popular songs include the following:

Love Walked In
She's So Fine
I Love You More Than Rock 'n' Roll
A Better Man
Like A Satellite
Everybody Wants Her