Events
Loaded 20 out of 60 events
About
Fearlessly witty Canadian comedian
Born and raised in a small town in Ontario, Canadian comedian Katherine Ryan found comedy stardom after she relocated to London. Finding kindred spirits on the capital's stand-up scene helped the former Hooters staff trainer (Ryan claimed she was fired for writing "club sandwiches not seals" on a specials board) hone her voice and progress from open mic nights to eventually becoming a familiar face on panel shows and a team captain on 8 Out Of 10 Cats.
Ryan proved herself to be something of a spiritual successor to the late Joan Rivers, due to her fondness for caustic put-downs and willingness to venture into dangerous territory in pursuit of a joke. These traits also earned her a spot alongside the similarly minded Jimmy Carr on Channel 4's Your Face Or Mine and Netflix panel show The Fix.
By 2019, Ryan had cemented a productive partnership with the streaming giant, including two well received comedy specials, Glitter Room and In Trouble. An appearance on Who Do You Think You Are? led to a trip home to Canada and a reconnection with her childhood sweetheart, who she later married in 2019. That same year, Katherine Ryan toured the UK for a second time.
In 2020, Netflix released the sitcom The Duchess, written by and starring Ryan as a single mother in London. Ryan has said the series is a heightened version of her own life story, particularly in her portrayal of a single mother in a foreign city.
In late 2020, Katherine Ryan announced her Missus UK tour, set to kick off in September 2021 and run until May 2022. The name of the tour references the previously determinedly single Ryan's newly married status.
In early 2021, she announced a live broadcast of Telling Everybody Everything as part of the inaugural Podcast Stop festival in London on 27 May 2021 and also added 12 more dates to her massive Missus UK tour.
News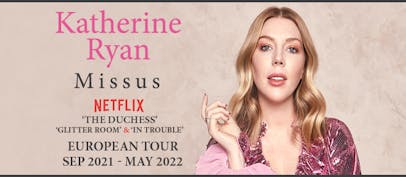 Katherine Ryan adds 12 more tour dates
The funny Canadian has just announced shows for Missus in Scarborough, Manchester, Worthing, Milton Keynes, Llandudno, Bromley, Hastings, Brighton, Norwich, Torquay, Peterborough and Grimsby.
FAQS
Katherine Ryan is appearing at O2 Forum Kentish Town as part of the inaugural Podcast Stop festival on 27 May 2021.

Katherine Ryan is also touring the UK from 2 September 2021 – 25 May 2022 with her brand new show Missus.

Katherine Ryan will be visiting the following UK cities on her Missus tour:

Crawley
Guildford
Dorking
Glasgow
Aberdeen
Perth
Leeds
Harrogate
Halifax
Stockport
Middlesbrough
Coventry
Exeter
Plymouth
Southampton
Lincoln
Liverpool
Brighton
Poole
Bristol
Margate
Birmingham
Reading
Warrington
Bradford
Wrexham
York
Sheffield
Manchester
Colchester
Cheltenham
Bexhill-on-Sea
Ipswich
Cambridge
Tunbridge Wells
Southend-on-Sea
Aylesury
Oxford
Northampton
Nottingham
Leicester
Newcastle
Cardiff
Birmingham
Portsmouth
Basingstoke
Glasgow
London
Belfast
Scarborough (new show added)
Manchester (new show added)
Worthing (new show added)
Milton Keynes (new show added)
Llandudno (new show added)
Bromley (new show added)
Hastings (new show added)
Brighton (new show added)
Norwich (new show added)
Torquay (new show added)
Peterborough (new show added)
Grimsby (new show added)

Tickets for Katherine Ryan's newly added tour dates go on sale from 10:00 on Friday 23 April 2021. Presale tickets will be available 24 hours earlier from 10:00 on Thursday 22 April 2021.

Katherine Ryan's previously announced tour dates are all on sale now.