Events
Loaded 20 out of 199 events
About
Outrageous comedian known for his deadpan delivery
Famed for his award-winning stand-up and TV presenting roles, comedian Jimmy Carr celebrates an illustrious career spanning more than two decades.
Born in 1972, full name James Anthony Patrick Carr, Jimmy turned to comedy in 2000 following acceptance of voluntary redundancy from his marketing role. Boasting a strong education, including graduating with first class honours from the prestigious University of Cambridge, Carr turned his attention to stand-up, cementing his characteristic blend of dark and intelligent humour. His first paid gig took place after just one unpaid venture a month prior.
Two years later, Carr secured a nomination for the coveted Perrier Award at Edinburgh Festival Fringe for his aptly titled Bare Faced Ambition show. In 2003 he returned to the Scottish capital for a sold-out month-long run, presenting his Charm Offensive show. By the end of the decade, Carr had secured the British Comedy Award for Best Live Stand Up, been declared by The Observer as one of Britain's funniest acts, and came 12th in a readers poll of the 100 Greatest Stand-Ups. His touring schedule proved equally as prolific, regularly performing across the UK and garnering attention that would launch his concurrent TV career.
Jimmy Carr began presenting Channel 4's 8 Out Of 10 Cats in 2005, as well as its popular spin-off 8 Out Of 10 Cats Does Countdown in 2012. He also sat at the helm of Channel 4's annual Big Fat Quiz Of The Year for over a decade. Other TV hosting duties have included acclaimed quiz shows Distraction and Your Face Or Mine?, as well as Comedy Central's Roast Battle. Carr has also made special guest appearances on Have I Got News For You, Top Gear and The Last Leg, as well as competing on a number of celebrity quiz shows including Tipping Point, The Chase and Deal Or No Deal.
In 2016, Carr claimed the honour of becoming the first UK stand-up comedian to record a Netflix special. Filmed at London's Eventim Apollo in Hammersmith, Funny Business was released on the streaming service that same year. Carr followed this up with his second special, The Best Of, Ultimate, Gold, Greatest Hits in 2019 – recorded at Dublin's Olympia Theatre.
In 2019, Jimmy Carr launched his Terribly Funny tour, running throughout 2021 and into 2022. Described by The Guardian as "a comedy hero for our time", Carr promised a show filled with jokes about the terrible things that might have affected his audience or their friends. "But they're just jokes," the press release read. "Nothing more than wonderful, funny, joyful tricks, constructed from language."
Newly added dates to Jimmy Carr's Terribly Funny tour
21 January 2022 – Dorking Halls
26 January 2022 – Victoria Theatre, Halifax
27 January 2022 – Whitley Bay Playhouse (two shows)
4 February 2022 – Doncaster Dome
10 February 2022 – Cliffs Pavilion, Southend
13 February 2022 – indigo at The O2, London
16 February 2022 – Corn Exchange, Cambridge
4 March 2022 – Truro Hall, Cornwall (two shows)
3-4 November 2022 – Portsmouth Guildhall
5 November 2022 – Bonus Arena, Hull
6 November 2022 – O2 Academy Brixton, London
10 November 2022 – Plymouth Pavilions
11 November 2022 – Bath Forum
12-13 November 2022 – Oxford New Theatre
19 November 2022 – Ipswich Regent
20 November 2022 – Winter Gardens, Margate
23-24 November 2022 – Victoria Hall, Stoke [on sale on 14 May 2021]
25 November 2022 – Symphony Hall, Birmingham
26 November 2022 – Stockport Plaza (two shows)
27 November 2022 – Liverpool Empire
30 November 2022 – Caird Hall, Dundee
1-2 December 2022 – Alhambra, Dunfermline
3 December 2022 – Newcastle City Hall
7-8 December 2022 – BIC Windsor Hall, Bournemouth
14-15 December 2022 – Stockton Globe [on sale on 14 May 2021]
17-18 December 2022 – O2 Apollo Manchester
News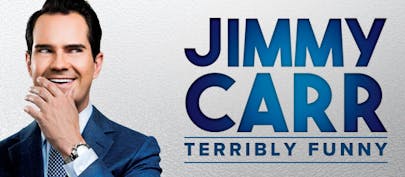 Jimmy Carr adds lots of new dates
The hilarious comedian will now be touring his show Terribly Funny through 18 December 2022. Tickets for most of these new dates go on sale from 10:00 Friday 7 May – or grab them early in the presale which opens at 10:00 Thursday 6 May 2021.
FAQS
Launched in 2019, Jimmy Carr's Terribly Funny tour runs throughout 2021 and 2022.

Among the numerous stops, you can catch Jimmy Carr live on tour in the following UK cities and towns in 2021 and 2022:

London
Wolverhampton
St Albans
Peterborough
Taunton
Plymouth
Ipswich
Southampton
Cardiff
Leicester
Scarborough
Liverpool
Northampton
Birmingham
Coventry
Bristol
Milton Keynes
Manchester
Lincoln
Swansea
Exeter
Blackpool
Newcastle
Bath
Brighton
Reading
Leeds
York
Southend
Eastbourne
Colchester
Aberdeen
Sheffield
Cambridge
Edinburgh
Oxford
Portsmouth
Hull
Margate
Stoke
Stockport
Dundee
Bournemouth
Stockton

Tickets for most of Jimmy Carr's newly added 2022 tour dates go on sale from 10:00 on Friday 7 May 2021 (please note the Stoke Victoria Hall and Stockton Globe dates go on sale from 10:00 on Friday 14 May 2021). Get tickets 24 hours early in the presale which opens at 10:00 on Thursday 6 May 2021.

All of Jimmy Carr's previously announced 2021 and 2022 tour dates are on sale now.

Jimmy Carr co-authored The Naked Jape: Uncovering The Hidden World Of Jokes in 2006 alongside Lucy Greeves. The book is called Only Joking: What's So Funny About Making People Laugh? in the United States.

Jimmy Carr is best known for presenting the following shows:

8 Out Of 10 Cats
8 Out Of 10 Cats Does Countdown
The Big Fat Quiz Of The Year
Roast Battle
Distraction
Your Face Or Mine?

Jimmy Carr has made a number of film appearances including:

Confetti (2006)
Alien Autopsy (2006)
Telstar (2009)
Magik (2016)