Rock/Pop
Fun Lovin Criminals
About
One of the Big Apple's finest music exports
The always quirky Fun Lovin' Criminals hail from New York City. The three-piece were formed by singer and guitarist Huey Morgan, keyboard and bass player Brian "Fast" Leiser and drummer Steve Borgovini in 1993. They met while working at the Limelight nightclub and would stand in whenever a performer failed to show up, playing an eclectic mix of styles ranging from jazz, blues and alt-rock to Latin, punk and funk.
FLC's first album Come Find Yourself was released in the summer of 1996 and it spawned the beloved track Scooby Snacks, which reached No.22 on the UK singles chart and contained samples from Quentin Tarantino movies. The record also spawned the hits King Of New York, The Fun Lovin' Criminal and a cover of We Have All The Time In The World from the 1969 Bond film On Her Majesty's Service.
Two years later Fun Lovin' Criminals came out with 100% Colombian featuring the song Korean Bodega – not only arranged by Garbage but also with guest vocals from Shirley Manson. Characterised by its soulful sound, this record included the track Mini Bar Blues with blues legend BB King on guitar and peaked at No.3 in the UK.
In 1999, Maxwell Jayson replaced Borgovini in the line-up. FLC's first album of the new millennium was 2001's Loco, boasting the No.5-charting title single.
Leicester-born drummer Frank Benbini, who'd known the band members for years, took over in 2003 after Jayson departed. That autumn Fun Lovin' Criminals released Welcome To Poppy's, followed by Livin' In The City in 2005 and Classic Fantastic in 2010.
Over the years, FLC have built a reputation for their unforgettable live shows. Among their many festival appearances around the globe, the trio played Glastonbury in 1999 and 2008 to thunderous crowd approval.
On 1 March 2021, Fun Lovin' Criminals announced a UK tour for October 2021 to celebrate the 25th anniversary of their debut album Come Find Yourself.
News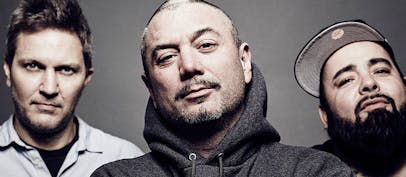 Fun Lovin' Criminals announce October 2021 UK tour
The trio are hitting the road for a high-octane 25th anniversary celebration of their debut album Come Find Yourself.
FAQS
Fun Lovin' Criminals are coming to the UK from 7 – 23 October 2021.

Fun Lovin' Criminals will visit the following UK cities in 2021:

Bristol
Nottingham
Manchester
Norwich
Newcastle
Glasgow
Brighton
Wolverhampton
London

Tickets for Fun Lovin' Criminals' UK tour dates in 2021 go on sale from 10:00 on Friday 5 March 2021.