About
Former five-piece turned solo project Years & Years have announced they're heading on tour in 2022
Years & Years have announced they are heading back on tour in 2022, playing a number of UK dates to promote their upcoming album, Night Call. The new record will arrive on 7 January 2022, and you can preorder it here before 17.00 on Tuesday 2 November to gain access to the presale.
This synth-pop and dance group started with five members but is now the solo project of vocalist Olly Alexander. The group formed over a decade ago and have experimented with electronic-based sounds while incorporating 90s house elements and synth-pop embellishment. Their unique sound has drawn praise from fans and critics and earned them a string of chart-topping releases and accolades. 
The group formed in 2010 when Michael Goldsworthy met Noel Leeman after moving to London. Goldsworthy also met Olivier Subria and later Emre Türkmen online when wanting to start a band. The group expanded when they heard Alexander singing at a friend's house when he was taking a shower, before asking him to join as a vocalist. 
Releasing their first record, I Wish I Knew, in 2012 as a five-piece, Years & Years gained momentum with their 2013 debut EP, Traps, after signing a deal with French label Kitsuné as a three-piece. 
In 2014, the group announced they had signed a deal with Polydor before releasing their second EP, Real. That same year, Years & Years released multiple singles including Take Shelter and Desire. The group won the BBC Sound Of award in 2015 before embracing the momentum to release their first full-length album, Communion. The album topped the charts in the UK and reached similar highs in the Irish and US dance charts. The album also featured lead singles King and Shine which nabbed the No.1 and No.2 spots on the UK charts, respectively. 
The group were nominated for four BRIT Awards in 2016, including British Group, British Breakthrough Act, British Single and British Artist Video. 
Years & Years' sophomore album, Palo Santo, was released in 2018 and featured production from Kid Harpoon, Greg Kurstin and GRADES. The album included hit singles Sanctify and If You're Over Me and climbed to No.3 on the UK charts.
Collaborations with DJ Jax Jones, producer MNEK and Pet Shop Boys followed throughout 2018 and 2019. 
In 2021, Years & Years announced on social media that their upcoming album would be a solo project by Olly Alexander. Goldsworthy confirmed that he would continue to play live with the band and Türkmen would be focussing more on his work as a writer and producer. 
By April that year, the band had released the single Starstruck with a remix of the song featuring Kylie Minogue following in May. Years & Years and Minogue returned with another collaboration for Kylie's Disco album later that year called A Second To Midnight. In September, the band released the single Crave and announced that their third studio album, Night Call, would come out in early 2022.
News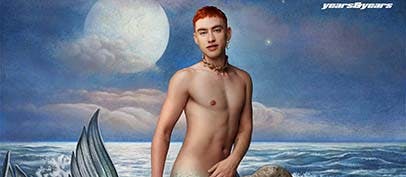 Pre-order Night Call for early access to tickets
Get a head start on tickets for Years & Years UK tour when you pre-order the new album Night Call. The pre-sale opens at n Thursday 4 November 2021 and the album is released on 7 January.
FAQS
Years & Years are heading out on tour in May 2022.

Years & Years are playing the following UK cities on their upcoming tour:

Brighton
Bournemouth
Birmingham
London

Tickets to see Years & Years on their upcoming tour go on sale on Friday, November 5 2021 at 09:00.

You can preorder the new album here before 17.00 on Tuesday 2 November to gain access to the presale, which starts a day earlier at 9.00 on Thursday 4 November 2021.