Due to COVID-19, Wicked the Musical is currently closed until 26 April 2020. Please visit our
Help Desk
for more information.
For a full listing of cancelled and altered events,
click here
.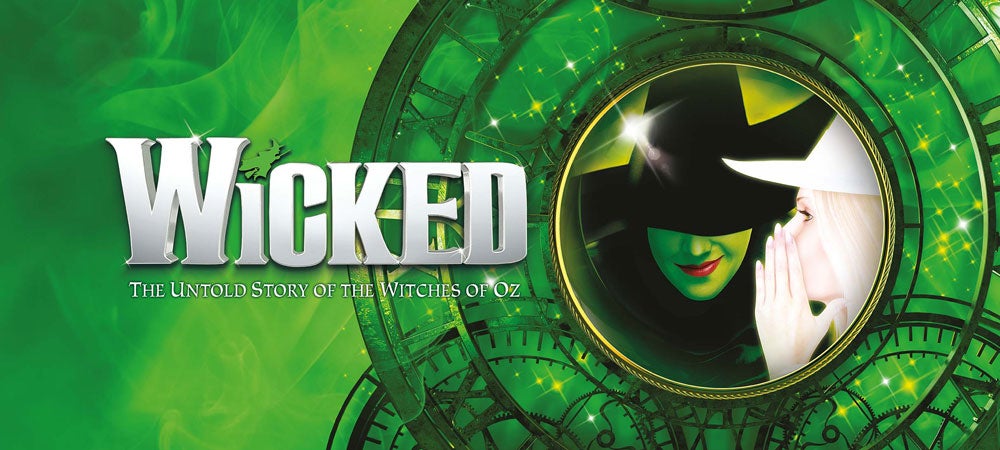 About Wicked the Musical
Wicked is the multi-award-winning West End musical which takes place in the Apollo Victoria Theatre in London. The spellbinding show acts as a prequel to retell the classic story of the iconic Wizard of Oz in a captivating tale of Glinda the Good Witch and Elphaba, the Wicked Witch of the West.
The magical tale follows the story of two young sorcery students, Glinda and Elphaba, as they navigate life at the magical Shiz University. The two are opposites in many ways, as Glinda is popular and pretty while Elphaba is green-skinned and misunderstood. However, despite their differences, the pair form an unlikely yet powerful friendship. Glinda grows to become Glinda the Good Witch while Elphaba finds her fate as the Wicked Witch of the West in a journey full of twists, shocks and sorcery as the pair's decisions lead their paths to diverge into two very different destinies.
The mesmerising musical recreates the magical world of Oz set to a stunning soundtrack, in an enchanting experience you will never forget...
Wicked tickets are available for booking from now until May 2020.
Wicked History
The London production of Wicked first opened in September 2006 and is now one of the longest running and most popular musicals in London's West End theatre. The show has been running for over 13 years, entertaining over 10 million theatregoers in the UK alone. The theatre production first opened on Broadway in America in October 2003 where it continues to run to this day.
Wicked is based on the best-selling novel Wicked: The Life and Times of the Wicked Witch of the West, written by Gregory Maguire in 1995. Maguire's book wonderfully reimagines the lives of some of the iconic characters from the original book The Wonderful Wizard of Oz by L. Frank Baum, first published in 1900. The book was later adapted into the timeless classic film The Wizard of Oz produced by Metro-Goldwyn-Mayer in 1939.
Time Out London describes the musical as "the gravity-defying Wizard of Oz prequel" while Official London Theatre hails the show as a "world-class West End musical with stunning spectacle, a heart-warming story and unforgettable songs." With that in mind, it's no wonder that Wicked the Musical has won over 100 international awards, including 10 WhatsOnStage awards, voted for by theatregoers, along with three awards for 'Best West End Show'. The smash-hit favourite has also won three Tony Awards on Broadway, two UK Olivier Audience Awards and the Olivier Award for 'Most Popular Show.'
Wicked Trailer
Watch the Trailer for the Wicked Musical in London's West End Theatre:
Discover More About Wicked London
Discover more about Wicked London, including cast interviews, news, articles and announcements:
FAQs
Where in London can I see Wicked?
Wicked is playing at Apollo Victoria Theatre, London. The address for the venue is 17 Wilton Road, London, SW1V 1LG, UK. The theatre is located opposite Victoria Station
How to get to Wicked and Apollo Victoria Theatre:
By Underground - The nearest tube station is Victoria, where you can get the Victoria, Circle and District Lines.
By Train - Victoria Station is located opposite the theatre and servicing multiple national rail service across the UK.
By Bus -There is a bus station located in front Victoria station, opposite the theatre venues. You can get the 2, 11, 13, 16, 24, 38, 36, 44, 52, 170, 185, 211, 390, 507, 761, 762, 763, 764, 765, C1 and C10 bus routes across London.
By Car - Travelling by public transport is highly recommended. Street car parking is extremely limited, with the nearest car park being NCP Semley Place.
When is Wicked on?
Wicked Performance Times and Dates:
Wicked runs from Monday - Saturday every evening, starting at 19.30. There is an additional matinee show on Wednesdays and Saturdays beginning at 14.30, with occasional Thursday matinee shows. Tickets for the musical can be booked from now up until May 2020.
How long does Wicked the Musical last?
The running time for Wicked is 2 hours 45 minutes, with a 15-minute interval.
What Wicked songs are in the musical?
Some of the hit songs from the musical include the following:
You can also listen to the original Wicked Broadway cast recording album on Spotify.
Who are the current cast of Wicked London?
The London theatre show's characters and cast include the following:
Elphaba, Wicked Witch of the West - Laura Pick
Glinda, Glinda the Good Witch - Helen Woolf. Standby: Lisa-Anne Wood
Madame Morrible - Kim Ismay
Dr Dillamond - Simeon Truby
Fiyero - Alistair Brammer
Nessamore - Natasha Ferguson is covering Carina Gillespie's maternity leave.
Boq - Nicholas McLean
Wonderful Wizard of Oz - Andy Hockley
Please note that cast and line up can be subject to change.
Is Wicked the Musical family friendly?
Wicked is a family friendly musical but it is recommended for children over the age of seven. Children under three are not permitted in the theatre. Children under 16 must be accompanied and seated with an adult.
How much are Wicked tickets?
Ticket prices vary by date and by seating area -Wicked tickets can be viewed here by calendar view, date and by price. There are cheaper ticket options along with premium seats to book, subject to availability.
Are resource packs available for school visits?
Yes, school and education packs are available for Wicked. Find resources for your class on our Groups Guide.
Are accessible tickets available?
Yes, accessible tickets are available and there are designated wheelchair seating areas, subject to availability. If you require accessibility information, please call the venue directly on 0800 912 6973. To find out more about accessible tickets, check out our Accessibility Help Page.
Please note that Ticketmaster can only deal with questions and issues regarding tickets. For all other enquiries regarding the show, please visit the Wicked Website or contact them directly.
Top