Family Shows
Trentham Moonlight Movies
Events
Trentham Gardens - Trentham

Trentham Moonlight Movies - The Greatest Showman (PG)

Find tickets

Trentham Gardens - Trentham

Trentham Moonlight Movies - Dirty Dancing (12a)

Find tickets

Trentham Gardens - Trentham

Trentham Moonlight Movies - Grease (PG)

Find tickets
About
End-of-summer outdoor movie screenings
On summer evenings across the August bank holiday weekend, film fans can enjoy a handpicked curation of modern and classic cinema in a stunning outdoor setting at The Trentham Estate in Staffordshire.
Dubbed the Trentham Moonlight Movies, the lush green amphitheatre overlooking a lake in Trentham Gardens will feature screenings of The Greatest Showman, Dirty Dancing and Grease from 27 – 29 August 2021.
In addition to lounging out on the grass upon blankets or in small chairs, movie goers can choose from VIP upgrades such gazebos and deck chairs. Plus, guests are welcome to bring their own picnic, snacks and drinks or pre-order a picnic hamper.
Bring the whole family and rally your friends to come sit under the stars and watch three timeless films while celebrating the end of summer together.
2021 Trentham Moonlight Movies line-up
Location
Maps
Getting there
The nearest train station is Stoke-on-Trent, which is approximately four miles from The Trentham Estate. Stafford Station is approximately 12 miles from The Trentham Estate. Buses are readily available at both stations. You can also take the bus from Hanley Bus Station and Stafford Town Centre.

Use the postal code ST4 8JG for satellite navigation. Cinema goers are able to park at The Trentham Estate at the north entrance. Follow the road around to the left once you turn into the estate. Entry will not be permitted from the south entrance. Cars cannot be left overnight in the car park.
News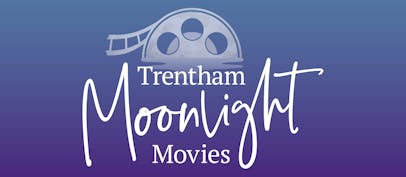 Trentham Moonlight Movies announced for August
Head to The Trentham Estate for the late summer bank holiday weekend where you can see outdoor screenings of The Greatest Showman, Dirty Dancing and Grease. Tickets go on sale from 10:00 on Friday 11 June 2021.
FAQS
Trentham Moonlight Movies will run over the August bank holiday weekend from 27 – 29 August 2021.

Tickets for Trentham Moonlight Movies dates go on general sale from 10:00 on Friday 11 June 2021. Trentham members will be able to purchase tickets a week earlier than the general public – from Friday 4 June 2021.

Tickets will not be available to buy on the day of the screenings online, over the phone or in person at The Trentham Estate.

If you're celebrating a special occasion, or would like your own private space for these screenings, you could book a VIP gazebo. Bring your own picnic, or pre-order a Pods & Picnics hamper, which will be available for collection on the night of the screening between 18:30 and 20:00. Picnics can be booked up to seven days in advance of your chosen film screening.

The space includes a 3m x 3m gazebo plus private grass area, six-foot trestle table and six Trentham deckchairs all located at the back of the amphitheatre with an elevated view across the lake. The cost is £55 (plus booking fees) per gazebo, in addition to event tickets.

The gazebos enable your group to comfortably social distance from others at the event.  They are enclosed on three sides and have a private grassed area which features a bunting boundary.  Gazebos and deckchairs are cleaned after every screening using anti-viral spray.

Gazebos are recommended for six people and you are asked to keep within your gazebo area to ensure social distancing is maintained. Since only six deckchairs are provided in each gazebo, you may need to bring additional chairs depending on the size of your group.

If you book more than one gazebo for your group and want to ensure they are next door to each other, simply email events@trentham.co.uk with your booking reference and booking details.  

Personal tents, windbreaks and visitors' own gazebos are not permitted at these events.

The VIP deckchair upgrade includes rental of your very own deckchair already located in a prime viewing position. You will be able to choose your chair once you arrive in the amphitheatre.  Note: there are a very limited number of deckchairs available.

You can purchase up to eight tickets per transaction. You're welcome to book onto as many screenings as you like, but you will need to purchase the tickets for each screening in a separate transaction/booking.

Gazebos and deckchairs are upgrades and do not permit entry into the event therefore there is no limit on the number of gazebos or deckchairs you can add onto your booking (subject to availability). Make sure if you purchase a gazebo or deckchair that you also have the required number of film tickets for your group size.

Yes, tickets can be sent via post or you can opt for a mobile ticket at checkout.

There is no reserve list service once a screening is sold out, so it's highly recommend you book in advance and as soon as possible. The capacity for Trentham Moonlight Movies screenings is limited, and more so due to the ongoing situation with Covid-19.

No tickets are being reserved for on the day purchase so once they are gone, they are gone!

Doors to Trentham Moonlight Movies will open at 18:30 (unless stated otherwise). Screenings will not start until natural light levels are sufficiently low, which will be at approximately 20:15.

Event entry will be permitted until 20:30 on the night of the events. Anyone arriving after this time will be unable to access the screening area.

If you wish to visit the gardens during the day prior to the screenings, you will need to purchase a separate day ticket, or book a slot to visit as a member. You must leave when the gardens close at 18:00 and then re-enter via the Gardens Entrance for the event.

Screenings at Trentham Moonlight Movies will still go ahead in inclement weather conditions and are never cancelled more than 12 hours ahead of the screening time as the weather can change rapidly. Please check the weather forecast in advance and be prepared for the great British summer. Small personal umbrellas are permitted, however large umbrellas (such as golf umbrellas) are prohibited due to the possibility of blocking the view of other event attendees.

Screenings will only be cancelled if the weather conditions present a danger at screening time. Visitors accept the risk that weather they consider unsatisfactory may occur on a screening night and acknowledge that tickets will not be exchanged or refunded unless a screening is cancelled by The Trentham Estate. In the unlikely event that a screening is cancelled, as much notice as possible will be given, so keep an eye out for information on their website and social media channels.

Trentham Moonlight Movies are being held at Trentham Gardens located at The Trentham Estate. More specifically, the screenings will take place in the amphitheatre, near to the tearooms.

The full address for The Trentham Estate is Stone Road, Trentham, Stoke-on-Trent, ST4 8JG. Find more information about getting there here.

Apart from the VIP gazebo and the VIP deckchair upgrades, no seats are provided for Trentham Moonlight Movies you are free to bring a picnic chair or blanket. Seating is in the open air on variable ground conditions. Tents, awnings, large umbrellas, canopies or any item which could obscure other visitors' views are not permitted.

Bag checks will be made by security before you enter Trentham Moonlight Movies. No bottles, naked flames or knives will be permitted, and quantities of alcohol will be checked to ensure it is in line with the admission policy.

For safety reasons, there are certain other items which are not allowed at the screenings. Check the terms and conditions for the complete list of prohibited items, but the most common to be aware of are listed below:

Personal gazebos/tents
Excess alcohol
Trollies
Large umbrellas (small personal ones are permitted in the event of poor weather)
Tables
Glass of any kind including bottles and jars
Knives (pre-cut your picnic foods)
Barbeques
Candles

Dogs are not allowed at Trentham Moonlight Movies, with the exception of assistance dogs.

Smoking and vaping are not permitted inside the event area. Attendees will be asked to go to the designated smoking area out of respect for other audience members. Smoking and vaping are also strictly prohibited in the gazebos and deckchair area.

Yes, in addition to existing toilet facilities by the tearoom, there will be individual toilet cubicles to reduce queuing. There will also be additional hand washing and sanitising facilities.

A range of food and drink will be available at the screenings, including pre-bookable Totally Delicious picnic hampers that will be available for collection on the night of the screening. Please note, picnics can be booked up to seven days in advance of your chosen film screening. You are also welcome to bring a picnic with you and your own drinks as long as they are within the alcohol allowance (detailed below). Challenge 25 will be in operation, so be sure to bring proof of age ID with you as well.

As these are family-friendly picnic events, you are welcome to bring a moderate amount of alcohol with you. This is defined as four cans of beer or cider, or a 75cl bottle of wine, or four cans of combined spirit and mixer per adult. Please do not bring any excess alcohol to the site as you will be asked to dispose of it before entering or will be refused admission. Glass of any kind is not allowed, including bottles of wine and beer. All drinks must be in plastic or cans.  

The screenings are all held outdoors so wear appropriate clothing based on the weather, but also feel free to embrace the themes surrounding each screening and turn out in your best fancy dress. Keep in mind that it can get chilly later in the evenings, so make sure you bring something warm to wrap up in.

According to the latest government guidance, events like Trentham Moonlight Movies can take place now with social distancing measures in place and it is anticipated that by August most social distancing restrictions will have been lifted. However, organisers are implementing measures such as a one-way system, safe queuing areas and extra toilet and handwashing facilities to make things as safe and comfortable as possible for visitors. Plus you will receive an email in advance of your visit with all the details you need to know on the Covid-19 safety measures.

An essential companion will be granted access free of charge to the screenings, however they will need to pre-book a ticket. Select the accessible tickets option on the event page when you are booking and then purchase the appropriate ticket for you and your companion.

Wheelchair spaces are extremely limited for these screenings. Ambulant accessible tickets are unlimited, however they will still operate on a 1-1 basis. If you have any questions regarding accessible tickets, please contact our online help desk here.

Yes, there is a route from the main entrance and the accessible car park to the amphitheatre. There will be a small wheelchair accessible viewing platform, with very limited availability. Assistance dogs are welcome. Unfortunately, due to their elevated position the gazebos are not accessible.

Children are welcome to attend these screenings but will need a ticket and all under 16s must be accompanied by a responsible adult at all times.  They must also adhere to the film screenings certification which are as follows:

Grease – PG
Dirty Dancing – 12A
The Greatest Showman – PG

Concession tickets are available for children under 16 years of age and entry is free for children under three years of age (no ticket required).