z
The ultimate UK destination for thrill seekers
Thorpe Park Resort
About Thorpe Park Resort
Whether you want to get wild and crazy or prefer to keep your feet planted on the ground, Thorpe Park Resort has something fun for everyone. Located only 30 minutes outside central London, it's home to more than 30 jaw-dropping rides and attractions. This is where you'll find the UK's most fearsome roller coasters.
Thorpe Park Resort is essentially the nation's thrill capital. Not only does it boast inversion coasters (like Colossus and Nemesis Inferno) and the UK's only winged roller coaster (have you heard of The Swarm?), but there are also water rides aplenty. And if you're really brave, hop on Stealth, one of Europe's fastest and tallest roller coasters.
There are even more memories to be made with friends and family at Thorpe Park Resort. Among the not-to-be-missed experiences are the intense action on Derren Brown's Ghost Train: Rise Of The Demon, the 100-foot drop on SAW - The Ride and the frantic journey to the Safe Zone on The Walking Dead: The Ride.
Don't worry, Thorpe Park Resort hasn't forgotten about its youngest guests. Within the grounds are the Flying Fish junior coaster as well as the magic carpet ride Quantum. Kids will also love getting soaked on the Storm Surge, Rumba Rapids and Tidal Wave. What's more, there are firm family favourites such as Angry Birds 4D Experience and dodgems.
Thorpe Park Resort traces its roots back to the 1930s when Thorpe Park Estate was demolished. Its grounds became a gravel pit that were later transformed into a 400-acre water and leisure park. In the '80s, the area was redeveloped into a theme park. Newer and more nerve-racking rides and attractions have been added ever since.
So if you want to escape for a fantastic, fun-filled day of laughter and screaming, Thorpe Park Resort is the place to go.
Thorpe Park Resort Photo Gallery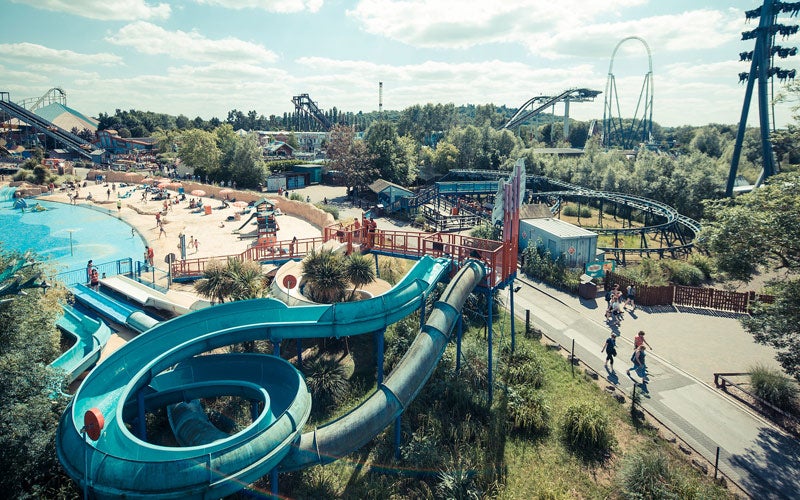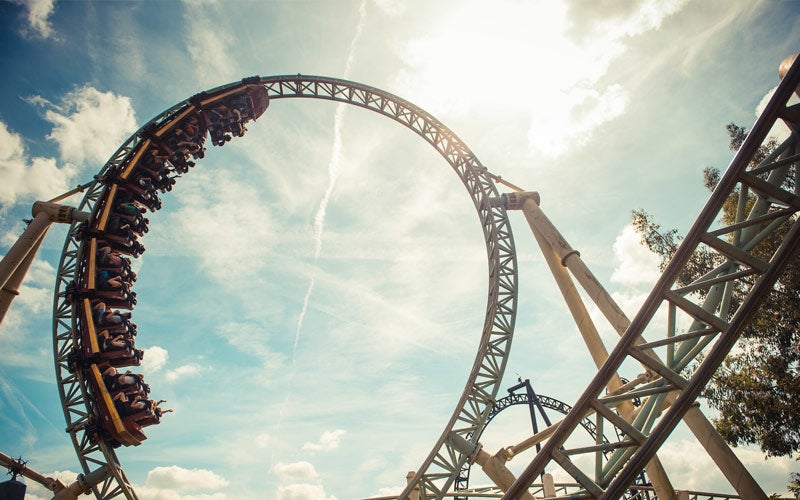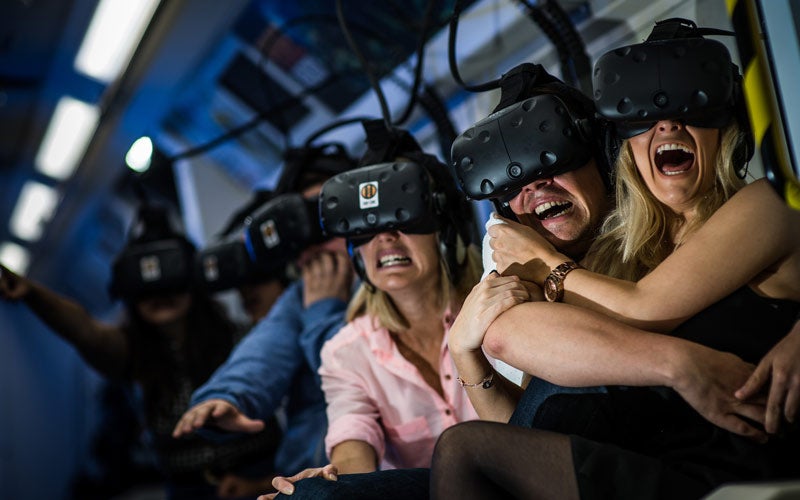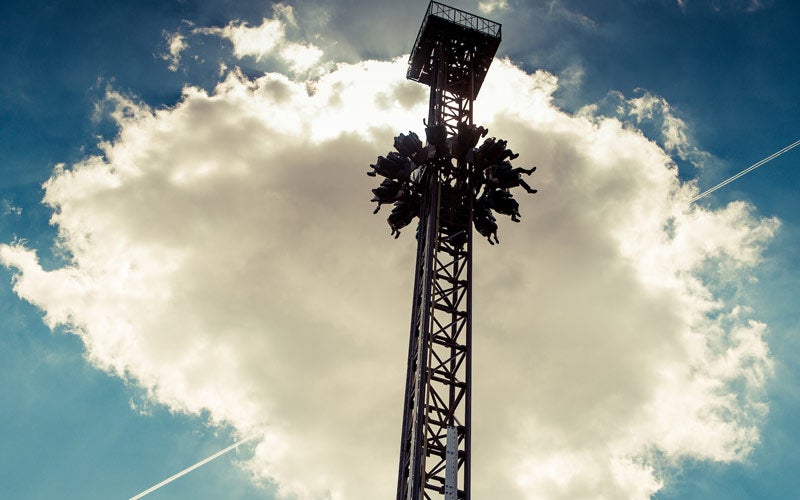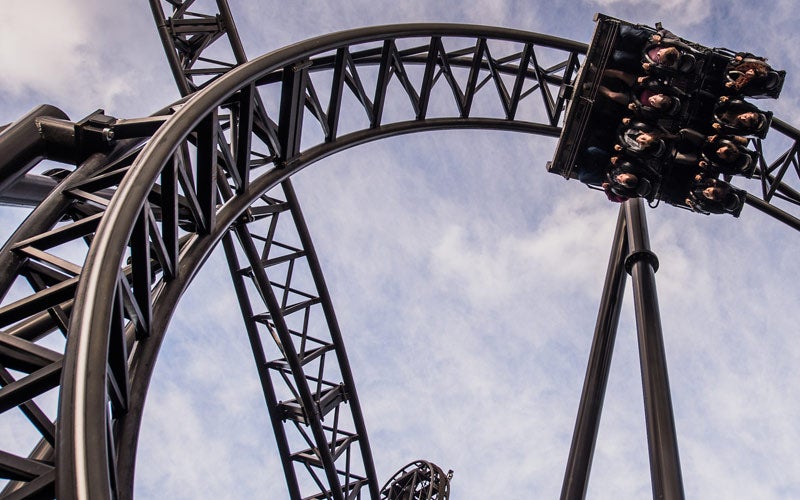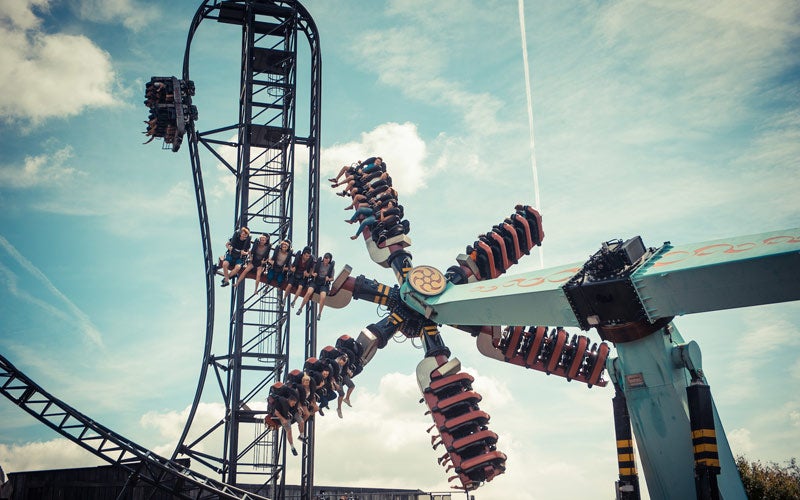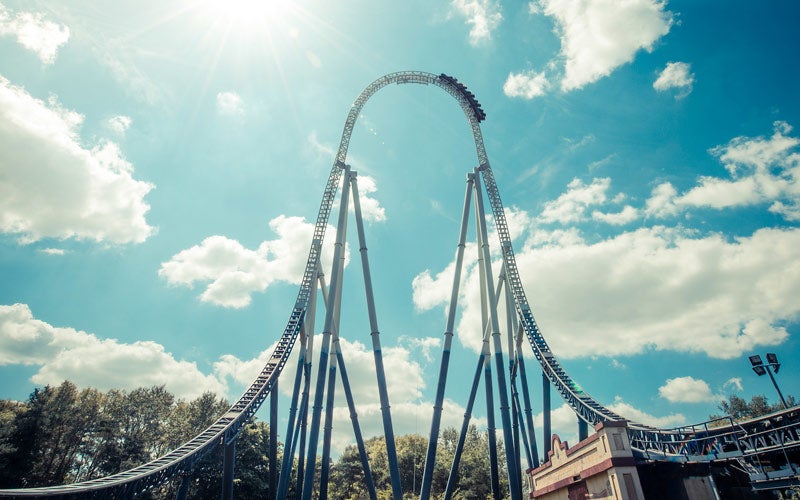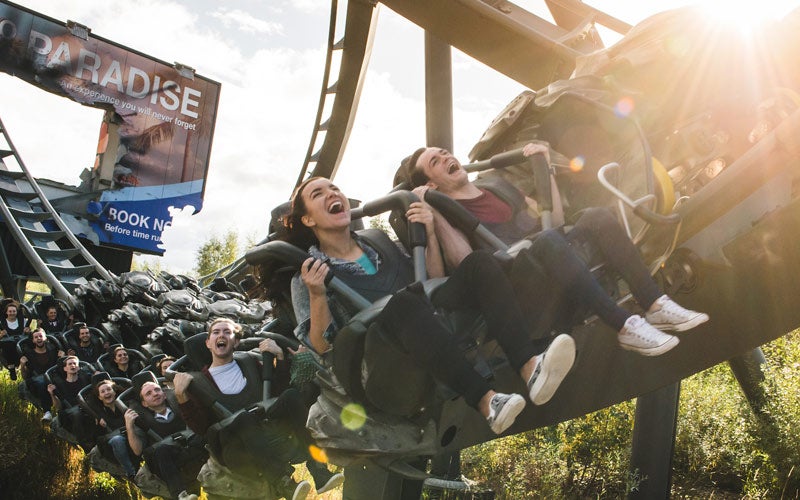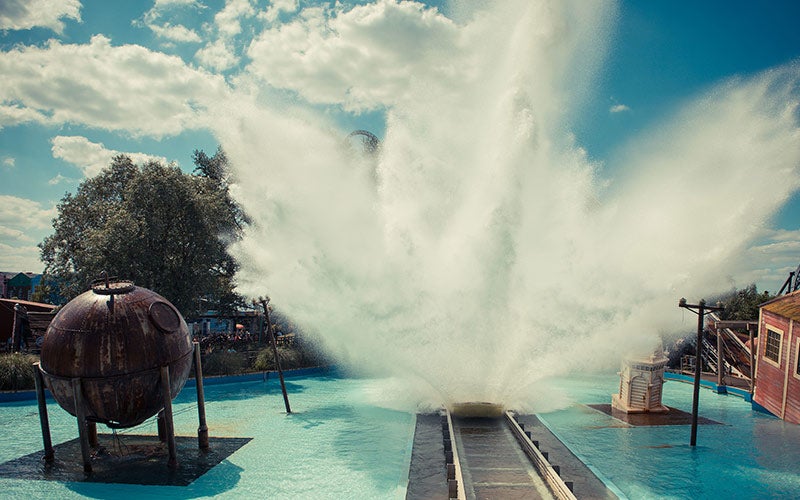 Thorpe Park Resort Tickets
Book your One Day Entry tickets to Thorpe Park Resort in advance here:
FAQs
What are the opening times for Thorpe Park Resort?
Operating hours vary. Generally speaking, doors open at 10:00 seven days a week, and close at 17:00 or 18:00. There are also extended hours in summer and for seasonal events - for example, Thorpe Park Resort typically remains open late around Halloween.
What time should I arrive?
You can arrive anytime within the daily operating hours.
Where is Thorpe Park Resort?
Thorpe Park Resort is located about 20 miles from central London in Surrey. The full address is Thorpe Park Resort, Staines Road, Chertsey, Surrey, KT9 2NE.
What are the directions for getting to Thorpe Park Resort?
There are several ways to reach Thorpe Park Resort.
By Bus - The blue 950 Thorpe Park Express Bus departs from Staines Railway Station and runs direct every 10 to 15 minutes, also stopping by stand 2 at Elmsleigh Bus Station in Staines before heading to the theme park. There are several other bus lines that run to Elmsleigh Bus Station in Staines including the 446 and 461.
By Train - Regular train service is available to Thorpe Park Resort via South Western Railway. Catch a train from Waterloo station direct to Staines. Staines can also be reached by train from the Reading, Weybridge and Windsor & Eton Riverside stations.
By Car - With the address shown above, use the M25 and then take either junction 11 or 13 and follow the A320 to Thorpe Park Resort.
By Bike - There are several cycle routes that will get you to Thorpe Park Resort from Staines, Weybridge and Chertsey.
Is there parking available at Thorpe Park Resort?
Yes, Thorpe Park Resort has a car park. It's a paid for facility. The standard car park charge is £7.
Will I be required to wear a mask or face covering at Thorpe Park Resort?
Yes, you must bring a mask or face covering with you to Thorpe Park Resort. Guests are required to wear it in order to go on a number of rides.
What safety measures are in place to protect against the spread of viruses at Thorpe Park Resort?
In addition to requiring masks and face coverings, several new safety measures have been introduced at Thorpe Park Resort. This includes the following:
All tickets are digital so you must pre-book your visit. You can do that here.
All payments at Thorpe Park Resort are contactless wherever possible.
Parking directions have been posted to allow for distancing.
Temperature checks are conducted prior to entry.
New signage with safety measures and instructions has been installed.
Enhanced cleaning takes place throughout the day.
New deep cleaning measures have been introduced in the event a person presents symptoms consistent with COVID-19. (Please note if you have symptoms or are feeling unwell, do not visit.)
Hand sanitiser is available for guests to use throughout the grounds.
Employees will be wearing PPE.
Menu offerings across Thorpe Park Resort's food outlets feature "grab & go" options.
The capacity at Thorpe Park Resort has been reduced to allow for social distancing.
How can I practice social distancing at Thorpe Park Resort?
You can practice social distancing by remaining with your family and friends while keeping a safe distance from other guests. In order to minimise contact with other parties, there will be empty rows and seats on various rides and attractions. Some things may be unavailable or have restrictions on the number of guests to ensure social distancing – especially indoor experiences such as shops and restaurants.
What rides are at Thorpe Park Resort?
There are rides for all ages and tastes at Thorpe Park Resort. They range from family and kids rides to adrenaline-pumping thrill rides.
Here are some of the most popular theme park rides:
Stealth, The Swarm
Colossus
SAW - The Ride
Nemesis Inferno
Tidal Wave
The Walking Dead: The Ride
Derren Brown's Ghost Train
Angry Birds 4D Experience
Detonator: Bombs Away
Samurai
Vortex
Storm Surge
Quantum
Zodiac
Lumber Jump
Rumba Rapids
Rush
Will there be any new rides in 2021?
Yes, Thorpe Park Resort will open Black Mirror Labyrinth in spring 2021.
Where can I get more detailed information about attractions at Thorpe Park Resort?
Simply download the Thorpe Park Resort official app to learn more about the rides and attractions, as well as get directions, up-to-date queue times and more.
Is there disabled access and accessible facilities available at Thorpe Park Resort?
Yes, Thorpe Park Resort has a variety of accessible options for guests who have special access requirements. These include the following:
Guests who provide evidence of disability are entitled to bring a helper free of charge.
A ride access pass is available for guests who cannot wait in main ride queue lines. (Please note: Documentation must be submitted at least five working days prior to your visit.)
A designated car park close to the entrance is reserved for Blue Badge holders.
Guests in wheelchairs can enter the theme park using the middle gates at the turnstiles.
All toilet facilities contain accessible toilets and a changing places facility is located in the Upper Dome.
Are there age restrictions or minimum height requirements for Thorpe Park Resort?
Thorpe Park Resort is family-friendly and children under the age of three are given free entry. Children aged 15 and under need to be accompanied by an adult who is aged 18 or over. Some rides require minimum ages and heights. Typically, the minimum height requirement ranges from 0.9 metres (for family rides) to 1.4 metres (for thrill rides).
How much is a ticket to Thorpe Park Resort?
One Day Entry ticket prices start from £33, subject to availability. Children under the age of three go free.
What does a One Day Entry ticket include?
One Day Entry tickets get you access to a full day of fun at Thorpe Park Resort including 30 hair-raising rides along with other attractions and live events.
Is an annual pass available at Thorpe Park Resort?
There are no annual passes available.
What happens if I buy a ticket and the weather is terrible? Do rides close if it rains?
Thorpe Park Resort offers an "island return guarantee", which means if the weather affects the rides for over an hour continuously during your visit, you'll be able to return for free on selected dates.
How do I book Thorpe Park Resort?
All tickets must be digital and pre-booked. The easiest way to book Thorpe Park Resort tickets is online in advance. View tickets here. Not only will you save time, but Thorpe Park Resort tickets through Ticketmaster Official are verified and safe to buy.
Is Wi-Fi available at Thorpe Park Resort?
Yes, you can enjoy free Wi-Fi at Thorpe Park Resort by connecting to the cloud.
Are there food and drink options at Thorpe Park Resort?
Yes, there are a variety of food and drink options available throughout Thorpe Park Resort including healthy, vegetarian, vegan and gluten-free options.
Can I bring food and drinks into Thorpe Park Resort?
You are allowed to carry in unopened food and drinks at Thorpe Park Resort. Please note, you can't bring alcohol on site. There are areas designated for picnicking.
Can I take photos?
Yes, you can take photos to remember your experience. You can also purchase photos at several different kiosks located within Thorpe Park Resort
What if I want to extend my visit?
Thorpe Park Resort is home to the Thorpe Shark Hotel, which offers a quirky nautical theme and cabin-style accommodations.
Please note that Ticketmaster can only deal with questions and issues regarding tickets. For all other enquiries, please visit the Thorpe Park Resort website or contact them directly.