Alternative and Indie
Therapy?
Events
International Events
1 Events
Loaded 16 out of 16 events
About
Uncompromising Belfast alt-rockers fusing metal aggression to a punk ethos
While a good segment of '90s rock music was consumed by grunge's monolithic, sludgy classic rock aura, a smaller sect sprang up in the wings. This uncompromising side show found more value in welding the lean song structures and attitude of punk to the furious onslaught of trash metal, resulting in heavier-than-thou bands like Helmet and Tad. 
Nobody sums up that meeting place of Stiff Little Fingers, Hüsker Dü and Motörhead better than Belfast's Therapy?. Formed in the dying days of the '80s by Andy Cairns (vocals, guitar), Fyfe Ewing (drums) and Michael McKeegan (bass), the trio self-recorded and released the nigh-industrial Meat Grinder single, finding eager ears attached to the head of influential DJ John Peel.
Following the Baby Teeth and Pleasure Death EPs, the band signed to A&M for their debut album Nurse. The label might have thought they were getting another Nirvana but Therapy? resolutely refused to sand down any of their jagged edges, resulting in a record that was way more confrontational than commercial.
However, 1994's Troublegum saw Cairns and co. find a way to embrace melodicism and cleaner production values without sacrificing any of their aggression and angst. The single Screamager had significant impact, touching a nerve with its dark, lovelorn lyrics and pop-punk hooks.
If Troublegum brought commercial success to Therapy?'s door, the superb Infernal Love turned it away in disgust. The band used their much bigger toolbox – including Martin McCarrick's cello – to construct a dark, despairing album that shied away from Troublegum's brief concessions to pop and at times resembled the brooding menace of Afghan Whigs.
Fyfe Ewing left the band prior to 1998's Semi-Detached (replaced by Graham Hopkins) and Therapy? found themselves in limbo. Their label refused to release the album in the US and, with the band sticking steadfastly to their musical dogma, the two soon parted ways.
After finding a new label, Therapy? regained their old vigour on Suicide Pact: You First in 2000 and the well-received Shameless in 2001. Hopkins grew disatisfied with the band's direction and left, Neil Cooper joining on drums for High Anxiety in 2003. More line-up changes were to follow, as McCarrick left after the album's release due to an ear drum injury.
Back to a trio, Therapy? proved as resolute as ever, ploughing on through the decade with Never Apologise Never Explain, One Cure Fits All and 2009's Crooked Timber.
The band returned in 2012 with the Nabakov-inspired A Brief Crack Of Light, followed three years later by Disquiet, their highest charting album of the millennium. The follow-up Cleave, recorded with Troublegum producer Chris Sheldon, was widely heralded as the band's since that '90s high water mark, The Irish Times calling it a "battle cry against division and conflict".
Therapy?'s 30th birthday celebrations were derailed by COVID-19 but the band later announced a 2022 UK tour, titled So Much For The 32 Year Plan, a play on the title of their 2000 compilation album. A special Therapy? live stream was also confirmed for October 2021.
News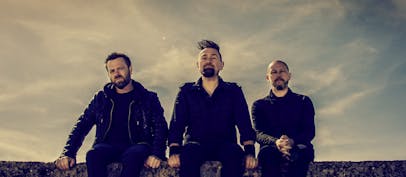 Therapy? announce anniversary live stream
Northern Irish alt rock trio Therapy? have announced a live stream to celebrate their 30th anniversary. The event kicks off at 20:00 BST on Friday 29th October 2021 and will be available on demand for 30 days afterwards.
FAQS
Northern Ireland alt-metallers Therapy? will tour the UK to celebrate their 30th anniversary in February, March and April 2022.

Therapy? will play gigs in:

Belfast
Cardiff
Wolverhampton
Portsmouth
Exeter
Cambridge
Reading
Brighton
Norwich
Nottingham
London
Manchester
Newcastle
Glasgow
Dublin