Rap and Hip-Hop
The Weeknd
Events
Loaded 15 out of 15 events
About
The chart-topping pop, hip hop and R&B star
One of the biggest artists of the 2010s, The Weeknd's razor-edged music is an alchemy of genres and real-life experiences. Born in Toronto as Abel Makkonen Tesfaye, he's a native Canadian of Ethiopian descent. His first language was Amharic, which he still speaks fluently, and he grew up listening to Ethiopian artists such as Tilahun Gessesse and Aster Aweke, while Michael Jackson and Prince also spurred him on to becoming a singer.
At the age of 17, Tesfaye left home, grabbing his mattress and packing a bag one weekend. He hated his name at the time and thought "The Weekend" sounded cool – but removed the "e" because another Canadian band had already laid claim to the name.
In 2010, he uploaded a handful of songs to YouTube as The Weeknd, including What You Need and Loft Music. The following year, he wrote and sang on several tracks for Drake's Take Care album before co-founding the Canadian record label XO and releasing a trio of mixtapes: House Of Balloons, Thursday and Echoes Of Silence (containing D.D., a re-interpretation of the Michael Jackson's Dirty Diana). These mixtapes were remastered and reissued as Trilogy in 2012, the same year The Weeknd made his US live debut at Coachella.
The Weeknd's first full-length album, Kiss Land, arrived in 2013. A dark and eerie collection of songs, he said that his aim was to capture the feeling of fear that comes from watching a horror movie.
His follow-up, 2015's Beauty Behind The Madness, began his reign on the Billboard albums and singles charts. Selling over three million copies, it was certified triple Platinum by the Recording Industry Association of America. In addition to scoring No.1 hits with The Hills and Can't Feel My Face, three more tracks – Often, In The Night and Acquainted – climbed onto the Billboard Hot 100 chart, with Earned It being featured in the film Fifty Shades Of Grey. The Weeknd received seven Grammy nominations, winning for Best Urban Contemporary Album and Best R&B Performance, while the song Earned It scored him an Academy Award nomination for Best Original Song.
The Weeknd named his third record, 2016's Starboy, in tribute to pop icon David Bowie after his 1972 classic hit Starman. The title track, featuring French duo Daft Punk, amassed 17 million streams globally in less than a week. Following The Weeknd's first ever world tour, Starboy: The Legend Of The Fall, he collected another Grammy for Best Urban Contemporary Album.
In 2017, The Weeknd collaborated on singles by Lana Del Rey, NAV, Gucci Mane and French Montana. He also worked with Kendrick Lamar on Pray For Me for the soundtrack to Marvel's Black Panther, before dropping a surprise EP, My Dear Melancholy.
In addition to music and overlooking his XO record label, The Weeknd also made a mark in the fashion world with spin-off clothing lines. In December 2019, he added acting to his growing portfolio, playing himself in the critically acclaimed Safdie brothers' film Uncut Gems.
The Weeknd's fourth studio album, After Hours, came out in March 2020 and was as much a visual narrative as a musical one. Debuting at the top of the Billboard albums chart, it was powered by the massive lead singles Blinding Lights and Heartless, which introduced elements of dream pop to his sound. Four stunning cinematic music videos directed by Anton Tammi and filmed in Las Vegas complemented the record, painting a story about a shadowy character who goes on a downward spiral.
To support its release, The Weeknd announced The After Hours Tour worldwide tour, with the UK leg rescheduled to autumn 2022 and three new shows added in Belfast, Glasgow and London.
In addition, the multi-platinum singer released The Highlights, a collection of his most notable works, on 5 February 2021 in advance of his halftime performance in Tampa Bay, Florida for Super Bowl LV. The epic show – for which he spent $7 million of his own money – recreated a moody neon atmosphere reminiscent of Sin City and included a floating black convertible, a robo choir, an eerily bandaged dance troupe with handheld lights and a stunning cityscape set located in the stadium's bleachers.
News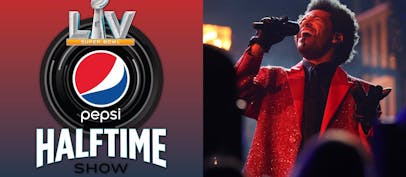 The Weeknd delivers incredible Super Bowl LV halftime show
The Canadian R&B-pop singer pulled out all the stops performing from an eye-popping Vegas-like cityscape in the stands before disappearing in a maze of lights backstage and reappearing on the pitch with a synchronised dance troupe in facial bandages.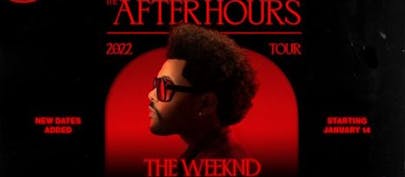 The Weeknd announces a global tour for 2022
The After Hours Tour includes rescheduled and new UK dates – plus the music superstar is set to release The Highlights, a foray into some of his best and favorite works, on Friday 5 February 2021.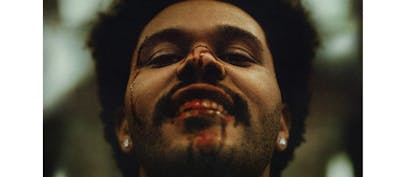 Album of the Week: The Weeknd – After Hours
Deep dive into the Grammy Award-winning Canadian singer-songwriter's fourth studio album.
FAQS
The Weeknd is bringing The After Hours Tour across the UK from 6 October – 16 November 2022 in support of his fourth studio album by the same name. It will showcase his most innovative staging to date, including the most LED lights used for an arena show.

The Weeknd is taking The After Hours Tour to arenas in the following UK cities:

London
Manchester
Birmingham
Belfast
Newcastle
Glasgow

Tickets for the Weeknd's newly announced 2022 tour dates go on sale from 09:00 on Monday 8 February 2021. Tickets for The Weeknd's rescheduled tour dates are on sale now.