Alternative and Indie
The Vamps
Events
We're sorry, but we couldn't find any events
About
Pop mastery from the enduring UK boy band
Get the album Cherry Blossom here
Inspired by the resurgence of boy band popularity in the wake of One Direction's success, guitarist James McVey took to YouTube to approach vocalist Bradley Simpson with the idea of starting their own group. Enlisting drummer Tristan Evans and bassist Connor Ball, The Vamps began sharing cover versions of popular songs on the platform.
Catching the attention of McFly, both groups hit the road together ahead of the four-piece releasing their 2013 debut single Can We Dance. Their debut full-length Meet The Vamps followed in 2014 and not only broke onto the UK albums chart at No.2, but also spawned four more singles: Wild Heart, Last Night, Somebody To You featuring Demi Lovato and High Hopes. The quartet embarked on their first UK headline tour that autumn.
With the desire of helping more young bands break through, The Vamps launched their own label Steady Records, an offshoot of Universal Music and EMI, in 2015 – signing The Tide as their first act and later adding New Hope Club.
The Vamps saw their next three albums arrive in steady succession. Wake Up was unveiled in 2015 and peaked at No.10 on the UK albums chart. Released in two parts, Night & Day comprised their third and fourth albums. First up was 2017's chart-topping Night & Day (Night Edition), featuring a collaboration with Norwegian DJ Matoma on EDM global smash All Night. That was followed by 2018's Night & Day (Day Edition), which debuted at the No.2 spot.
After a rapid-fire cycle of album releases and tours, The Vamps took a short break – however still found time in late 2018 and 2019 for collaborations with DJ Sigala on We Don't Care and DJ Alok on All The Lies, as well as to co-write and co-produce their four-track Missing You EP. 
In summer 2020, The Vamps dropped the single Married In Vegas, which was A-listed on BBC Radio 2, and in early autumn they revealed the track Chemicals. Both singles formed part of their fifth record Cherry Blossom, released on 16 October 2020.
"We'd be lying if we said we didn't want it to go out into the world and be received positively," said Simpson of the album they'd honed during lockdown. "But ultimately we love it so much, and that feeling of self-fulfilment is so exciting. These are songs that really touch on parts of our lives."
The Vamps confirmed details of The Cherry Blossom Tour for April and May 2021. On 3 November 2020, the band announced an exclusive live stream concert for 21 November 2020 played live from Hackney Round Chapel.
News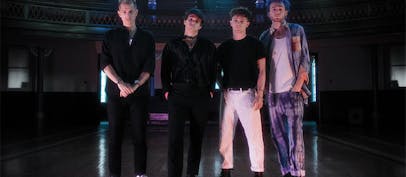 The Vamps announce a worldwide live stream show
See the British pop-rockers play on 21 November 2020 live from Hackney Round Chapel.
FAQS
The Vamps have announced a global live stream show from Round Chapel in Hackney, London. The one-off, multi-camera event will see the band play songs from their first four albums as well as from their newly released album, Cherry Blossom. This show will not be available on-demand after it has taken place, and with no audience permitted to be there either, the only way to watch it will be to buy tickets.

When purchasing a ticket, you will also have an opportunity to make a charity donation to Help Refugees/Choose Love, a cause chosen by the band that supports over 120 grass roots projects in the UK, Europe, the Middle East and on the US-Mexico border. Help Refugees/Choose Love meet the real needs of refugees and displaced people, filling the gaps where larger NGOs and governments can't or won't act.

The Vamps announced The Cherry Blossom Tour from 26 April – 9 May 2021. The shows will see the four-piece perform songs from their new album Cherry Blossom alongside some of their greatest hits.

In 2021 The Vamps are performing in the following UK cities:

Bournemouth
Sheffield
Leeds
Newcastle
Glasgow
Manchester
Liverpool
Birmingham
London

Tickets for The Vamps' live stream show on 21 November 2020 go on sale from 09:00 Friday 6 November 2020.

Tickets for The Vamps' 2021 Cherry Blossom UK tour dates are on sale now.