Events
Loaded 17 out of 17 events
About
Midlands indie rockers famous for their festive Twangmas experience
In 2004, vocalist Phil Etheridge and bassist Jon Watkin, two students studying music technology at Kidderminster College, formed Neon Twang. Inspired by acts like Happy Mondays and The Streets, their goal was to create the antithesis of dance music.
Guitarist Stuart Hartland, drummer Matty Clinton and a second vocalist, Martin Saunders, joined in 2005, and the band began performing at venues in and around Birmingham. Due to scuffles that were occurring during some performances, Neon Twang shortened their name to The Twang to avoid what was becoming a bad reputation.
Their debut single Wide Awake came out in early 2007 and reached No.15 on the UK singles chart, with their second single Either Way released shortly after and climbing to No.8. Later that year, The Twang's debut album Love It When I Feel Like This, arrived. It was produced by Gavin Monaghan (Ocean Colour Scene, Paolo Nutini), who would become the group's long-term collaborator.
Following a year of extensive touring to support it, The Twang moved to a remote cottage in Wales to focus on creating new tracks for their second album. They also worked with a producer in Spain, but their label wasn't impressed with the results. Instead The Twang returned home to start from scratch and found a new practice space in Birmingham's Jewellery Quarter, for which they named their 2009 album.
Toward the end of 2012, joined by guitarist and occasional filmmaker Jon "Simmo" Simcox, they released their third album 10:20. The title came from a note that was taped to their studio door by an irate neighbour.
The Twang looked back at their roots with their fourth album, 2014's NEONTWANG, and five years later recorded their fifth album If Confronted Just Go Mad.
The line-up changed greatly since they started, with Saunders having departed and Etheridge taking up solo vocal duties. As well as Watkin and Hartland, the roster is rounded out by drummer Ash Sheehan.
The Twang released an acoustic EP called Amsterdam in early 2020, followed a few months later by the single You On My Shoulders.
In July 2021, The Twang announced December dates for their annual festive tradition, the Twangmas show, with their A Month Of Sundays Acoustic Tour rescheduled to March and April 2022.
News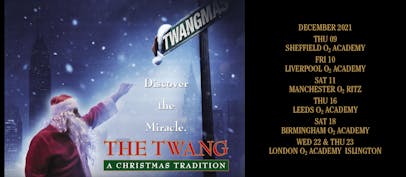 The Twang announce Twangmas 2021
Catch the Birmingham indie-rock band on their annual festive tour this December! Tickets go on sale from from 10:00 on Friday 30 July 2021.
FAQS
The Twang are heading out with their annual Twangmas show from 3 – 23 December 2021. The band have also announced their A Month Of Sundays Acoustic Tour from 6 March – 3 April 2022.

The Twang will be visiting the following UK cities on their festive 2021 Twangmas Tour:

Stoke
Derby
Glasgow
Edinburgh
Sheffield
Liverpool
Manchester
Nottingha
Leeds
Newcastle
Birmingham
London

The Twang are also stopping in the following UK cities in 2022 with A Month Of Sundays Acoustic Tour:

Glasgow
Birmingham
Manchester
Newcastle
London

Tickets for The Twang's 2021 Twangmas tour dates go on sale from 10:00 on Friday 30 July 2021. Tickets for The Twang's 2022 tour dates are on sale now. Original tickets remain valid for rescheduled dates.