Rap and Hip-Hop
The Streets
About
The Mike Skinner-fronted project releases a new album
Buy The Streets' new album None Of Us Are Getting Out Of This Life Alive here
Inspired by bands like Run-DMC, Beastie Boys, De La Soul, Daft Punk and Rage Against The Machine, Birmingham native Mike Skinner, who later moved to South London, started laying down tracks in the '90s. A vocalist, multi-instrumentalist and producer, he created the music project The Streets with an everyman approach and the idea of defining a new landscape where homegrown rappers could thrive.
The Streets first broke out of the UK garage genre to mainstream consciousness in 2001 when the song Has It Come to This? reached No.18 on the UK singles list.
That became the lead track of the group's hugely successful 2002 debut album Original Pirate Material. Recorded in Skinner's bedroom in Brixton and featuring a photograph of a London tower block at night as its cover artwork, the record offered snapshots of ordinary life through hit songs like Weak Become Heroes and Let's Push Things Forward.
Between 2004 and 2011, The Streets followed up with four more studio albums – A Grand Don't Come For Free, The Hardest Way To Make an Easy Living, Everything Is Borrowed and Computers And Blues, before disbanding.
In December 2017, Skinner dropped two new surprise tracks, Burn Bridges and Sometimes I Hate My Friends More Than My Enemies, before reuniting The Streets for a special greatest hits UK tour the following year. 2018 also saw Skinner release more new songs including You Are Not The Voice In Your Head, Boys Will Be Boys featuring Jaykae and If You Ever Need To Talk I'm Here.
The Streets went out on the road again in 2019, selling out The Darker The Shadow The Brighter The Light Tour across the UK and Europe where they performed their greatest hits from their five iconic albums.
In the early part of 2020, Skinner released two new tracks: Call My Phone Thinking I'm Doing Nothing Better featuring Tame Impala and I Wish You Loved You As Much As You Love Him with Greentea Peng and Donae'o. The songs would go on to form part of The Streets' 2020 mixtape, None Of Us Are Getting Out Of This Life Alive, which also included vocal collaborations from the likes of IDLES, Ms Banks, Jesse James Solomon, Eliza, and Rob Harvey.
Alongside the album's release, The Streets performed an exclusive livestream full-band show from EartH Hackney called None Of Us Are Getting Out Of This LIVE Alive on 6 August 2020, and confirmed an encore screening of it for 2 December 2020.
In addition, they were revealed as the 2021 headliners for Manchester's Sounds of The City and Birmingham's MADE Festival.
News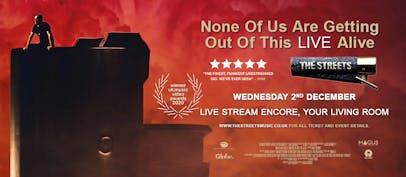 The Streets announce encore screening
See None Of Us Are Getting Out Of This LIVE Alive on 2 December 2020. On sale now
FAQS
The Streets live streamed a full-band show from EartH Hackney in August 2020, and there will be an encore screening of their performance on Wednesday 2 December 2020.

The Streets are headlining Sounds Of The City and MADE Festival in 2021.

Tickets for The Streets' encore broadcast of None Of Us Are Getting Out Of This LIVE Alive and their 2021 Sounds Of The City and MADE Festival dates are on sale now.

The Streets are a music project fronted by London rapper, multi-instrumentalist and producer Mike Skinner.

Mike Skinner was born on 27 November 1979.

Mike Skinner was born and raised in Birmingham. At the age of 19 he moved to Australia for a year, and when he returned he settled in South London.

A rapper and lyrical genius, Mike Skinner is known for blending genres that include garage, hip hop, indie and ska.

The Streets have recorded the following:

Original Pirate Material (2002)
A Grand Don't Come For Free (2004)
The Hardest Way to Make an Easy Living (2006)
Everything Is Borrowed (2008)
Computers And Blues (2011)
None Of Us Are Getting Out Of This Life Alive (2020)

Some of the band's most popular songs are:

Blinded By The Lights
Fit But You Know It
Dry Your Eyes
Has It Come To This?
Call My Phone Thinking I'm Doing Nothing Better
Let's Push Things Forward