Events
International Events
3 Events
About
The Watford indie-folk sister trio
As kids Emily, Jessica and Camilla Staveley-Taylor grew up in Watford listening as their parents entertained friends by pulling out guitars and singing Bob Dylan and Crosby, Stills and Nash songs. By the time the sisters were teens, they began performing together at local open-mic nights at The Horns pub and soon after their own band, The Staves, emerged.
Initially the siblings covered songs by The Beatles, Neil Young and Joni Mitchell while honing their ethereal harmonies. By the late '00s they also began writing their own music.
In 2010, The Staves appeared on Tom Jones' album Praise And Blame and over the next two years they supported several big acts on tour including Mt Desolation in the UK as well as The Civil Wars, Bear's Den and Bon Iver in the US and Canada.
The band's debut album, Dead & Born & Grown, came out in November 2012. The trio spent a great deal of time across the pond in the years that followed, moving briefly to Nashville and then near Justin Vernon of Bon Iver in Wisconsin to make their follow-up album with him. If I Was arrived in 2015 and that summer The Staves performed at Glastonbury.
In 2016, they relocated to Minneapolis and released the three-track EP Sleeping In A Car before touring North America extensively. 
The Staves also kicked off 2017 with another US tour, before wrapping up the year by unveiling a collaborative album with the New York City chamber ensemble yMusic called The Way Is Read. 
In February 2021, The Staves released their third album Good Woman and announced a headline UK tour by the same name for autumn.
News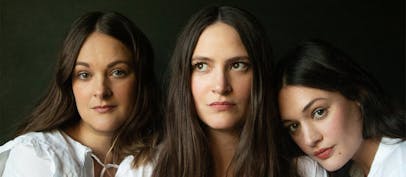 The Staves announce autumn UK tour
The sister trio are heading out on The Good Woman Tour from 23 September – 12 October 2021 to support their third album by the same name.
FAQS
The Staves are embarking on The Good Woman Tour from 23 September – 12 October 2021.

The Staves will call in the following UK cities on The Good Woman Tour:

Swansea
Cambridge
Folkestone
Oxford
Birmingham
Liverpool
Glasgow
Edinburgh
Leeds
Newcastle
Nottingham
Manchester
Brighton
Bristol
London

Tickets for The Staves' 2021 UK tour go on sale at 09:00 on Friday 5 March 2021.