Alternative and Indie
The Libertines
Events
Loaded 17 out of 17 events
About
Volatile rock 'n' roll revivalists fronted by the mercurial Pete Doherty
A plethora of 'The' bands dominated the magazine covers and airwaves of the '00s. The Strokes flew the skinny tie flag for NYC, The White Stripes held the bluesy enclave to the north, while The Hives came marauding down from Scandinavia. In the UK though, nobody embodied that "out of the garage and onto the streets" ethos quite like The Libertines.
Unpredictable, volatile, seemingly only ever one chorus away from complete self-destruction, they were rock 'n' roll without a hint of artifice, for better or worse. The band was formed by Pete Doherty and Carl Barât while the two were still at university. Realising their kindred nature, the two dropped out of their respective courses and set up camp in Camden.
After a series of false starts and missed opportunities, the band settled on a line-up that included John Hassall on bass and Gary Powell on drums and signed with Rough Trade. Their first single What A Waster (produced by Suede's Bernard Butler) gained some traction – only after it was heavily censored – and the The Libertines headed into the studio with Mick Jones of The Clash to record their debut album. By the time Up The Bracket was released, Doherty and Barât's relationship was already becoming strained, partly because of Doherty's increased drug use.
The band reunited with Butler for their next single Don't Look Back Into The Sun, released to acclaim in 2003. However, things between Barât and Doherty had crossed a point of no return. After Doherty failed to turn up for a European tour, Barât refused to let him return for to tour Japan. Doherty instead formed Babyshambles and then broke into Barât's flat while he was away, resulting in a six-month jail sentence, later reduced to two.
Once Doherty was released, he and Barât set about repairing their relationship. After a string of reunion shows, they headed to France to start work on their second album. However, 2004 saw things backtrack after Doherty walked off stage during a show at Brixton Academy. Alongside work on the new album, both Doherty and Barât helped out with their friend Wolfman's single For Lovers, which became their highest charting single.
That May, Doherty was in rehab and gigs were being cancelled on a regular basis. He headed to Bangkok to dry out in a monastery but was arrested on his return for a traffic offense and possession of a knife. The band continued to tour with Anthony Rossomando filling in on guitar and vocals. Doherty attempted to continue both on his own and with Wolfman but regularly failed to appear. Their second album The Libertines reached No.1 in August 2004, with single Can't Stand Me Now getting to No.2 in the UK singles chart.
The Libertines continued to tour without Doherty. Barât eventually called an end to the band, forming Dirty Pretty Things, with whom he recorded two albums. In 2009, Barât and Doherty finally came back together for a tribute show, kicking off a flurry of activity that culminated in 2015's Anthems For Doomed Heroes.
The band continued to tour over the ensuing years, including a December 2019 UK tour. On 10 April 2021, The Libertines announced "a Christmas jaunt" called the Giddy Up A Ding-Dong Tour visiting 15 cities across the UK in November and December 2021.
The Libertines 2021 UK tour dates
25 November 2021 – O2 Academy Bournemouth
26 November 2021 – Brighton Centre
27 November 2021 – UEA, Norwich
29 November 2021 – O2 Academy Birmingham
30 November 2021 – O2 Academy Leeds
1 December 2021 – Usher Hall, Edinburgh
3 December 2021 – O2 Academy Newcastle
4 December 2021 – Uni The Mountford Hall, Liverpool
6 December 2021 – Manchester Academy
9 December 2021 – University Great Hall, Cardiff
10 & 11 December 2021 – O2 Forum Kentish Town, London
13 December 2021 – O2 Academy Bristol
14 December 2021 – Rock City, Nottingham
16 December 2021 – O2 Academy Sheffield
News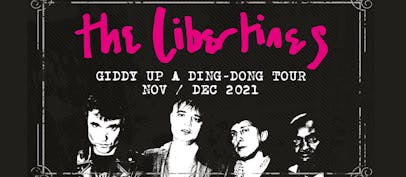 The Libertines announce 15-date Christmas tour
The rock revivalists will play across the UK in November and December 2021, including two shows at London's O2 Forum Kentish Town. Tickets for these intimate shows go on sale from 09:00 on Friday 16 April 2021.
FAQS
The Libertines are heading out on their first UK tour in two years from 25 November – 16 December 2021.

The Libertines will perform concerts in the following UK cities in 2021:

Bournemouth
Brighton
Norwich
Birmingham
Leeds
Edinburgh
Newcastle
Liverpool
Manchester
Cardiff
London (for two shows)
Bristol
Nottingham
Sheffield

Tickets for The Libertines' UK tour dates go on sale from 09:00 on Friday 16 April 2021.