Events
International Events
3 Events
Loaded 16 out of 16 events
About
Brighton indie rockers with a pop sensibility
The Kooks came bopping out of Brighton at an almost serendipitous moment, catching the mid '00s guitar band wave at its apex and riding it all the way to considerable commercial success.
The quartet formed at Brighton Music College in 2004, taking their name from a Bowie song, a nod towards the band's deep-rooted affection for classic British pop and rock. Shortly after their formation, Luke Pritchard (vocals/guitar), Hugh Harris (guitar), Max Rafferty (bass) and Paul Garred (drums) recorded a demo that almost immediately caught the attention of several major labels.
Their debut Inside In/Inside Out came out in 2006, showcasing the band's sunny guitar-driven pop. Landing the same year as pivotal albums by peers such as Arctic Monkeys, Keane, Razorlight, Kasabian and Snow Patrol saw The Kooks positioned at the forefront of a rush of chart-ready indie bands. Preceded by the singles Eddie's Gun and Sofa Song, Inside In/Inside Out peaked at No.2 in the UK album charts and yielded two Top 10 singles in She Moves In Her Own Way and Naïve.
By early 2008, the band had set to work on their follow-up, albeit without Rafferty, who was sacked and replaced with Dan Rogan (Cat The Dog). Konk was recorded at the Crouch End studio of the same name, owned by Ray Davies of The Kinks, and went straight into the UK album charts at No.1. Soon afterwards, Peter Denton became their new permanent bassist.
In the run-up to the release of their third album, Paul Garred left The Kooks due to nerve damage in his arm, replaced on drums by Alexis Nunez. Junk Of The Heart came out in 2011, debuting at No.10 in the album charts. The band then joined up with producer Inflo for the Listen, which they released in 2014, followed by 2018's Let's Go Sunshine.
In late May 2021, The Kooks announced a 15th-anniversary tour celebrating Inside In/Inside Out for January and February 2022.
News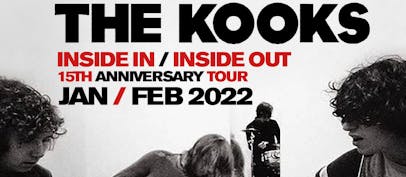 The Kooks announce UK tour dates
The Brighton indie rockers are celebrating the 15th anniversary of their debut album Inside In/Inside Out with shows in January and February 2022. Tickets go on sale from 09:00 on Friday 28 May 2021.
FAQS
The Kooks are touring the UK from 31 January – 18 February 2022 in celebration of the 15th anniversary of their debut album Inside In/Inside Out.

The Kooks will be visiting the following UK cities in 2022:

Newcastle
Plymouth
Birmingham
Brighton
Glasgow
Manchester
Cardiff
Leeds
London (for two shows)

Tickets for The Kooks 2022 tour dates go on sale from 09:00 on Friday 28 May 2021.