Alternative and Indie
The Divine Comedy
Events
International Events
3 Events
Loaded 19 out of 19 events
About
Sweeping orchestral pop from the inimitable Neil Hannon & Co.
Get the album Charmed Life – The Best Of The Divine Comedy here
Under the watchful arched eyebrow of the ever-debonair Neil Hannon, the Divine Comedy have spent decades crafting the most exquisitely witty and poignant pop music. With hit singles from Everybody Knows (Except You) to National Express, Hannon has demonstrated an unerring talent for jauntily alternating between comedy and romance in a heartbeat.
The Londonderry outfit started life in the late '80s as a guitar-driven indie trio that opened for My Bloody Valentine and gigged around London with Suede, before crumbling after just one well-received album, Fanfare For The Comic Muse, and an EP, Europop. Hannon took time to regroup and when he returned, the Divine Comedy had become more an alias than a band.
The Divine Comedy signed to the well-regarded Setanta label (home to compatriots The Frank & Walters and A House) for their 1993 rebirth Liberation. Hannon's suave delivery and orchestral arrangements on stand-outs The Pop Singer's Fear Of The Pollen Count and Your Daddy's Car marked a change of both direction and fortune. 
Promenade followed in 1994, with Hannon delving deeper into orchestral pop stylings and retaining only drummer Darren Allison from the band's "debut". A balance between the two previous records was struck for 1996's Cassanova and it turned out to be a winning formula, delivering hit singles in Becoming More Like Alfie and the ingeniously witty Something For The Weekend. Attentive listeners might recognise Songs Of Love as the theme song from the impeccable Channel 4 comedy series Father Ted.
By now, The Divine Comedy was a septet and a household name. A Short Album About Love kept the run going in no uncertain style, drawing on the sweeping pop compositions of Hannon's hero Scott Walker and landing a huge hit with the achingly romantic Everybody Knows (Except You). The entire album was recorded at soundcheck at Shepherd's Bush Empire as the band prepared for a one-off gig with a 30-piece orchestra.
While 1998's Fin de Siècle saw the band approach swinging Gallic pop with a straighter face, it also landed them one of their biggest hits with the joyously silly National Express. The 1999 best of, Secret History, drew a line under the band's time on Setanta. 
With a new label and Nigel Godrich (Radiohead) producing, Regeneration appeared to be true to its title. However, the reset didn't take and Hannon broke up the band, deciding instead to go on a solo tour with Ben Folds.
Hannon returned to Dublin, became a dad and, reinvigorated, he set about the new era of The Divine Comedy, teaming up again with Godrich for Absent Friends. The album was another critical success and Hannon continued the fine run of form through 2006's Victory For The Comic Muse.
In 2009, Hannon formed the Duckworth Lewis Method with Thomas Walsh of Pugwash. This cricket-themed side project released two albums in 2009 and 2013.
At the start of the '10s, Hannon set up his own label, The Divine Comedy Records, which released the band's next four studio albums: Bang Goes The Knighthood, Foreverland, Loose Cannon and 2019's Office Politics, which reached No.9 in the Irish album charts and No.5 in the UK, the band's highest chart position to date.
On 1 September 2021, having completed his third full decade as a recording artist, Hannon announced an album featuring his finest moments, Charmed Life – The Best Of The Divine Comedy, would arrive on 4 February 2022. About the release, he reflected, "I've been luckier than most. I get to sing songs to people for a living and they almost always applaud. So when asked what to call this collection I thought of Charmed Life. I like the song and it rather sums up how I feel about my life."
To support the album, Hannon confirmed a UK tour for April and May 2022.
The Divine Comedy 2022 UK tour dates:
25 April 2022 – Birmingham Symphony Hall
26 April 2022 – Manchester Bridgewater Hall
30 April 2022 – York Barbican
1 May 2022 – Liverpool Philharmonic Hall
5 May 2022 – Cambridge Corn Exchange
6 May 2022 – Ipswich Regent
8 May 2022 – Oxford New Theatre
9 May 2022 – Southampton O2 Guildhall
10 May 2022 – Bath Forum
12 May 2022 – Cardiff St David's Hall
13 May 2022 – Halifax Victoria Theatre
14 May 2022 – Newcastle O2 City Hall
15 May 2022 – Nottingham Royal Concert Hall
News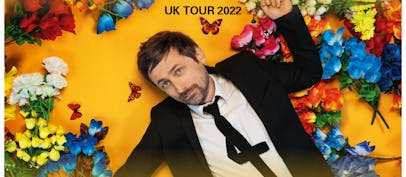 The Divine Comedy announces new album + tour
Singer-songwriter Neil Hannon is releasing a 24-track best of collection on 4 February 2022 and supporting it with a tour of the UK in April and May 2022. Tickets are on sale now.
FAQS
The Divine Comedy are performing across the UK from 25 April – 15 May 2022.

The Divine Comedy will be visiting the following UK cities on their 2022 tour:

Birmingham
Manchester
York
Liverpool
Cambridge
Ipswich
Oxford
Southampton
Bath
Cardiff
Halifax
Newcastle
Nottingham

Tickets for The Divine Comedy's 2022 tour dates are on sale now.