Country/Folk
The Cadillac Three
Events
International Events
1 Events
Loaded 13 out of 13 events
About
Southern rock trio with an R&B swagger
Get the album Tabasco & Sweet Tea here
Jaren Johnston, Kelby Ray and Neil Mason – all born and bred in Nashville – were members of the four-piece band American Bang from 2005 to 2010. In 2011, the trio founded The Cadillac Black and released their debut self-titled album the following year. After landing a deal with Big Machine Records in 2013, they discovered their name was being used by another group so instead became The Cadillac Three (aka TC3), re-issuing their debut album under the freshly minted moniker.
During these early years, Johnston was building his reputation as a songwriter by working on hit tracks like You Gonna Fly with Keith Urban and Southern Girl with Tim McGraw. Plus The Cadillac Three had made it a priority to focus on their live shows, taking gigs to play wherever and whenever they could. The rollicking threesome were soon known for their high-energy performances as well as for melding rowdy country music with the rebellious spirit of Southern rock.
By 2014, success began to mount from their own material with the single The South (featuring guest vocals from Dierks Bentley, Mike Eli of the Eli Young Band and Florida Georgia Line) climbing to No.32 on the US country charts.
TC3 crossed the pond in 2015 to play a set at that summer's Download festival. When they released their sophomore album Bury Me In My Boots in 2016, it debuted at No.5 on Billboard's country chart and reached the No.33 spot on the UK albums chart. Along with The South, other lead singles included Party Like You, White Lightning and Drunk Like You.
Preceded by Dang If We Didn't, The Cadillac Three's third album Legacy arrived in 2017 and peaked at No.16 in the UK.
When they began working on their fourth album, TC3 did it with their live show in mind as well as the intention to do something different. Released in early 2020, Country Fuzz showed an evolution in the band's music, with Johnston saying it had "a little bit of everything, and you can see where we started and where we're going." To support the album, they even launched a Country Fuzz brand clothing line.
With the coronavirus outbreak making it impossible to be on the road in 2020, The Cadillac Three had lots of time to spend in the studio and made the most of it by unveiling their fifth album Tabasco & Sweet Tea only eight months after Country Fuzz.
In celebration of their 10th anniversary as a band, they hosted a show for the Planet Rock station every Saturday night throughout May 2021 called Garage Radio, on which Johnston, Ray and Mason curated their favourite tunes while recounting stories from the road. Also in May 2021, The Cadillac Three announced an eight-date UK tour for December 2021.
News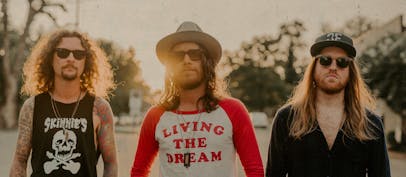 The Cadillac Three announce UK tour
The country-rock trio from Nashville are crossing the pond from 1 – 11 December 2021 to play shows in Manchester, Leeds, Birmingham, Nottingham, Newcastle, Glasgow, London and Cardiff.
FAQS
TC3 are touring the UK from 1 – 11 December 2021 in celebration of their 10th year as a band and to support their latest albums Country Fuzz and Tabasco & Sweet Tea.

TC3 will be visiting the following UK cities in 2021:

Manchester
Leeds
Birmingham
Nottingham
Newcastle
Glasgow
London
Cardiff

Tickets for TC3's 2021 UK tour dates go on sale from 10:00 on Friday 21 May 2021.