Alternative and Indie
Taking Back Sunday
About
New York cult emo-meets-punk rock heroes
Formed in 1999, a bunch of teenagers from Long Island started a band that would change their lives.
Calling themselves Taking Back Sunday, they released a five-song demo in 2001, and spent the rest of the year touring. During this time, the first of what would be many line-up changes occurred. It brought Adam Lazzara into the group as the bassist, but with his powerful, gravelly voice, he ultimately became the lead vocalist. 
Taking Back Sunday unveiled their debut album Tell All Your Friends in 2002, which received positive reviews. However, it was their sophomore album, 2004's Where You Want To Be, followed by 2006's Louder Now – which peaked at No.18 on the UK albums chart – that propelled them into becoming one of the hottest rock bands in the US in the noughties.
The band released three more albums over the following decade: 2009's New Again, 2011's Taking Back Sunday and 2014's Happiness Is.
With their seventh album, 2017's Tidal Wave, Taking Back Sunday decided to take a different approach, creating a collection of songs expressing where they were in the lives at the time as well as combining emo with elements of other music genres. To promote it, the group went on an intimate club tour and played the album in its entirety.
In early 2019, the four-piece – composed of Lazzara along with original member John Nolan on lead guitar and keyboards, Mark O'Connell on drums and Shaun Cooper on bass – released Twenty, a compilation of 19 of their favourite hits spanning their 20-year career, and embarked on a world tour that included shows in the UK.
In September 2021, Taking Back Sunday announced a co-headline UK tour alongside fellow cult rockers Alkaline Trio for early March 2022.
News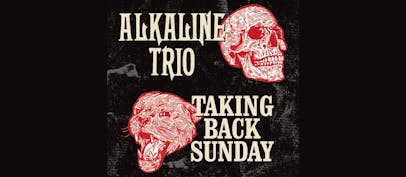 Taking Back Sunday + Alkaline Trio co-headline tour
Both emo-punk greats are returning to the UK in March 2022 to play five shows together across the country. Tickets go on sale from 10:00 on Friday 10 September 2021.
FAQS
Taking Back Sunday are touring the UK with Alkaline Trio from 1 – 6 March 2022.

Taking Back Sunday will be visiting the following UK cities with Alkaline Trio on their 2022 tour:

Newcastle
Glasgow
Manchester
Birmingham
Brixton

Tickets for Taking Back Sunday's 2022 tour dates with Alkaline Trio go on sale from 10:00 on Friday 10 September 2021.