Alternative and Indie
Snow Patrol
Events
International Events
1 Events
Loaded 11 out of 11 events
About
The indie pop-rockers known for their swooningly sensitive songs
Get the EP The Fireside Sessions here
Formed in Dundee, Scotland in 1994, Snow Patrol are a Northern Irish band who've carved out a unique place for themselves by constantly delivering music of depth that's painted from a broad palette.
Originating from a band called Shrug, they changed their name to Polarbear a year later before becoming Snow Patrol in 1997. Their debut album Songs For Polarbears was hailed by Pitchfork as "an impressive piece of work" and Snow Patrol followed it up in 2000 with When It's All Over We Still Have To Clear Up.
The band reached wider recognition in 2002 with the release of their third album Final Straw, which featured the singles Chocolate, Spitting Games, How To Be Dead and the No.5-charting hit Run. Not only was it their major label debut, but also the first of many albums to be produced by Jacknife Lee (U2, The Killers, Two Door Cinema Club).
Snow Patrol's fourth album, 2006's Eyes Open, spawned even bigger hits, including Open Your Eyes, Hands Open, You're All I Have and Chasing Cars, which was made famous from the popular television show Grey's Anatomy. The biggest-selling record in the UK that year, it saw the band reach global success and they went on to perform at such festivals as T In The Park, Isle Of Wight, Splendour In The Grass and BBC Radio 1's Big Weekend that summer as well as tour internationally throughout 2007.
The indie pop-rock group who'd become known for their melancholic ballads released two more studio albums over the next five years – A Hundred Million Suns in 2008 and Fallen Empires in 2011. Snow Patrol spent most of 2012 on another extensive world tour, and when it concluded the band's members – frontman Gary Lightbody, guitarists Johnny McDaid and Nathan Connolly, bassist Paul Wilson and drummer Jonny Quinn – decided to take a break. However, Snow Patrol did release a Greatest Hits compilation in 2013.
It was a long seven-year wait, with Lightbody revealing he had to overcome bouts of writer's block, before the band revealed new material. Snow Patrol's seventh album Wildness in 2018 tapped into something raw and primitive. It debuted at No.2 on the UK albums chart and spawned the singles Don't Give In, Life On Earth, Empress and What If This Is All The Love You Ever Get? To celebrate the release, Snow Patrol created music videos for almost every song on the album.
On the heels of Wildness, the band came out with another compilation album titled Reworked in 2019, which was followed by a tour.
Throughout their career, Snow Patrol have achieved five UK platinum albums and sold over 15 million records. They've also been nominated for numerous Grammy, BRIT and Mercury Music awards. 
In early 2020, with the UK in lockdown during the coronavirus pandemic, Snow Patrol hosted a series of Saturday livestreams where they collaborated in writing songs with their fans. That summer the band released an EP called The Fireside Sessions that featured those tracks with all the proceeds benefitting the Trussell Trust anti-poverty charity.
In addition, Snow Patrol confirmed summer 2021 UK festival appearances at Latitude, Scarborough Open Air Theatre, TRNSMT and Isle Of Wight. On 10 April 2021, the group also announced a special show as part of Manchester's Sounds Of The City on 26 September 2021.
News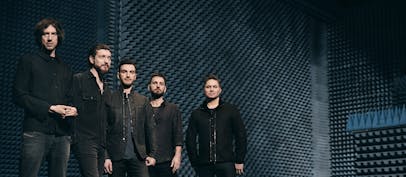 Snow Patrol to play Sounds Of The City 2021
The indie pop-rockers with five UK platinum albums to their credit have been added to the line-up at Manchester's Castlefield Bowl on Sunday 26 September 2021. Tickets go on sale from 09:30 on 16 April 2021.
FAQS
Snow Patrol will appear at the following festivals and venues in the UK over the coming summers:

Latitude Festival 2021 – Henham Park, Suffolk
Scarborough Open Air Theatre 2021 – Scarborough
TRNSMT 2021 – Glasgow Green
Isle Of Wight Festival 2021 – Newport
Sounds Of The City 2021 – Castlefield Bowl, Manchester
Lytham Festival 2022 – Lytham Green

Tickets for Snow Patrol's 2021 Sounds Of The City concert go on sale from 09:30 on Friday 16 April 2021. Tickets for Snow Patrol's other UK festival dates are on sale now.