Events
Loaded 11 out of 11 events
About
Comedian known for his exuberant, all-embracing brand of humour
Before Danny "Slim" Gray got into stand-up comedy, he spent 15 years driving a bus.
Born in South London to Jamaican parents, he grew up making both friends and family laugh. However, his mum's desire for her son to have a "real job" led him to find work behind the wheel. As luck had it, those experiences – especially interacting with the passengers – would later provide him with a wealth of onstage material.
Slim's first stand-up gig was in 1993 at the Hackney Empire in front of an audience of over 1,500 people. He'd never performed before and didn't have a routine of any kind prepared, but after landing his first joke and hearing the audience crack up, Slim was hooked.
In the years that followed, he honed his talent at local clubs and warmed up studio audiences. From 1999 to 2002, Slim was the regular warm-up man for MTV's dating game Singled Out. At this time, he also landed small roles on television in programmes like The A Force, Nights Out At The Empire and Attachments.
Slim began to rise in the ranks as a stand-up comedian after winning the Best Male category at the 2004 Black Entertainment Comedy Awards. The following year, he was even named Favourite Comedian by other Black British comics. Mo Gilligan has often cited Slim as the person who inspired him most early on in his career. 
Having toured extensively in the UK for over a decade, Slim went on to play gigs in the US and the Carribbean. In 2005, he also became the first Black UK comic to perform at the world-famous Comedy Store in West Hollywood.
During the late '00s he supported an array of big names on tour from both sides of the pond including John Witherspoon, Felix Dexter, Robbie Gee, Bill Bellemy and Kevin Hart.
In 2011, his show Slim In Wonderland received rave reviews at the Edinburgh Festival Fringe, with The Guardian calling him "brave and profoundly funny".
Slim made a cameo in 2016 on Dane Baptiste's Sunny D series, playing a girlfriend's errant father. It wasn't a stretch for the comedian who – being the father of six – often jokes about parenthood in his sets.
In addition, Slim has dabbled in film, appearing as Delroy in the 2016 comedy The Weekend and as a radio host in the 2020 rom-com Loves Spell. He was also among the pioneering figures showcased on Channel 4's 2020 documentary Mo Gilligan: Black, British And Funny examining the Black British comedy circuit as part of Black History Month.
In June 2021, Slim announced a series of autumn dates for The King Tour.
News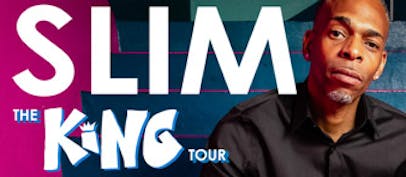 Slim announces 2021 UK stand-up dates
The comedian is hitting the road with The King Tour this autumn. Tickets are on sale now.
FAQS
Slim the comedian is heading out on The King Tour from 27 October – 14 November 2021.

Slim is taking The King Tour to the following UK cities in 2021:

Leicester
Bristol
Cardiff
Nottingham
Leeds
Birmingham
Luton
Manchester
London

Tickets for Slim's 2021 UK tour dates are on sale now.