About Shrek's Adventure! London
DreamWorks Tours: Shrek's Adventure! London is an immersive storytelling experience in the County Hall building on the south bank of the River Thames. Based on the loveable ogre Shrek from the hilarious DreamWorks films, the tour allows you to escape reality and begin a quest through 12 fairy-tale themed live shows incorporating actors, captivating storytelling, special effects and extraordinary DreamWorks animations for the whole family to enjoy.
Meet your favourite characters along the way in Shrek's Adventure! including Puss in Boots, Princess Fiona, Gingy and the Three Little Pigs. Be the hero of your own story and rescue Pinocchio from the wheel of torture while escaping from Rumpelstiltskin. Visit Cinderella in Shrek's swamp and cook up a magic spell with the Muffin Man, while collecting special ingredients to mix your own magical potions. Come face to face with the Dragon Warrior Po and learn the art of Kung Fu, before joining Donkey on the 4D Magic Bus for a simulation experience that's brimming with magic.
Along with plenty of interactive games for the kids to enjoy, the walk and ride family attraction also has plenty of photo opportunities to capture memories your favourite DreamWorks characters. Shrek's Adventure! offers the ultimate family day out in London, as kids get to experience the hit film come to life in an unforgettable adventure.
Are you ready to book your tickets to a land far far away?
Shrek's Adventure! Photo Gallery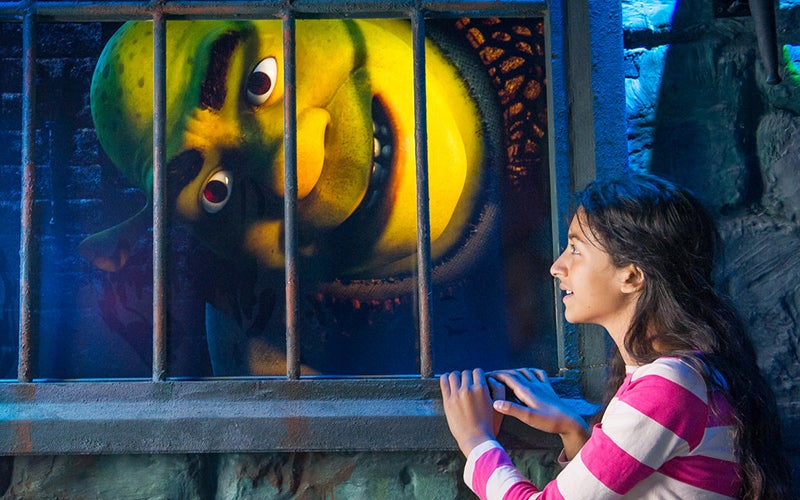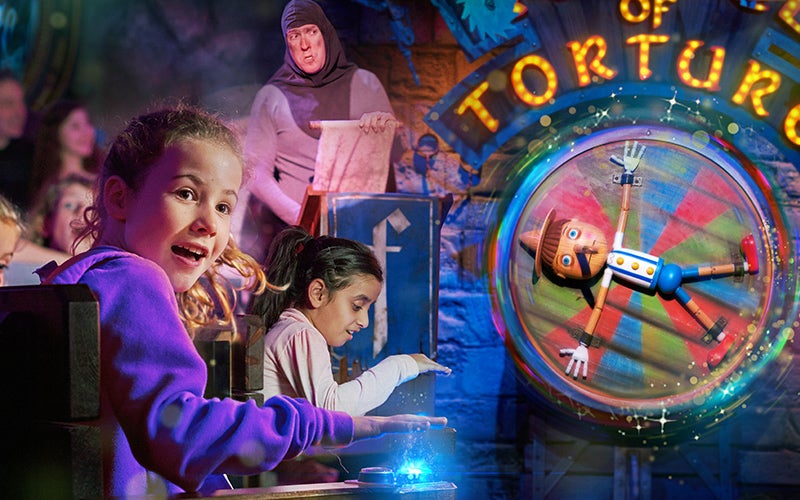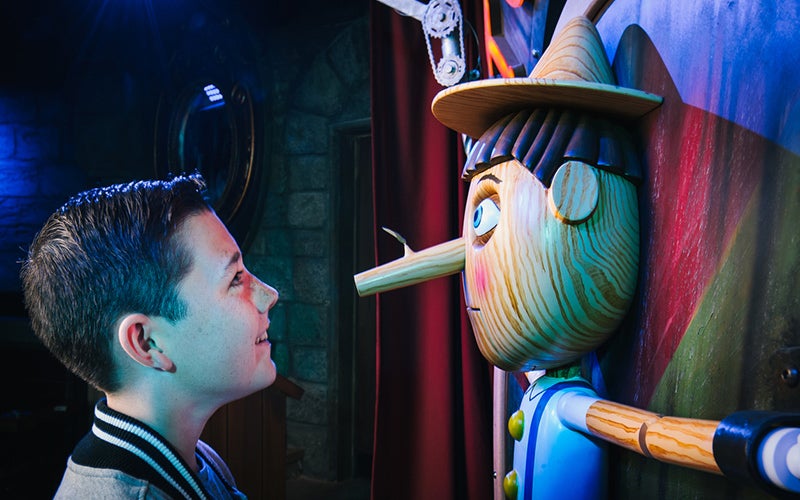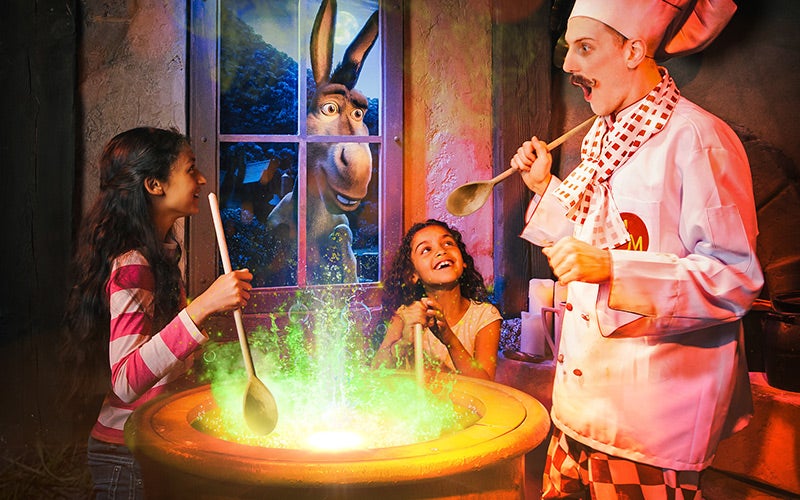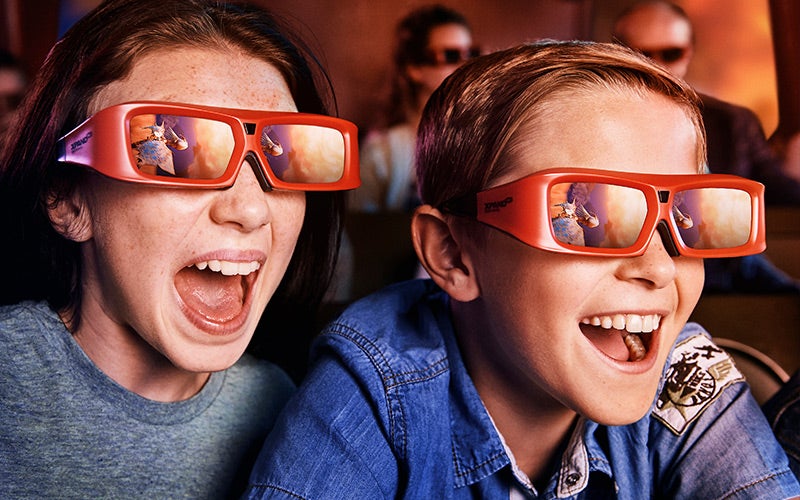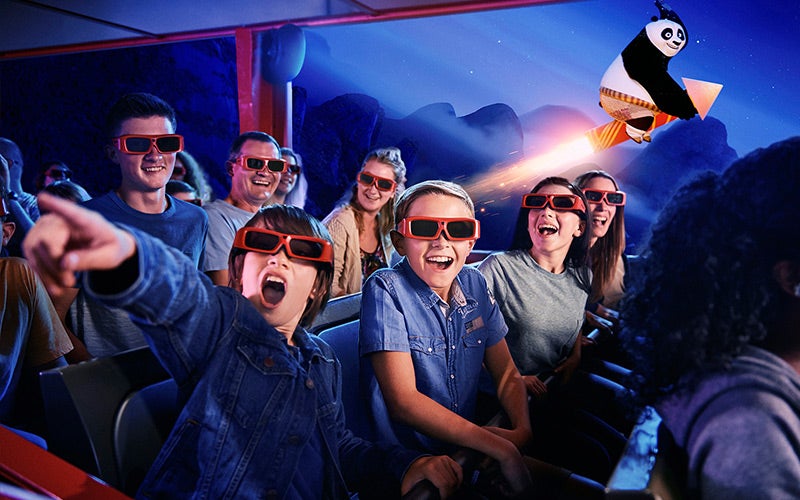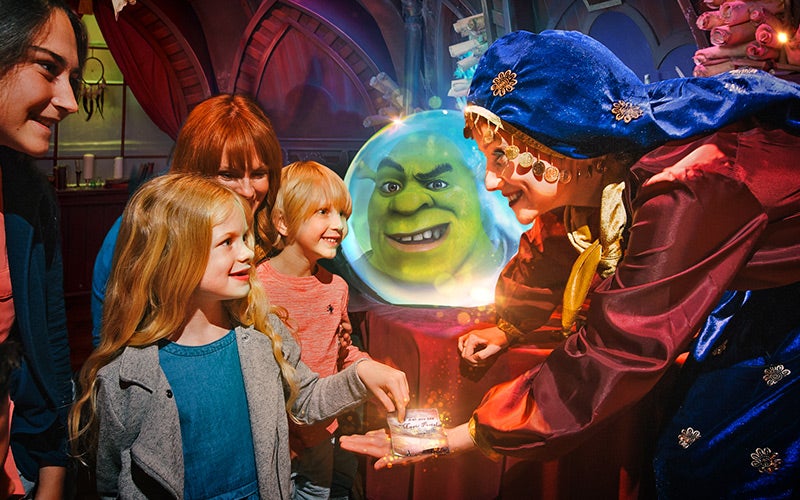 Shrek's Adventure! Tickets
Tickets for the Shrek's Adventure! London are available here.
Shrek's Adventure! Tickets
Shrek's Adventure! London Address
FAQs
What are the opening hours for Shrek's Adventure!?
Shrek's Adventure is open seven days a week and typically opens between 10:00 and 11:00 each morning and closes between 15:00 and 17:00 each evening. On weekends the attraction is open from 10:00 until 17:00. During school holidays the attraction is typically open from 10:00 to 17:00. Please note that opening times are subject to change.
How long does Shrek's Adventure! take?
The experience is designed to take around 60 to 90 minutes.
Where is the Shrek's Adventure in London?
Shrek's Adventure London is located in the County Hall building on the south bank of the River Thames, and shares a building with SEA LIFE London Aquarium. The full address is Riverside Building, County Hall, Westminster Bridge Road, London, SE1 7PB. Located in central London, there are a variety of way to reach the attraction.
How to get to Shrek's Adventure! London:
By Underground - the nearest Underground stations in walking distance are Waterloo (Northern, Jubilee and Bakerloo lines), Embankment (Circle, District, Northern and Bakerloo lines), Charing Cross (Northern and Bakerloo lines) and Westminster (Circle, District and Jubilee lines).
By Bus - along with sightseeing bus tours, you can also take the 211, 77, and 381 bus routes and the RV1 bus route to the attraction.
By Train - the closest rail stations are Waterloo, which is a five-minute walk, and Charing Cross Station, which is a 15-minute walk.
By Boat - river boat services are available to start your adventure along the Thames. Choose from services departing from The O2, Bankside, Embankment, Blackfriars, London Bridge, Tower, Canary Wharf, Hilton Docklands, Masthouse Terrace, Greenwich, Royal Arsenal Woolwich, St. Katherine's or Westminster Piers.
By Car - Q-Park in Westminster is the nearest car park. Please note that Shrek's Adventure is in the Congestion Charge Zone.
Are accessible facilities available?
Yes, Shrek's Adventure! is designed to be as accessible as possible for all guests who have special access requirements. Two-for-one essential companion/carer tickets are available. Assistance dogs are permitted to the attraction but are not permitted on the 4D Magic Bus. View all accessible information here. For general access queries, visit Ticketmaster's access help page.
Only one wheelchair user permitted per hour due to fire evacuation procedures.
How do I book tickets for Shrek's Adventure!?
The easiest way to book Shrek's Adventure! tickets is online in advance. Save time and money by booking online - you can view tickets here. Shrek's Adventure! tickets through Ticketmaster Official are verified and safe to buy.
How much are tickets for Shrek's Adventure!?
Standard ticket prices start from £21, subject to availability. View latest ticket prices in our tickets section.
Are there age restrictions for Shrek's Adventure! in London?
The attraction is family-friendly, however some characters may be scary for very young children. The recommended age range is from three to 12 years old, however there is no age limit.
Will I be required to wear a mask or face covering?
Yes, you must bring a mask or face covering with you. You will be required to wear it at the attraction.
What safety measures are in place to protect against the spread of viruses?
In addition to requiring masks and face coverings, several new safety measures have been introduced. This includes the following:
All tickets are digital so you must pre-book your visit.
All payments are contactless wherever possible.
Parking directions have been posted to allow for distancing.
Temperature checks are conducted prior to entry.
New signage with safety measures and instructions has been installed.
Enhanced cleaning takes place throughout the day.
New deep cleaning measures have been introduced in the event a person presents symptoms consistent with COVID-19. (Please note if you have symptoms or are feeling unwell, do not visit.)
Hand sanitiser is available for guests to use throughout the premises.
Employees will be wearing PPE.
Menu offerings in any food outlets feature "grab & go" options.
The capacity has been reduced to allow for social distancing.
How can I practice social distancing?
You can practice social distancing by remaining with your family and friends while keeping a safe distance from other guests.
In order to minimise contact with other parties, there will be empty rows and seats on various rides and attractions.
Some things may be unavailable or have restrictions on the number of guests to ensure social distancing – especially indoor experiences such as shops and restaurants.
Please note this attraction is an interactive, 4D experience and to this end, uses a range of effects throughout. This includes loud noises, flashing lights, group participation and intimate sets.
Please note that Ticketmaster can only deal with questions and issues regarding tickets. For all other enquiries, please visit the Shrek's Adventure! London website or contact them directly.