Visitor Attractions
Sherlock the Official Live Game
Events
Loaded 20 out of 181 events
About
Delve into the mysterious world of London's iconic detective
Two experiences await fans of London's most famous detective, as a secret West London location is transformed into an immersive world of espionage, murder and vibrant cocktails.
Visitors can take part in The Official Sherlock Live Game, a 100-minute immersive escape experience for teams of four to six people, and The Case Of The Poisoned Chalice, a cocktail experience to die for suitable for those aged 18 and over.
Don your deerstalker for The Official Sherlock Live Game and dive into an all-new mystery brought to you by series creators Steven Moffat and Mark Gatiss in collaboration with Time Run, renowned escape room pioneers.
Enter into the world of Sherlock with immersive sets and environments from the show, as you work together as a team to solve mysteries and puzzles before time runs out.
Play the detective in this brand new Sherlock case featuring original content from the stars of the show including Benedict Cumberbatch, Andrew Scott, Martin Freeman and more.
Or turn your hand to cocktail-making as The Case Of The Poisoned Chalice challenges groups of up to six people to create the perfect mix. Moriaty's right-hand man Sebastian Moran brings you to the Mind Palace for a unique test. Succeed and drink to your success, fail and this mistake may be your last.
News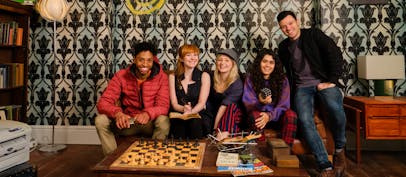 Inside London's immersive Sherlock Holmes Escape Room
Hidden away in a West London location lies an unassuming shop front, behind which unfolds a truly immersive, action-packed adventure built around the mysterious world of Sherlock Holmes.
FAQS
The network headquarters can be found hidden in plain sight on the ground floor of the West 12 Shopping Centre in Shepherd's Bush, W12 8PP. Join at Doyle's Opticians where your training mission will begin.

Any problems on the day, please call: 020 8130 0021 – if you are running late you must call to advise the team.

Doors will automatically shut behind you but if you need to exit for any reason, you will of course be let out. Games rooms are equipped with automatic doors that lock in game state but automatically open in case of emergency and can easily be pushed open in case of major power failure.

Sherlock: The Game Is Now requires a basic level of English comprehension; you do not need to be fluent, but you must be able to read and speak English to a good standard.

Firstly, congratulations! Naturally you can play at your own risk, but there is nothing in the experience that should cause concern. Please keep in mind that there are a number of instances where you will not have anywhere to sit down as well as some periods of low lighting, so please do tread carefully.

Both the Sherlock: The Official Live Game and The Case Of The Poisoned Chalice experiences last around 1 hour 40 minutes each. Separate tickets are required.

Sherlock: The Official Live Game experience has implemented the following:

They will only be selling the private experience – game only
The Mind Palace bar will remain closed
Online booking only
Until advised otherwise by the government, teams should be made up of households and will play the game separately from other players
It is strongly advised that all members of the team wear a face covering throughout the game
Enhanced deep cleaning will take place after each game and hand sanitiser will be provided in each playing room
Guests will need to arrive exactly on time, and organisers are unable to admit customers who arrive early and regretfully cannot accommodate those who are running late
Staff will practice social distancing and ensure to stay 2 metres away from all players throughout the experience and will be in the necessary PPE
Organisers will accept card payments only
Customers should ensure they check the official Sherlock: The Official Live Game website for any updates before their visit

In addition, The Case Of The Poisoned Chalice experience has been awarded the Visit England We're Good To Go quality award mark – it adheres to the respective government and public health guidance, has carried out a COVID-19 risk assessment and has the required processes in place.

Sherock: The Official Live Game is recommended for ages 10+. Children 7+ must be accompanied by an adult. Plus, The Case Of The Poisoned Chalice, a cocktail experience, is suitable for those aged 18 and over.