Comedy
SHAGGED MARRIED ANNOYED with Chris & Rosie Ramsey
Events
Loaded 11 out of 11 events
About
Side-splittingly honest discussions about married life
Launched in early 2019, Shagged. Married. Annoyed. is the frank and always funny podcast created by Chris Ramsey and his wife Rosie. Each episode finds them chatting from their living room in South Shields near Newcastle about everything from relationships and parenting to annoyances, arguments and daily life.
A stand-up comedian and the host of his own TV comedy shows, Chris married Rosie Winter, an actress and presenter with an infectious personality, in 2014. They have two sons together, Robin and Rafe. The pair revealed that the only way they can have a conversation without being interrupted by a small child or ending up on their phones is by doing a podcast.
A real down-to-earth couple, all episodes feature free-flowing conversations as well as regular segments like Questions From The P-P-Public and What's Your Beef?, where they share their grievances from the week.
Endlessly amusing and unpredictable, the loveable Geordie duo have amassed fans from all around the world while consistently topping the downloads charts. Fans keep loyally tuning in to the podcast to hear more of their endearing honesty and genuine friendship.
Shagged. Married. Annoyed. also spawned a book by the same name. Released in autumn 2020, Chris and Rosie's exploration of the highs and lows of dating, relationships and marriage quickly made them Sunday Times bestselling authors.
Before the coronavirus outbreak, the Ramseys announced they were taking their smash hit podcast on the road for the first time ever, stopping at a variety of UK venues. In April 2021, the dates for their live tour were moved to 5 September – 21 December 2021 with nine new arena dates added nationwide due to overwhelming demand.
News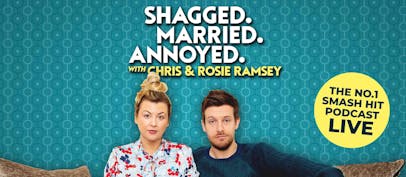 New arena dates announced for Shagged. Married. Annoyed.
After having to reschedule their record-breaking, first ever podcast tour, Chris and Rosie Ramsey have added shows in nine more arenas due to demand. Their 2021 UK tour is now set to run from 5 September – 21 December 2021.
FAQS
Shagged. Married. Annoyed. is touring the UK from 5 September – 21 December 2021.

You can catch Shagged. Married. Annoyed. with Chris and Rosie Ramsey live in the following UK cities in 2021:

London
Nottingham
Manchester
Birmingham
Newcastle
York
Glasgow
Edinburgh
Leeds
Liverpool


Tickets for Chris and Rosie Ramsey's nine newly announced arena dates go on sale from 10:00 on Friday 30 April 2021. Tickets for all other Shagged. Married. Annoyed. UK tour dates are on sale now. Original tickets remain valid for rescheduled dates.