About
The hobo turned maverick blues man
Get the album Blues In Mono here
Born in Oakland, Steven Gene Leach spent his childhood in California during the '50s. He left home by the time he was a teenager and lived the life of a panhandler on the road travelling America. Leach spent time in Mississippi, Tennessee and the Midwest, where he began to pick up instruments like guitar and harmonica.
In the late '60s, he settled down again for a time in Haight-Ashbury, San Francisco and found himself drawn to blues, folk and rock artists. Regularly attending the Monterey Pop Festival, he was inspired by Jimi Hendrix, Janis Joplin and The Grateful Dead.
By 1970, Leach was playing bass in the band Shanti. Throughout this decade – which saw him married and divorced – he travelled as far away as Paris, but continued to return to California where he played and collaborated with musicians such as John Lee Hooker, Joni Mitchell and Mike Love.
Leach met his second wife, Elisabeth Wold, in a blues bar in Norway in the early '80s and eventually adopted her surname. For much of this decade he lived and created music in Europe, where he owned a recording studio for a time.
By the '90s, he brought his family back to the US and settled near Seattle, establishing a guitar store and the Moon Music recording studio, through which he began producing music by local acts including Modest Mouse.
He closed the studio in 2001 and returned to Norway, where he formed the band Seasick Steve And The Level Devils. His new name was chosen after becoming ill during a boat trip to Denmark. Their debut album Cheap came out in 2004. Two years later, he got rid of the band and released his first solo album Dog House Music.
In 2008, Seasick Steve's follow-up I Started Out With Nothin And I Still Got Most Of It Left peaked at No.9 on the UK albums chart and featured guest artists like KT Tunstall as well as a collaboration with Nick Cave on the track Just Like A King.
With a reputation not only for being an incredible blues performer, but also for the ability to rock out instruments made of anything (from his favourite "three-stringed trance wonder" to a hubcap guitar), Seasick Steve released six more albums over the next decade. Four of them – 2009's Man From Another Time, 2011's You Can't Teach An Old Dog New Tricks, 2015's Sonic Soul Surfer and 2016's Keepin' The Horse Between Me & The Ground – broke into the top 10 of the official UK albums chart.
In 2018, Seasick Steve performed at BST Hyde Park as well as at Budapest's Sziget Festival in support of the album Can U Cook?
In July 2020, he unveiled his gritty, foot-stomping record Love & Peace. Four months later, Seasick Steve followed it up with his acoustic album Blues In Mono, which paid tribute to traditional acoustic country blues, recorded with a 1940s microphone and an old tape recording machine.
In February 2021, Seasick Steve announced nine solo UK shows in November 2021 as part of the Just Steve, A Guitar And You tour.
Announcing the tour, Seasick Steve said, "I'm lookin' forward to coming and playing for y'all. Just gonna be me, you and my guitar. A few songs and a few stories, kinda like we just hangin' out together!"
News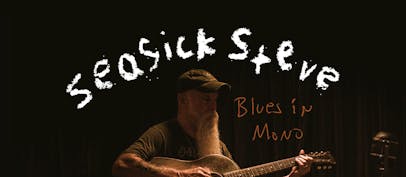 Seasick Steve announces solo UK tour
He'll perform nine intimate gigs entitled Just Steve, A Guitar And You to support his new album Blues In Mono in November 2021.
FAQS
Seasick Steve is heading out on his solo Just Steve, A Guitar And You tour from 4 – 17 November 2021.

Seasick Steve's 2021 tour will stop in nine UK cities at the following intimate venues:

De La Warr Pavilion, Bexhill
Royal Concert Hall, Nottingham
London Palladium
Symphony Hall, Birmingham
York Barbican
Usher Hall, Edinburgh
The Lowry, Manchester
O2 City Hall Newcastle
Bristol Hippodrome

Tickets for Seasick Steve's November UK tour dates go on sale from 10:00 on Friday 26 February 2021.