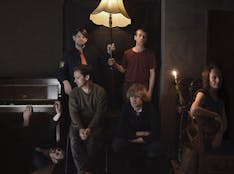 About
Dynamic, anthemic and endlessly creative indie rock from the acclaimed Cumbrian sextet
Sea Power are a rare force. Creatively unpredictable yet consummate entertainers, brooding but anthemic, it's no wonder they created such a stir when they first debuted as British Sea Power in the early 00s.
While the band recently dropped the "British", it wasn't their first name change. The Cumbrian band began life together as British Air Powers before renaming themselves British Sea Power after one of their own songs. Eventually, the imperial implications of the name would start to chafe against the band's sensibilities and the name was shortened to Sea Power.
Formed in 2000 by brothers Yan Scott Wilkinson and Neil Hamilton Wilkinson with drummer Matthew Wood and multi-instrumentalist Martin Noble, Sea Power immediately earned a reputation for their eccentric theatrics. Donning military regalia with frequent stage invasions from a bear being de rigour, Rough Trade snapped them up after one such memorable performance. Eamonn Hamilton of Brakes joined on keys and the band's widely acclaimed debut, The Decline Of British Sea Power, arrived in 2003.
The riotous post punk of their debut was notably tempered when Sea Power returned with Open Season in 2005. Reviews remained universally positive but were dwarfed by the ecstatic reaction to their assured, gargantuan third album, 2008's Do You Like Rock Music?
Sea Power's next project was a somewhat unexpected if extremely well-suited detour. The band composed a mostly instrumental soundtrack to the 1934 documentary Man Of Aran and performed it live at select screenings. They were back in more conventional territory with Zeus, a 2010 EP that was longer than most bands' albums.
The band's fourth album proper, Valhalla Dancefloor, arrived in 2011, followed by the Ray Bradbury-inspired Machineries Of Joy in 2013. Sea Power returned to soundtracks for their next project, crafting a score for Penny Woolcock's documentary From The Sea To The Land Beyond.
Sea Power followed this flurry of activity with a tour that saw them accompanied by various brass orchestras. They immortalised the experience Sea Of Brass, a collection of eight songs from their back catalogue re-recorded with the Fodens Band. After gaining a name for adventurous deviations, Sea Power surprised everyone by returning in 2017 with an album of straight-up indie rock on Let The Dancers Inherit The Party.
In 2021, Sea Power broke new ground, scoring the ambitious video game Disco Elysium and winning a BAFTA in the process. Following the announcement of their name change, Sea Power also announced a new record, Everything Was Forever, set for release in February 2022. A Sea Power UK tour was also confirmed for April 2022.