Events
Loaded 11 out of 11 events
About
Outspoken entertainer known for his humour, antics and philosophical thought
Incredibly funny and at times controversial, Russell Brand is an actor, comedian, TV presenter, podcaster, radio host and author.
Born in Essex, he had a difficult childhood. Brand's parents split when he was just six months old, so his mother raised him on her own. However, when Brand was eight, she fought the first of several battles with cancer. As a teenager, he too battled things including ADHD, bulimia, bipolar disorder, drugs and other addictions.
Something of a social outcast, Brand found light in theatre and comedy. He was in a production of Bugsy Malone at the age of 15, and then sought out work as an extra in films. In 2000, Brand launched his stand-up comedy career at the Hackney Empire New Act Of The Year showcase and came in fourth.
He appeared at Edinburgh Festival Fringe in 2004 with his first one-man show Better Now, a confessional about heroin addiction. The following year he returned to the Fringe with Eroticised Humour, and in 2006 he launched his first UK-wide tour Shame there.
In the early 2000s, Brand's quick wit and unique stage presence were recognised by television executives. He presented a few shows for MTV and appeared on several Big Brother specials and spinoffs. Brand landed a role in the BBC sitcom Blessed in 2005, but it was The Russell Brand Show hosted alongside comic partner Matt Morgan for BBC Radio 6 Music in 2006 that made him a star.
In 2007, the duo worked together to create a documentary called Russell Brand On The Road, plus he landed his first film role as Flash Harry in St Trinian's and published his first memoir, My Booky Wook.
Brand starred in the film Forgetting Sarah Marshall in 2008 and later hosted the MTV Video Music Awards, where he made controversial comments about everyone from President George W Bush to the Jonas Brothers. Numerous opportunities to host and perform followed. Among the highlights, Brand appeared movies like 2008's Bedtime Stories, 2010's Get Him To The Greek, 2011's remake of Arthur and 2012's jukebox musical Rock Of Ages with Tom Cruise.
In 2009, Brand met pop star Katy Perry. They got engaged soon after, married in a lavish wedding in India in 2010 and filed for divorce in late 2011. The following year, he was embroiled in a controversy with a paparazzo who claimed Brand threw his mobile phone through a window.
By the mid 2010s, Brand had become a campaigner for serious issues – objecting to the exploitation and destruction of the planet as well as calling for a more sustainable future. He even went on to be a guest editor of New Statesman magazine. To publicise this, he sat down in a widely watched interview to discuss his call for "revolution" with Jeremy Paxman on BBC's Newsnight in 2013. He published the book Revolution in 2014 and launched the YouTube series The Trews: True News With Russell Brand, on which he examines news as well as talks to guests like economists and activists.
Brand continued his film career with 2015's The Emperor's New Clothes and by voicing the character Creek in 2016's hit movie Trolls.
In 2017, he started his podcast Under The Skin to explore what's beneath the surface of the ideas that define our time, and he also got married to Scottish blogger Laura Gallacher. The couple have welcomed two daughters.
Brand appeared as Lance, the rebellious founder of Sports X, on the TV series Ballers in 2018 and 2019. The following year he played the eccentric uncle in the film Four Kids And It.
In early 2021, Brand unveiled the Awakening With Russell YouTube channel, on which he shares techniques that help with mental health and staying grounded, along with the audiobook Revelation: Connecting With The Sacred In Everyday Life.
On 1 June 2021, he announced a UK stand-up tour called 33 about the strangeness of the past 18 months, kicking off in August 2021.
News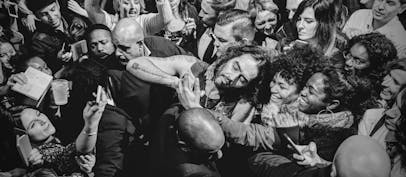 Russell Brand adds new dates
A couple of shows were added to The 33 Tour including a preview performance on 13 August at The Oak Room in Buckinghamshire. Tickets for all shows are on sale now.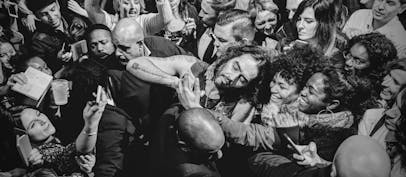 Russell Brand announces 2021 UK tour
The outspoken entertainer is hitting the road from August to December 2021 and doing stand-up about the strangeness of the past 18 months. Tickets go on sale from 10:00 on Friday 4 June 2021.
FAQS
Russell Brand is hitting the road with the brand new stand-up tour 33 from 13 August – 12 December 2021.

Russell Brand will be visiting the following UK cities in 2021:

Marlow (new date added)
Weston Super Mare
Swindon
Basingstoke
Peterborough
Northampton
Cheltenham
Crawley
Birmingham
Richmond
Coventry (new date added)
Cambridge
High Wycombe
Folkestone
Dartford
Milton Keynes
Oxford
Cardiff
Bournemouth
Leicester
Guildford
Brighton
Southend
Portsmouth

On his 2021 stand-up tour 33, Russell Brand will be talking about the strangeness of life from the past year and a half. What have we learned and not learned? And how do we "get back to normal" if we've never been normal? 

Tickets for all of Russell Brand's tour dates are on sale now.