Events
Loaded 16 out of 16 events
About
The Bristol-born drum and bass pioneer
Born to Jamaican immigrants, Ryan Williams – better known by his stage name Roni Size – was raised in Bristol and heavily influenced by reggae.
He learned about music production at the Sefton Park basement project and was soon DJing local youth club parties. After entering the rave scene, Size not only became instrumental in the founding of jungle as well as drum and bass, but ultimately helped transform underground electronic music for large-scale shows and festivals.
Size created the group Reprazent – a collective consisting of DJs, a bassist and a percussionist – in the early '90s as well as made music under the names Mask and Firefox. In addition, he collaborated with other artists like DJ Krust and DJ Die, and founded the record label WTP (Where's The Party At?) with Chris Lewis. His early singles and EPs included Witchcraft, It's A Jazz Thing, Fashion, Dayz, Only A Dream and Square Off.
In 1997, Size took drum and bass to a new level when he released New Forms with Reprazent. Winning the Mercury Music Prise and going five times Platinum, it became the kind of landmark album that defined both a genre and an era.
Size's first solo studio album Touching Down came out in 2002, with his follow-up Return To V arriving two years later.
In 2008, Roni Size & Reprazent came out with New Forms 2, featuring a reworked selection of the original tracks with added production and overdubs, plus three new tracks.
Between 2009 and 2019, Size continued to make music as a solo artist and with Reprazent as well as to play festivals such as Glastonbury, Creamfields, EDC, Bluedot, Bestival and many more. His third studio album Take Control came out in 2014 and he released Past & Present with DJ Krust in 2016.
In December 2020, Size announced that he would team up with fellow drum and bass pioneer LTJ Bukem for a joint UK tour in November and December 2021.
News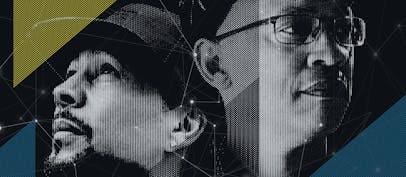 Roni Size and LTJ Bukem join forces
A once-in-a-lifetime meeting of two DNB pioneers is announced for November and December 2021.
FAQS
Roni Size is hitting the road with LTJ Bukem from 5 November – 4 December 2021.

The drum and bass pioneers are set are stopping in the following UK cities in 2021:

Cardiff
Birmingham
London
Torquay
Leeds
Manchester
Bristol
Southampton
Margate
Brighton

Dynamite MC will be there to warm up the audiences at all of Roni Size and LTJ Bukem's 2021 tour dates.

Tickets for Roni Size's 2021 tour dates with LTJ Bukem are on sale now.