Events
Loaded 20 out of 49 events
About
The incredibly funny tongue-in-cheek comedian from Crawley
Known for his trademark cynicism, Romesh Ranganathan is one of the UK's most popular TV presenters and comics. He was born in West Sussex in 1978 as Jonathan Romesh Ranganathan and took an unusual route to stardom – via rapping and teaching.
After delivering his first ever stand-up set at the age of nine at a holiday camp talent competition, Ranganthan spent his teen years focused on becoming a hip hop artist with the moniker "Ranga". Ultimately, he became a maths teacher and worked for many years at a school in Crawley, where he met his wife Leesa, who taught drama. They married in 2009 and around that time, Ranganathan found his way back to comedy by doing gigs in pubs as a hobby.
When he made his Edinburgh Festival Fringe debut with Rom Com in 2013, he was nominated for Best Newcomer at the Edinburgh Comedy Awards. Ranganathan returned in 2014 with Rom Wasn't Built In A Day and received another nomination for the Best Show award.
Ranganathan's deadpan humour quickly won him a following throughout the country. According to The Times, he had "the natural swagger of a comedian who knows how to dominate a room".
In 2014, Ranganathan also started presenting Newsjack on Radio 4 Extra and appeared on The Great British Bake Off: An Extra Slice. Since then, he's had opportunities to be on numerous TV comedy panel shows including 8 Out Of 10 Cats Does Countdown, Would I Lie To You?, The Last Leg, QI, Mock The Week and Have I Got News For You.
In 2015, he embarked on the BAFTA-nominated series Asian Provocateur for BBC, during which he travelled to Sri Lanka to explore his ancestral country. It was so popular, the following year he flew with his mum to North America to meet more relatives.
Ranganathan co-presented It's Not Rocket Science, alongside Rachel Riley and Ben Miller, in 2016 and two years later joined A League of Their Own as a regular panellist. In 2018, he also launched the popular TV programmes Judge Romesh, Just Another Immigrant and The Reluctant Landlord as well as published his first book, Straight Outta Crawley: Memoirs Of A Distinctly Average Human Being. 
Ranganathan returned with a brand new stand-up show, The Cynic's Mixtape, in September 2019. He was out on the road until 2020's coronavirus outbreak, with tour dates now rescheduled through June 2022.
In between and during lockdowns, Ranganathan has kept busy. Not only did he release the new book As Good As It Gets in October 2020, but he's also been doing podcasts with his mum (The Lockdown Chronicles) and with fellow comedian Geoff Norcutt (Romesh & Geoff Talk About The Mandalorian).
News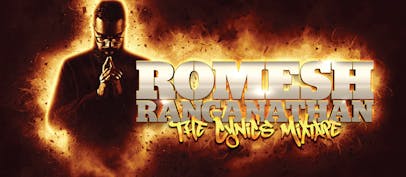 Romesh Ranganathan adds two extra shows to his UK tour
Now you have more chances to see the hilarious comedian perform The Cynic's Mixtape in Southend and Northampton.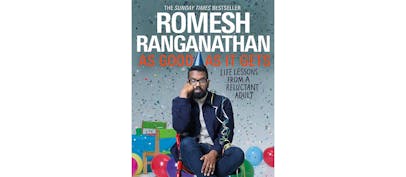 Romesh Ranganathan releases his second book
As Good As It Gets comes from the comedian who, confronted by the realities of adulthood, must face an uncomfortable truth: this is not how he imagined it would be.
FAQS
Romesh Ranganthan will continue touring his latest show, The Cynic's Mixtape, from October 2021 through June 2022.

Romesh Ranganthan is performing The Cynic's Mixtape in the following UK cities:

Brighton
Southend-on-Sea
Bristol
Guildford
Portsmouth
Cheltenham
Eastbourne
Leeds
London (for 10 dates at Eventim Apollo)
Stockport
Halifax
Croydon
Birmingham
York
Northampton
Liverpool

In The Cynic's Mixtape, Romesh Ranganathan is revealing what he's learned since his last tour, including why trying to save the environment is a scam, why none of us are truly free and his suspicion that his wife is using gluten intolerance to avoid sleeping with him.

Tickets for Romesh Ranganathan's 2021 and 2022 tour dates are on sale now.