Events
We're sorry, but we couldn't find any events
About
Prolific multi-instrumentalist and singer-songwriter from Queen and solo projects
Born in Norfolk, Roger Taylor fell in love with music when he was just seven years old. In the late '50s, after his family moved to Cornwall, he took up the ukulele. In the early '60s, he was a member of the Truro Cathedral Choir and also taught himself to play guitar and drums.
As a teenager, Taylor joined a group called Johnny Quale & The Reactions. When the frontman departed, they became The Reaction with Taylor taking over on lead vocals while playing drums. However, he quit the band when he moved to London for school, enrolling in dentistry courses and later studying plant and animal biology.
In 1968, Taylor auditioned and was selected to be the drummer for a trio called Smile that included guitar virtuoso Brian May. When their lead singer left in 1970, Freddie Mercury came on board, followed soon after by bassist John Deacon – and the celebrated band Queen was born.
Although best known for his role in Queen, Taylor has always been active with solo work and other music projects.
In 1977, he released his debut single, a reworking of the song I Wanna Testify that was originally written by George Clinton and recorded by The Parliaments. Taylor's debut solo album Fun In Space arrived in 1981 and reached No.18 on the UK albums chart.
His sophomore solo album Strange Frontier came out in 1984, featuring guest appearances by Mercury and Status Quo's Rick Parfitt.
In 1987, Taylor recruited four musicians and formed a band called The Cross, for which he played guitar. They released three albums between 1987 and 1991 as well as toured in the UK and Germany.
Taylor returned to his solo work after Mercury's tragic death in 1991. He revealed Happiness? three years later. Although its controversial first single Nazis 1994, attacking neo-Nazism, was banned by some radio stations, the publicity helped both it and the album land at No.22 on the UK singles and albums charts.
In 1998, Taylor added some elements of electronica to his sound and unveiled his fourth solo album Electric Fire. It spawned two top 50-charting singles: Pressure On and Surrender.
The first decade of the new millennium saw Taylor involved with various events promoting Queen – including their induction into the Rock and Roll Hall of Fame and appearances on the US television reality show American Idol, on which Adam Lambert was a finalist. Since 2011, they would collaborate as Queen + Adam Lambert for numerous performances and worldwide tours.
In 2013, Taylor released the politically charged album Fun On Earth as well as the comprehensive box set The Lot. His first two solo albums were re-issued in 2015, plus Taylor composed the soundtrack for the film Solitary including the song When We Were Young.
Deeply affected by the death of David Bowie in 2016 as well as contemplating his own mortality, Taylor released the haunting single Journey's End in 2017 along with a cinematic video filmed in Cornwall. Spanning six minutes and 50 seconds, the highly personal song was an instrumental he performed entirely by himself.
In June 2021, Taylor confirmed his sixth solo album Outsider would arrive on 1 October 2021. With much of it recorded during lockdown, the reflective tracks, which convey a sense of seclusion and the passing of time, are dedicated "to all the outsiders, those who feel left on the sidelines".
In addition, Taylor announced he would play 14 intimate shows on a UK solo tour later that month to introduce the new material and revisit some of his best loved Queen compositions.
Roger Taylor's Outsider 2021 UK tour dates:
2 October 2021 – O2 Academy Newcastle
3 October 2021 – Academy Manchester
5 October 2021 – Barbican, York
6 October 2021 – St. David's Hall Cardiff
8 October 2021 – O2 Academy Liverpool
9 October 2021 – University East Anglia (UEA), Norwich
11 October 2021 – Bath Forum
12 October 2021 – O2 Academy Bournemouth
14 October 2021 – Plymouth Pavilions
15 October 2021 – Rock City, Nottingham
17 October 2021 – De La Warr Pavilion, Bexhill
19 October 2021 – G Live, Guildford
20 October 2021 – HMV Empire, Coventry
22 October 2021 – O2 Shepherd's Bush Empire, London
News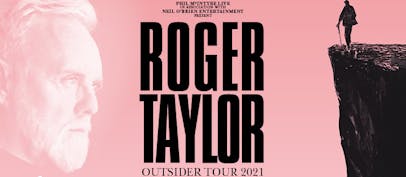 Roger Taylor announces new album + 2021 UK solo tour
The Queen luminary is playing 14 intimate shows across the country in support of his forthcoming album Outsider. The tour will open at O2 Academy Newcastle on 2 October and conclude at London's O2 Shepherd's Bush Empire on 22 October 2021.
FAQS
Roger Taylor will be playing 14 shows around the UK from 2 – 22 October 2021 as part of his Outsider Tour in support of his sixth solo album by the same name.

Roger Taylor will be visiting the following UK cities on his 2021 Outsider Tour:

Newcastle
Manchester
York
Cardiff
Liverpool
Norwich
Bath
Bournemouth
Plymouth
Nottingham
Bexhill
Guildford
Coventry
London

Roger Taylor will appear with a specially assembled band for his Outsider Tour made up of Queen + Adam Lambert's keyboardist Spike Edney and supporting drummer Tyler Warren, Goldfrapp live players keyboardist Angie Pollock and bassist Charlie Jones, plus guitarist Jason Falloon.

Tickets for Roger Taylor's 2021 tour dates go on general sale from 10:00 on Friday 11 June 2021.

The Outsider Tour will showcase Roger Taylor's distinctive percussive, vocal and songwriting talents that have been integral to Queen's live and recorded output since 1970.

Marking his first live concerts outside Queen in over two decades, this solo outing will give him the chance to take an enthusiastic foray into Queen and his own classic catalogues, while also playing songs written in lockdown that are on his new Outsider album.