Events
International Events
130 Events
Loaded 20 out of 141 events
About
The Irish extravaganza celebrates 25 years
Full of complexity and precise movement, Riverdance is a stage spectacular that dazzles with its stunningly coordinated feet in perpetual motion. Evocative and emotionally gripping, the show delivers a lyrical story alive with lore and romance.
The Irish line dancing phenomenon began as a seven-minute performance piece for 1994's Eurovision Song Contest in Dublin, which was broadcast to over 300 million viewers around the world. When the Riverdance single came out later that year it went straight to No.1 on the Irish charts and stayed there for 18 weeks – while also climbing to No.9 on the UK charts.
A full Riverdance show was soon conceived by producer Moya Doherty and director John McColgan, with some choreography from Michael Flatley (who later left and started his own Lord Of The Dance production) and a lush score by composer Bill Whelan. It took off immediately after opening in 1995 at the Point Theatre in Dublin, where it played for five sold-out weeks. Next Riverdance opened in London and saw its four-week run extended numerous times for a total of 151 sold-out shows. In 1996, Riverdance was met with further acclaim when it arrived in North America, playing at New York's Radio City Music Hall for eight sell-out shows.
Whelan took home a Grammy for the Riverdance album in the Best Musical Show Album category in 1997, while the show continued to sell out tours in Australia and Canada that year, followed by Europe in 1998 and Japan in 1999.
Riverdance opened a production at Broadway's Gershwin Theatre for an 18-month run in 2000, as well as participated in the opening ceremony of the Special Olympics World Games in Dublin and became the first show from the West to perform at Beijing's The Great Hall Of The People in 2003. Commemorating its 10th anniversary with a gala performance at Radio City Music Hall, Mayor Michael Bloomberg declared 15 March 2005 as Riverdance Day. In 2010, Riverdance returned to Radio City Music Hall to celebrate its 15th anniversary with an unprecedented 95-show run at the landmark theatre.
Riverdance performed for the first time on African soil and later for Queen Elizabeth II during her historic state visit to Ireland in 2011, while the show made it first South American appearance the following year. A troupe from Riverdance joined with 500 Irish dancers to perform for Pope Francis on his historic visit to Ireland in 2018.
The production's popularity is often attributed to the unique way it traces Irish dance and the Celtic beat throughout the years and across the continents. Not only are audiences treated to several variations of the jaw-dropping jig with the cast lined up end-to-end across the stage, but Riverdance also features Harlem tap dancing, Spanish flamenco and Ukrainian folk dance, which have all drawn inspiration from the art form.
Marking 25 years since its first production, the film Riverdance: The Animated Adventure was announced for late 2020. Featuring a new story and new music by Whelan, it follows an Irish boy named Keegan and a Spanish girl named Moya on a journey into a mythical world where they learn to appreciate Riverdance as a celebration of life.
Also in honour of its landmark quarter century – during which it has been seen by a theatre audience numbering over 27 million and has travelled to six continents – Riverdance: The New 25th Anniversary Show was scheduled to tour the UK in 2020. Those dates were since rescheduled, with Riverdance visiting 27 venues across the country between August and December 2021.
News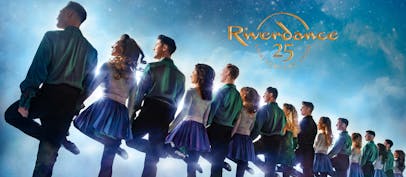 Riverdance adds new dates to 25th anniversary tour
The brand new show will visit venues throughout the UK in 2021.
FAQS
Riverdance is coming to the UK in celebration of its 25th anniversary from 27 August – 14 December 2021.

Riverdance: The New 25th Anniversary Show is performing in the following UK cities in 2021:

Nottingham
Birmingham
Cardiff
Milton Keynes
Southampton
Cambridge
Southend
London
Edinburgh
Newcastle
Glasgow
Sheffield
Oxford
Stoke
Hull
Leicester
Sunderland
Liverpool
Manchester
Bristol
Portsmouth
Torquay
Plymouth
Bournemouth
Brighton

Tickets for Riverdance's 2021 dates are on sale now.

With roots dating back to 1994, Riverdance is the Irish dancing stage spectacular that has become a worldwide phenomenon, immersing audiences in the elemental power of its music and choreography.