Events
International Events
3 Events
About
One of the UK's greatest musicians and songwriters
Born in a working-class part of Sheffield to a father who played guitar and a mother who was a singer, Richard Hawley was destined for a career in music. As a teen, he formed the band Treebound Story and they even recorded a session for John Peel's BBC Radio 1 show.
In the '90s, Hawley joined Longpigs, a Britpop group that released two albums – The Sun Is Often Out and Mobile Home. When it folded in 2000, he became a touring guitarist for Pulp led by his friend Jarvis Cocker.
In the early 2000s, Hawley not only played guitar on tracks for artists like All Saints, Beth Orton and Robbie Williams, but he also began to write and record some of his own songs. His debut solo album Late Night Final arrived in 2001. It was titled after the yell of vendors who sold the evening edition of the Sheffield Star. Two years later he released Lowedges, named after a town outside Sheffield.
Quickly attracting attention for his deep crooning voice, Hawley continued his steady succession of albums boasting names and material connected to his beloved hometown. When Coles Corner came out in 2005, referencing a Sheffield landmark frequented by lovers, it was nominated for the Mercury Prize. After Hawley unveiled Lady's Bridge in 2007, he was nominated for the BRIT Award for Best British Male Performer.
Aside from the lush balladry of his solo work, in the late '00s Hawley occasionally recorded and toured with The Feral Cats, a side project through which he explored his interest in rockabilly music.
In 2009, Truelove's Gutter came out and won the Mojo Record of the Year, while Standing At The Sky's Edge peaked at No.3 on the UK albums chart and earned him a second Mercury Prize nomination. When Hawley finished promoting that album, he worked on the soundtrack for the 2014 documentary film Love Is All.
His No.9-charting album Hollow Meadows, named for a hamlet on the outskirts of Sheffield, was released the following year. Hawley revealed his eighth album Further in 2019. Covering themes of solitude and ageing, it was his first record not to have a Sheffield connection in its title.
In July 2021, Hawley announced a series of special intimate shows, including one at O2 Academy Oxford, for August 2021 ahead of several summer outdoor appearances.
News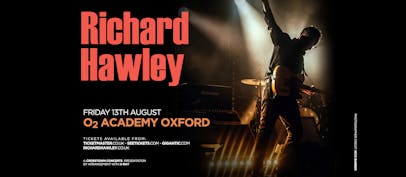 Richard Hawley announces Oxford date
One of the UK's greatest musicians and songwriters is playing an intimate show at O2 Academy Oxford on Friday 13 August 2021. Tickets are on sale now.
FAQS
Richard Hawley is playing an intimate series of live shows on 11 – 13 August 2021 ahead of several outdoor summer performances .

Richard Hawley is playing a very special, intimate show at O2 Academy Oxford this summer. He'll also appear in open-air shows at De La Warr Pavilion in Bexhill-On-Sea and at Focus Wales 2021 in Wrexham.

Tickets for Richard Hawley's special Oxford show and summer concerts are on sale now.