Events
International Events
2 Events
About
Irish rapper with a predilection for visual storytelling
Dublin-born hip hop artist Alex Anyaegbunam is best known by his stage name Rejjie Snow. The son of an Irish mother and Nigerian father, he grew up in the early '90s in Drumconda. Spending a lot of time at his grandparents' house as a child, the sounds of jazz and ska – especially Miles Davis and Bill Evans – were often wafting through the air. As a teenager he was drawn to the songs of Queen and his mates turned him on to the music of Nas, Wu-Tang Clan and MF Doom.
At the age of 17, Anyaegbunam participated in a football scholarship programme at a school in Florida. He trained during the day and immersed himself in music and culture in his free time. He later enrolled at the Savannah College of Art and Design in Georgia to study film, but soon returned home to Dublin, where he began to focus on music. Anyaegbunam experienced some early success in 2011 uploading songs like Dia Dhuit to YouTube as Lecs Luther.
However, with a desire to start from scratch and kick-start his music career, he moved to London and reinvented himself under the moniker Rejjie Snow. His first mixtape Rejovich came out in 2013 and featured the Loyle Carner collaboration 1992. A few more tracks arrived here and there, but it was 2015's All Around The World – accompanied by a video featuring Lily-Rose Depp – that led to a record deal with the American label 300 Entertainment.
Snow released the track D.R.U.G.S. in 2016 followed by a free mixtape, The Moon & You, in 2017. His full-length debut album Dear Annie produced by Rahki (Kendrick Lamar, Eminem) arrived in early 2018.
In June 2021, Snow unveiled the feel-good track Disco Pantz featuring Tinashe and grouptherapy. His sophomore album Baw Baw Black Sheep is due to come out on 9 July 2021 and he announced a six-city UK tour in September and October 2021 to support it.
News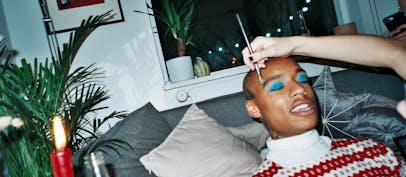 Reijje Snow announces 2021 UK tour
The Dublin-born rapper is heading across the country this autumn in support of his sophomore album Baw Baw Black Sheep. Tickets go on sale from 09:00 on Friday 9 July 2021.
FAQS
Reijje Snow is playing six dates in the UK from 26 September – 4 October 2021 in support of his second album Baw Baw Black Sheep.

Reijje Snow is visiting the following UK cities on his autumn 2021 UK tour:

Cambridge
Cardiff
Bristol
Birmingham
Manchester
London

Tickets for Reijje Snow's tour dates go on sale from 09:00 on Friday 9 July 2021.