Tickets now on sale
2015 IPC Swimming World Championships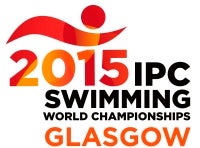 See the world's greatest para-swimmers compete for the ultimate prize at the 2015 IPC Swimming World Championships - the world's biggest international para-swimming competition since London 2012.
The Championships will see over 650 athletes from more than 50 countries looking to place themselves firmly on the map ahead of the Rio 2016 Paralympic Games. Support Team GB - including Ellie Simmonds and local heroes Andrew Mullen and Scott Quin - as they seek to emulate their success at London 2012.
The competition will be staged at the Tollcross International Swimming Centre in Glasgow - the same pool that hosted the Glasgow 2014 Commonwealth Games.
Tickets are available from £10 for Adults (plus booking fees) and all Under-16s go free.
For more information visit www.glasgow2015.com
2015 IPC Swimming World Championships
Date
Event
Venue
Monday 13 July

IPC Swimming World Championships 2015 - Heats

Tollcross International Swimming Centre, Glasgow







Find tickets »
Monday 13 July

IPC Swimming World Championships 2015 - Finals

Tollcross International Swimming Centre, Glasgow







Find tickets »
Monday 13 July

IPC Swimming World Championships 2015 - Day Pass

Tollcross International Swimming Centre, Glasgow







Find tickets »
Tuesday 14 July

IPC Swimming World Championships 2015 - Heats

Tollcross International Swimming Centre, Glasgow







Find tickets »
Tuesday 14 July

IPC Swimming World Championships 2015 - Finals

Tollcross International Swimming Centre, Glasgow







Find tickets »
Tuesday 14 July

IPC Swimming World Championships 2015 - Day Pass

Tollcross International Swimming Centre, Glasgow







Find tickets »
Wednesday 15 July

IPC Swimming World Championships 2015 - Heats

Tollcross International Swimming Centre, Glasgow







Find tickets »
Wednesday 15 July

IPC Swimming World Championships 2015 - Finals

Tollcross International Swimming Centre, Glasgow







Find tickets »
Wednesday 15 July

IPC Swimming World Championships 2015 - Day Pass

Tollcross International Swimming Centre, Glasgow







Find tickets »
Thursday 16 July

IPC Swimming World Championships 2015 - Heats

Tollcross International Swimming Centre, Glasgow







Find tickets »
Thursday 16 July

IPC Swimming World Championships 2015 - Finals

Tollcross International Swimming Centre, Glasgow







Find tickets »
Thursday 16 July

IPC Swimming World Championships 2015 - Day Pass

Tollcross International Swimming Centre, Glasgow







Find tickets »
Friday 17 July

IPC Swimming World Championships 2015 - Heats

Tollcross International Swimming Centre, Glasgow







Find tickets »
Friday 17 July

IPC Swimming World Championships 2015 - Finals

Tollcross International Swimming Centre, Glasgow







Find tickets »
Friday 17 July

IPC Swimming World Championships 2015 - Day Pass

Tollcross International Swimming Centre, Glasgow







Find tickets »
Saturday 18 July

IPC Swimming World Championships 2015 - Heats

Tollcross International Swimming Centre, Glasgow







Find tickets »
Saturday 18 July

IPC Swimming World Championships 2015 - Finals

Tollcross International Swimming Centre, Glasgow







Find tickets »
Saturday 18 July

IPC Swimming World Championships 2015 - Day Pass

Tollcross International Swimming Centre, Glasgow







Find tickets »
Sunday 19 July

IPC Swimming World Championships 2015 - Heats

Tollcross International Swimming Centre, Glasgow







Find tickets »
Sunday 19 July

IPC Swimming World Championships 2015 - Finals

Tollcross International Swimming Centre, Glasgow







Find tickets »
Sunday 19 July

IPC Swimming World Championships 2015 - Day Pass

Tollcross International Swimming Centre, Glasgow







Find tickets »
18 - 19 July

IPC Swimming World Championships 2015 - Weekend Pass

Tollcross International Swimming Centre, Glasgow







Find tickets »
13 - 19 July

IPC Swimming World Championships 2015 - Competition Pass

Tollcross International Swimming Centre, Glasgow







Find tickets »