Natural History Museum Ice Rink
Natural History Museum Ice Rink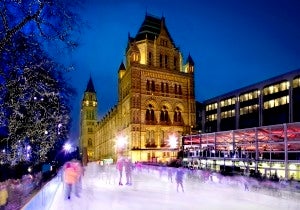 The Natural History Museum Ice Rink is London's superior skating experience.
Set within the lawns of the Natural History Museum, the Ice Rink will offer an array of entertainment and events for all ages, plus a lovely Cafe Bar where guests can warm up in the most cosmopolitan and cosy fashion.
For those who don't wish to take to the ice, but want to soak up the festive fun and stunning surroundings, the stylish Cafe Bar will offer sumptuous food, drinks and entertainment for all to enjoy.
Other attractions include a children's rink, a beautiful fairground carousel and 76,000 fairy lights glowing in the surrounding trees to add to the magical atmosphere.
Natural History Museum Ice Rink