BT World Wheelchair Rugby Challenge
BT World Wheelchair Rugby Challenge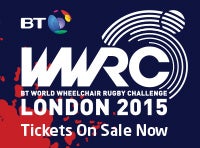 Join eight of the World's best Wheelchair Rugby teams as they do battle over 5 days of competition on the Queen Elizabeth Olympic Park.
2012 medallists Australia, Canada and USA will line up against Great Britain, France, Japan, South Africa and the New Zealand `Wheel Blacks'.
The first time these teams have clashed since London 2012, and the only time they meet before Rio 2016.
BT World Wheelchair Rugby Challenge
Date
Event
Venue
Monday 12 October

BT World Wheelchair Rugby Challenge: Evening Session

Copper Box Arena, London







Find tickets »
Tuesday 13 October

BT World Wheelchair Rugby Challenge: Day Session

Copper Box Arena, London







Find tickets »
Tuesday 13 October

BT World Wheelchair Rugby Challenge: Evening Session

Copper Box Arena, London







Find tickets »
Wednesday 14 October

BT World Wheelchair Rugby Challenge: Day Session

Copper Box Arena, London







Find tickets »
Wednesday 14 October

BT World Wheelchair Rugby Challenge: Evening Session

Copper Box Arena, London







Find tickets »
Thursday 15 October

BT World Wheelchair Rugby Challenge: Day Session

Copper Box Arena, London







Find tickets »
Thursday 15 October

BT World Wheelchair Rugby Challenge: Evening Session

Copper Box Arena, London







Find tickets »
Friday 16 October

BT World Wheelchair Rugby Challenge: Day Session

Copper Box Arena, London







Find tickets »
Friday 16 October

BT World Wheelchair Rugby Challenge: Evening Session

Copper Box Arena, London







Find tickets »