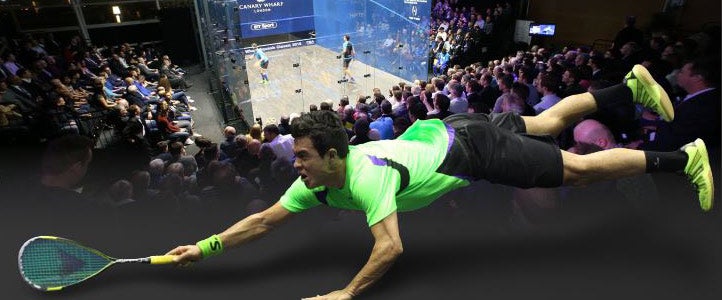 Canary Wharf Squash Classic 2017
Canary Wharf Squash Classic

The World's greatest squash players return to London for the 14th Canary Wharf Squash Classic. The PSA World Tour M70 event will be staged on the state of the art Eventis Pro-Court in the spectacular East Wintergarden.
Last year Frenchman Mathieu Castagnet lifted the coveted trophy for 1st time time, and he will be back to fend off an Egyptian onslaught, Englishman James Willstrop and possibly for the last time 5-time champion Nick Matthew .
The spectacular setting & outstanding line-up is sure to make this one of this year's must see events in the capital.
Event details
Venue
Event
Date
Time
East Wintergarden

Canary Wharf Squash Classic 2017

Mon 6 March 2017

16:00





Buy tickets »
East Wintergarden

Canary Wharf Squash Classic 2017

Tue 7 March 2017

16:00





Buy tickets »
East Wintergarden

Canary Wharf Squash Classic 2017

Wed 8 March 2017

16:00





Buy tickets »
East Wintergarden

Canary Wharf Squash Classic 2017

Thu 9 March 2017

17:00





Buy tickets »
East Wintergarden

Canary Wharf Squash Classic 2017

Fri 10 March 2017

17:00





Buy tickets »