FINA Diving World Series 2015
FINA Diving World Series 2015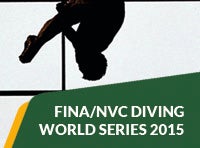 The world's diving elite return to the London Aquatics Centre, scene of the London 2012 Olympics. Building on the success of last year's event, Queen Elizabeth Olympic Park will welcome up to 70 athletes from 13 different countries, including World and Olympic Champions, across eight events: women's and men's 3m springboard, 10m platform, 3m springboard synchro and 10m platform synchro.
Support the GB team - expected to include Olympic bronze medallist Tom Daley, double Commonwealth Gold medallist Jack Laugher and European Champion Sarah Barrow - as they compete against the cream of the diving world and continue their journey to Rio 2016.
Tickets are available from Pounds Sterling10 Adults and Pounds £7 Under-16s (plus booking fees).
For further info please visit www.swimming.org
FINA Diving World Series
Date
Event
Venue
Friday 1 May 2015

FINA Diving World Series - Session 1 12:00

London Aquatics Centre, Queen Elizabeth Olympic Park, London.







Find tickets »
Friday 1 May 2015

FINA Diving World Series - Session 2 19:00

London Aquatics Centre, Queen Elizabeth Olympic Park, London







Find tickets »
Saturday 2 May 2015

FINA Diving World Series - Session 3 10:00

London Aquatics Centre, Queen Elizabeth Olympic Park, London.







Find tickets »
Saturday 2 May 2015

FINA Diving World Series - Session 4 18:00

London Aquatics Centre, Queen Elizabeth Olympic Park, London.







Find tickets »
Sunday 3 May 2015

FINA Diving World Series - Session 5 10:00

London Aquatics Centre, Queen Elizabeth Olympic Park, London.







Find tickets »
Sunday 3 May 2015

FINA Diving World Series - Session 6 19:00

London Aquatics Centre, Queen Elizabeth Olympic Park, London.







Find tickets »