Clubs and Dance
Pete Tong Presents Ibiza Classics
Events
Loaded 13 out of 13 events
About
The revered DJ, broadcaster and dance pioneer
With an unmatched ear for new talent, Pete Tong has had a huge influence in the world of dance music. Born in Dartford, he started out as a journalist and radio DJ in Kent. In 1983, he began working for London Records and was responsible for signing artists like Run-DMC and Salt-N-Pepa as well as establishing the subsidiary label FFRR, which played a big role in the evolution of house and dance music – later landing artists like Oliver Heldens, The Magician, Blonde and the Disciples.
Tong joined Capital Radio in 1987 and was soon immersed in the growing rave scene. In 1991, he moved over to Radio 1 and launched the long-running Friday night show Essential Selection – ultimately becoming the voice of BBC's dance programming as well as a tastemaker of the electronic generation.
Tong founded the International Music Summit, a three-day conference held in Ibiza, Los Angeles and Singapore, in 2007. It's now widely regarded as a must-attend electronic music event for deals, press launches and worldwide media exposure.
In 2015, Radio 1 held the Ibiza Prom at London's Royal Albert Hall featuring club music reworked with conductor Jules Buckley and the 65-piece Heritage Orchestra. Among his countless mix and compilation albums, Tong released Classic House, as a companion piece to that unique event, in 2016. His adaptation of orchestral music and dance tracks reached No.1 on the UK albums chart. Not only did it spawn another album, Ibiza Classics, in 2017, but it also paved the way for a recurring live music event by the same name that is inventive, bold and celebrates the legacy of dance music.
Originally set to tour the UK in December 2020, Tong announced rescheduled Ibiza Classics dates as well as new summer outdoor shows in 2021. In November 2020, Pete Tong & The Heritage Orchestra confirmed a global streaming event titled O Come All Ye Ravers for 19 December 2020.
News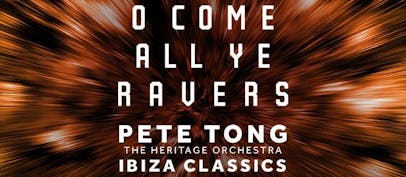 Pete Tong announces O Come All Ye Ravers livestream
Enjoy an Ibiza Classics virtual event with The Heritage Orchestra and Jules Buckley on 19 December 2020. Tickets on sale 09:00 Thursday 27 November!
FAQS
Pete Tong with The Heritage Orchestra and Jules Buckley are doing a global stream event, O Come All Ye Ravers, broadcasting on Saturday 19 December 2020 from The O2 in London. You can dance and sing along to music you love from the comfort of your home.

Pete Tong & The Heritage Orchestra will present their Ibiza Classics show from 18 June – 4 December 2021.

Pete Tong & The Heritage Orchestra will perform at the following UK venues in 2021:

18 June 2021 – The Wyldes, Cornwall
25 June 2021 – Franklin's Gardens, Northampton
26 June 2021 – Newcastle Racecourse, Newcastle
12 Aug 2021 – Newmarket Racecourses, Newmarket
14 Aug 2021 – Stadiwm Zip World, Colwyn Bay
26 November 2021 – Motorpoint Arena, Nottingham
27 November 2021 – AO Arena, Manchester
1 December 2021 – The Brighton Centre, Brighton
2 December 2021 – Utilita Arena, Birmingham
3 & 4 December 2021 – The O2 London

Tickets for Pete Tong's O Come All Ye Ravers livestream go on sale from 09:00 on Friday 27 November 2020. His 2021 tour dates presenting Ibiza Classics with The Heritage Orchestra are on sale now.