Events
International Events
3 Events
Loaded 16 out of 16 events
About
Chart-topping duo, formerly of The Beautiful South
Get the album Manchester Calling here
Paul Heaton is one of the UK's most successful songwriters with well over 15 million album sales under his belt. He first came to public attention in the early '80s as the frontman of Hull-based indie-pop band The Housemartins, who are best known for their third single Happy Hour and their No.1 acapella cover of The Isley Brothers' Caravan Of Love. 
In 1988 Heaton formed The Beautiful South, which released 10 hugely successful albums – from 1989's Welcome To The Beautiful South to 2006's Superbi. Jacqui Abbott was lead vocalist for some time in The Beautiful South and she sang many of their signature hits including Rotterdam, Don't Marry Her and Dream A Little Dream.
Heaton released his first solo album, Fat Chance, in 2001, and went on to release two further solo albums: 2008's The Cross-Eyed Rambler and 2010's Acid Country. 
In 2011, Heaton wrote a musical called The 8th based on the seven deadly sins and asked Abbott to sing one of the parts.  They went on to release three top five-charting albums as a duo: 2014's What Have We Become, 2015's Wisdom, Laughter And Lines and 2017's Crooked Calypso.
Heaton put together a career-spanning collection of his music in 2018 – from The Housemartins and The Beautiful South to his solo and duo work – titled The Last King Of Pop.
In early 2020, Heaton and Abbott collaborated once again and unveiled their fourth studio album, Manchester Calling. Boasting beautifully bittersweet songwriting and themes of anti-growth and anti-greed, it scored the pair their first No.1 position on the official UK albums chart.
To support the new album, Heaton and Abbott confirmed a performance at Manchester's Castlefield Bowl as part of Sounds Of The City in July 2021, plus they rescheduled dates for their UK headline tour to October 2021.
News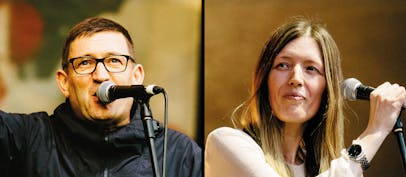 Paul Heaton & Jacqui Abbott reschedule their UK tour
The duo have moved their shows to October 2021 due to the ongoing coronavirus outbreak. Tickets remain valid for the new dates.
FAQS
Paul Heaton and Jacqui Abbott are touring the UK from 9 – 30 October 2021. They are also set to appear at Sounds Of The City on 3 July 2021.

Paul Heaton and Jacqui Abbott's UK tour will stop in the following cities:

Glasgow
Dundee
Newcastle
Liverpool
Leicester
Stoke-on-Trent
Leeds
Sheffield
Cardiff
Hull
Birmingham
London

Plus, Paul Heaton and Jacqui Abbott will perform at Manchester's Castlefield Bowl as part of Sounds Of The City.

Tickets for Paul Heaton and Jacqui Abbott's 2021 tour dates are on sale now. Original tickets remain valid for the rescheduled dates.