Events
International Events
1 Events
Loaded 14 out of 14 events
About
The goth meets indie-pop quartet that packs a punch
Hailing from Manchester, Pale Waves formed in 2014. Known for delivering a heady mix of electro-pop and indie, the group is fronted by the enigmatic Heather Baron-Gracie alongside drummer Ciara Doran, guitarist Hugo Silvani and bassist Charlie Wood.
Inspired by the likes of Blue Nile, The Cranberries, Avril Lavigne and Prince, whose song Purple Rain they've called one of their all-time favourites, the four-piece recorded some demos in 2015 that got them noticed and signed by Dirty Hit two years later.
In 2017, Pale Waves scored a couple of hits for their record label right out of the gate with the debut single There's A Honey and follow-up track Television Romance. That year the quartet also played the BBC Music Introducing Stage at Reading & Leeds and supported label bandmates The 1975 while touring North America.
When new year kicked off, Pale Waves made the BBC Sound Of 2018 shortlist and later received the NME Under The Radar Award – plus they graduated to the Festival Republic Stage at Reading & Leeds that summer. The band released their debut album, My Mind Makes Noises, in autumn and saw it reach No.8 on the official UK albums charts. Full of angst and layered synths, it was widely praised by critics.
The Mancunian bunch confirmed their second album Who Am I? would arrive on 12 February 2021. Recorded with producer Rich Costey (Muse, Foo Fighters, Sigur Rós) in Los Angeles and also virtually while the band was separated during coronavirus lockdowns, the record features the singles Change, You Don't Own Me, Easy and She's My Religion as well as touches upon themes of growing pains, mental health, inclusivity, sexuality and self-discovery.
On 5 February 2021, Pale Waves announced a UK tour for February and March 2022, kicking off in Bristol and culminating with a big hometown show in Manchester.
Pales Waves' 2022 UK tour dates
11 February 2022 – O2 Academy Bristol
12 February 2022 – The Great Hall, Cardiff
13 February 2022 – Rock City, Nottingham
14 February 2022 – O2 Academy Birmingham
16 February 2022 – O2 Academy Bournemouth
17 February 2022 – O2 Academy Leeds
21 February 2022 – O2 Academy Glasgow
23 February 2022 – O2 Academy Sheffield
25 February 2022 – O2 Academy Leicester
26 February 2022 – O2 Academy Oxford
28 February 2022 – Roundhouse, London
1 March 2022 – O2 Victoria Warehouse, Manchester
News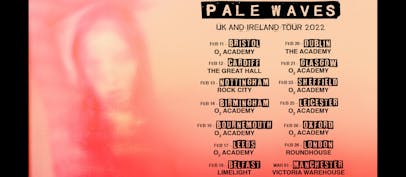 Pale Waves announce 2022 UK tour
The shows are in support of the band's second album, Who Am I?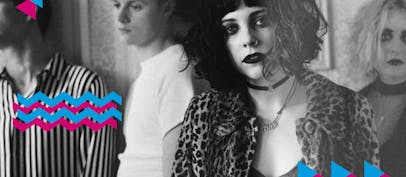 New for 2018: Pale Waves
Introducing the Manchester indie stars already making waves.
FAQS
Pale Waves have announced a UK tour in support of their new album Who Am I? from 11 February – 1 March 2022.

In 2022 Pale Waves' UK tour will stop in the following cities:

Bristol
Cardiff
Nottingham
Birmingham
Bournemouth
Leeds
Glasgow
Sheffield
Leicester
Oxford
London
Manchester

Tickets for Pale Waves' 2022 tour dates go on sale from 09:00 on Friday 12 February 2021.