Events
Loaded 20 out of 62 events
About
Letting the good times roll in 2021
Born in London to Iranian parents, Omid Djalili grew up with a mixed cultural heritage. That unconventional background helped shape his sharp wit as well as his ability to combine humour with storytelling.
Going on to become an award-winning comedian and actor, Djalili emerged on the UK stand-up circuit in the '90s. His big break was at Edinburgh Festival Fringe in 1995 with a show called Short Fat Kebab Owner's Son. He returned in 1996 with The Arab And The Jew alongside Jewish comedian Ivor Dembina, and thereafter became one of the hottest tickets at the annual event. Over the years, the funnyman sold out a string of shows – including Omid Djalili Is Ethnic, Warm To My Winning Smile, Behind Enemy Lines, No Aggenda, and Tour Of Duty – before going on to tour them nationally. 
Intelligent and provocative, Djalili's comedy was not only packed with incisive social and political commentary, but also with physical humour and an upbeat energy. He received numerous accolades from the press. The Huffington Post said seeing Djalili live on stage was "so hysterically funny and at the same time so poignant and powerful that calling it stand-up barely does it justice", while The Guardian called him "a thin, high cheek-boned, flamboyant luvvie".
On his own website, Djalili described himself as someone who "spends most of his time trying to keep his weight down by yoyo dieting and playing football in West London still hoping to get spotted by Brentford Football Club".
In addition to comedy, his acting credits have ranged from film and television to the theatre. Djalili landed small roles in a number of big films including Gladiator, The Mummy, Notting Hill and Pirates Of The Caribbean: At World's End, before going on to win the Best Actor Award at the Turin Film Festival for his lead performance in 2010's The Infidel scripted by David Baddiel. In 2018, he played a scene-stealing customs officer in Mamma Mia! Here We Go Again.
On television, he made two series of The Omid Djalili Show for BBC One; a combination of sketches and stand-up material, plus he appeared in programmes and sitcoms like Little Britain, Black Books and Lead Balloon in the UK, and The Paul Reiser Show in the US. Djalili won praise for his performance on Dickensian playing taxidermist and bone articulator Mr Venus. He has also been seen in 2019's His Dark Materials and 2020's Letter For The King.
On the stage, Djalili garnered rave reviews for his role as Red in The Shawshank Redemption at the 2013 Edinburgh Festival Fringe and as Tevvye in Fiddler On The Roof at the 2017 Chichester Festival Theatre.
After experimenting with Zoom and drive-in gigs, in October 2020, Djalili confirmed he's returning where he belongs and hitting the road in 2021 with another captivating comedy masterclass – The Good Times Tour. In November 2020, he announced added dates for early 2022.
News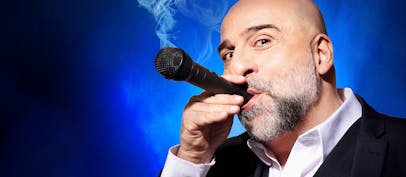 More dates added in 2022
Multi award-winning comedian Omid Djalili extends The Good Times Tour.
FAQS
Omid Djalili is bringing The Good Times Tour across the UK from 30 April 2021 – 30 April 2022.

Omid Djalili will take his comedy tour across the UK in 2021 and 2022.

In 2021:

Bradford
Warrington
Salford
Birmingham
Harrogate
London
Hull
Redhill
Norwich
Poole
Stevenage
Ipswich
Maidenhead
Blackpool
Bishop Stortford
Redditch
Hertford
Bristol
Pocklington
Worthing
Didcot
Telford
Potters Bar
Epsom
Spalding
Maidstone
Lincoln
Brighton
Hayes
Lytham St Anne's
Woking
Wellingborough
Wimborne
Aylesbury
Radlett
Camberley
Weston-super mare
Lancaster
Chester
Crewe
Loughborough
York
Aldershot
Eastleigh
Dorking
Crawley
Guildford
Croydon
Chatham
Portsmouth
Southend
Leeds
Bath
Farnham

In 2022

Shrewsbury
St Albans
Finchley
Bournemouth
Swindon
Inverness
Perth
Aberdeen
Newcastle
Dunstable
Cambridge
Chesterfield
Barrow in Furness
Yeovil
Colchester
Nottingham
Lowestoft
Dartford
Bury St Edmunds
Basingstoke
Bexhill
Leicester
Shanklin, Isle of Wight
Reading
Barnstaple
Torquay
Cheltenham
Exeter
Peterborough
Liverpool
Burnley
Northampton
Swansea
Cardiff

Presale tickets for Omid Djalili's 2022 tour dates are available now. Tickets for his 2022 tour dates go on general sale from 10:00 on Friday 27 November 2020. Tickets for all Omid Djalili's 2021 dates are already on sale.