More Arts, Theatre & Comedy
Noel Fitzpatrick Supervet
Events
We're sorry, but we couldn't find any events
About
The renowned veterinary surgeon and TV personality
Born a farmer's son in Ballyfin, Ireland, Noel Fitzpatrick grew up surrounded by animals. He studied veterinary medicine at University College Dublin and qualified to be surgeon in 1990. In 2008, after completing his Royal College of Veterinary Surgeons certificate, he opened the Fitzpatrick Referrals practice in Surrey and has since built it into one of the largest veterinary referral centres in the UK.
Over the years, Fitzpatrick has received an honorary doctorate for his contribution to medical science from the University of Surrey, where he is also one of the founding partners of orthopaedics at its School of Veterinary Medicine. Plus, he has done pioneering work in making bionic limbs for injured pets, along with developing other surgical techniques.
While building his veterinary reputation in the UK, Fitzpatrick also launched a career as an actor. In the early '00s, he landed TV roles in Heartbeat, London's Burning, Casualty and The Bill. He appeared in the low-budget horror film The Devil's Tattoo in 2003, and a year later snagged the lead in the movie Live For The Moment. Fitzpatrick also starred as Inspector Beckett in the 2008 film Framed.
In 2010, he appeared in the BBC series The Bionic Vet. Since 2014, Fitzpatrick has starred in Channel 4's The Supervet, which follows him and his team while they help some of the hardest-to-cure pets from around the country with cutting-edge treatments.
In 2018, Fitzpatrick became the first veterinary surgeon to embark on a UK arena tour. Called Noel Fitzpatrick, The Supervet: Welcome To My World, he performed 22 dates all across the country. That year Fitzpatrick also wrote his first book, Listening To The Animals: Becoming The Supervet, and it was an instant bestseller. His second tome, How Animals Saved My Life, arrived in 2020 and examines how his relationship with animals helped him to be a better version of himself.
On 17 March 2021, Fitzpatrick announced a livestream discussion hosted by Lorraine Kelly for 19 April 2021, when he'll reflect on his personal journey into writing his second book.
"I've learnt lots of lessons along the way and I think many of us share similar fears, hopes, elations, frustrations, successes and failures in life no matter what path we're on," said Fitzpatrick about the virtual talk. "Animals constantly show us how to care with integrity in a world needing compassion and understanding ­– now more than ever."
News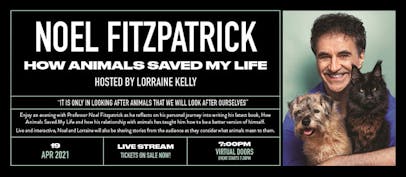 Noel Fitzpatrick announces special livestream show
Join the Supervet for How Animals Saved My Life – an exclusive and honest discussion with host Lorraine Kelly on 19 April 2021, streamed live directly into your home.
FAQS
Professor Noel Fitzpatrick is appearing in a live virtual talk called How Animals Saved My Life with host Lorraine Kelly on Monday 19 April 2021.

In support of his book How Animals Saved My Life, Professor Noel Fitzpatrick, who is best known as the Supervet, will have an honest discussion reflecting on his relationship with animals and how that has helped him overcome many of life's difficulties. This unique virtual event will allow you to share your experiences as well as ask Fitzpatrick questions.

Tickets for Professor Noel Fitzpatrick's livestream event are on sale now.